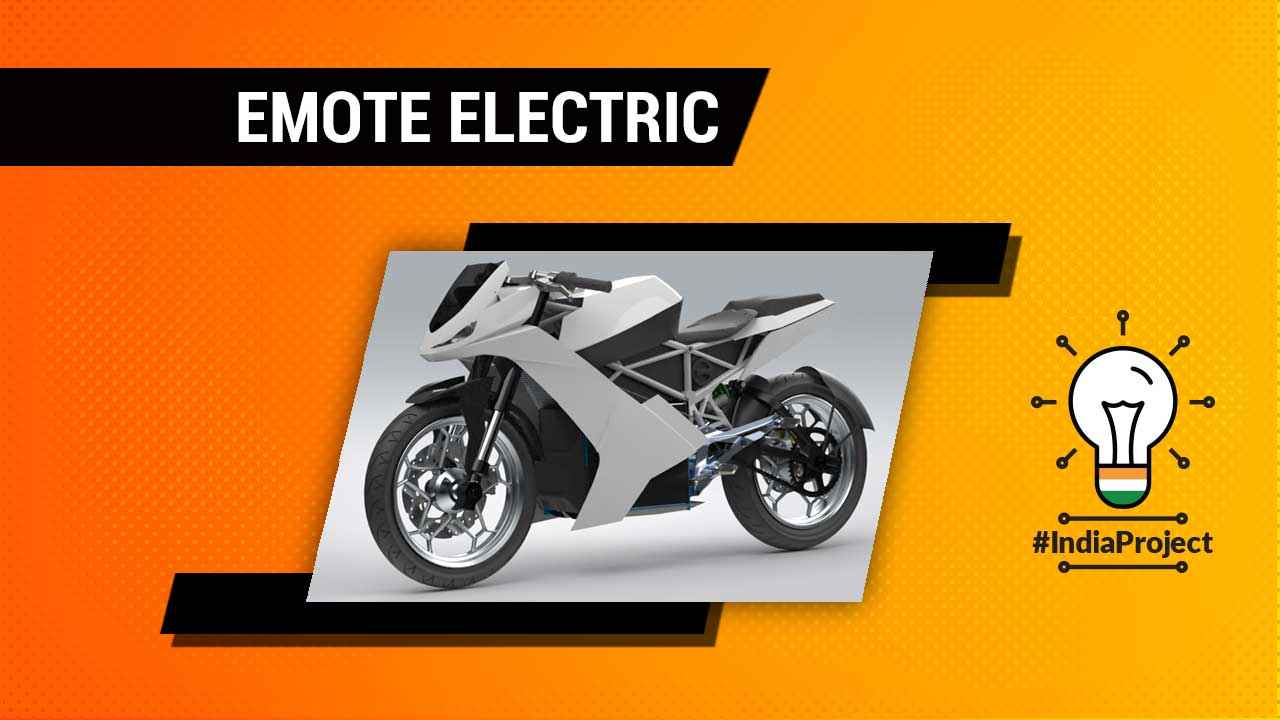 Emote Electric is a startup focusing on creating electric bikes that can compete with the petrol alternatives available on both price and performance. Their smart geared motorcycle is positioned directly against 150-200cc petrol bikes, is as fast at 120 kilometres per our and offers a range of 300 kilometres per charge. Additionally the vehicle is a smart bike enabled with AI an IOT, and has on board navigation, and comes with a companion app that offers several benefits. Emote Electric hopes to compete with and replace the petrol versions, and comes with a replaceable battery that allows the bike to be recharged by swapping out the battery from a charging bank. We spoke to Emote Electric to understand more about their innovative bike.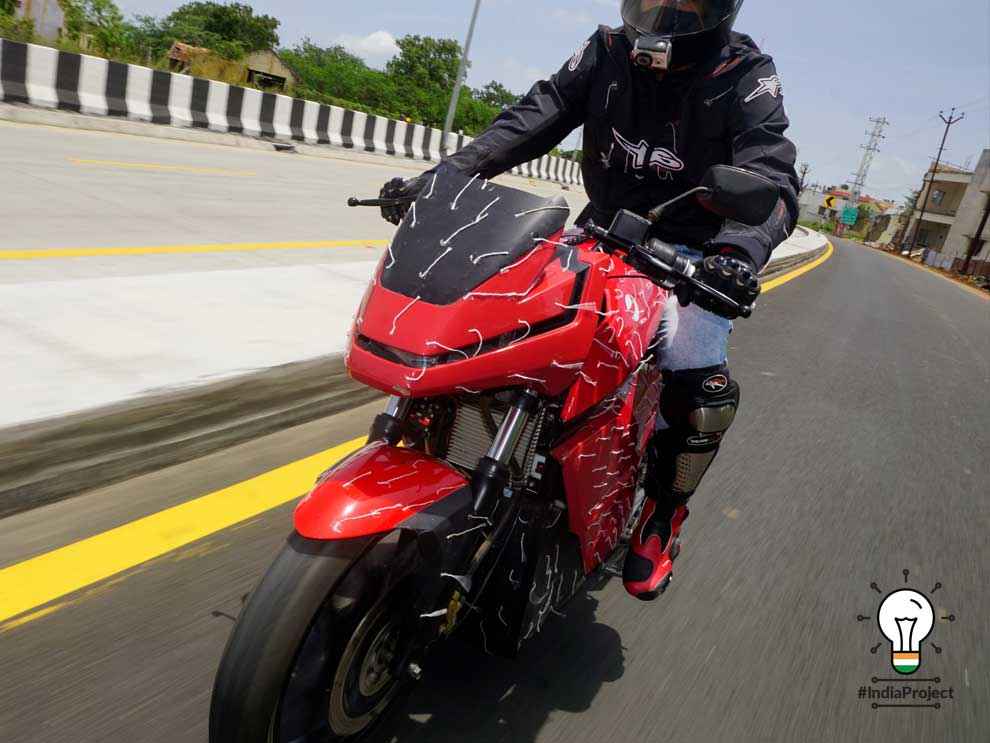 Digit: Can you tell us a bit more about the design approach for the bikes?
Emote Electric: Our design approach had always been about being more than styling. Most people confuse design with styling, but it is so much more than that. Being a designer and from a design family, we see design as a problem solving exercise.
For us, the user comes first and the bike is built around him/her. The questions we are trying to solve is "What are the issues that prevent people from shifting to EVs?" and what can we do to fix those issues?
The styling is meant to attract a younger crowd, and convey the performance of the vehicle. It therefore looks dynamic and fast, while also preserving the expected look and proportions of a motorcycle. The "tank" is one such example of a styling feature that is preserved but does not serve as one. There is also a functional side to the styling. It is fully faired in order to aid the performance by reducing drag and channeling airflow to parts that require it. Other parts of the bike are devoid of bodywork to showcase the engineering that underpins the motorcycle.
The styling for us is important, but not critical and therefore not a priority. We follow a parallel developmental process (as opposed to linear) with close integration between engineering and design to reduce the man hours required to develop this whole new motorcycle. Therefore we are still refining the bodywork to optimise the engineering.
Digit: What are the unique factors of working with the Indian market?
Emote Electric: On the production side, its has been working around the long uncertain timelines on the production side. Access to good quality machining and prototyping at a affordable cost. On the consumer front, we don't sell the bikes yet, but have taken deposits for the bikes. Broadly speaking, we have noticed that we don't need to tell the consumers about the Total Cost of Ownership. They figure it out and factor it in themselves based on our replies to their queries.Brand loyalty also is not a particularly high barrier and younger people are more likely to migrate quicker to electric vehicles made by a relatively unknown startup.
Policy uncertainty and inadequate support for new technology (that's not software) are challenges that remain.
Digit: Why are the benefits of an electric geared bike, and what were the additional challenges of creating an electric geared bike?
Emote Electric: The benefits of a geared electric bike are 3 fold:
Better efficiency – Contrary to expectations, we get better efficiency by adding a gearbox to the drivetrain. The additional mechanical losses due to the gearbox are in the region of 3-4%, however the motor efficiency gains achieved by running the motor in its most efficient rpm range for 4x longer (i.e. in the correct gear for the speed), can be as high as 35%. Other similar scooters and motorcycles that are available or being developed contain "No" gears, though in reality they have 1 reduction gear set. With only 1 gear, we would have a peak efficiency point at a certain speed; and have to accept poor efficiency at slow speeds, resulting in poor range in urban conditions.
Decreased cost – By having a gearbox, we do not have to accept a trade-off between acceleration and top speed. Other companies overcome this issue by upsizing the motor. A more powerful motor requires more powerful batteries and controller (drive unit). These 3 put together make up 2/3 of the Bill of materials of an EV. By not having this trade-off, we can use a smaller motor, controller (drive unit) and battery – while also reducing the wear and tear on the battery resulting in longer life. Our closest competitor in performance terms uses a motor that is 2.5 times larger
Familiar (but better) – A gearbox is part and parcel of motorcycling and is part of its emotional appeal. By preserving it, we offer a familar ride experience, thereby lowering mental barriers. Shifting to EVs is a big enough change for most people. By keeping it familar, we make it easier for people to shift from petrol to electric.
There are quite a few additional challenges of creating an electric geared bike. For one, we had to design and develop the gearbox from scratch, since a gearbox from a petrol motorcycle could not do justice to an electric drivetrain. This added a lot of expense, time and complexity to the project as we went from 1 moving part to nearly 30 and they all had to play well together. Being so new and untried, we also did not have prior design data to rely on and had to fall back on core engineering principles and logic to navigate the developmental process.
Digit: What kind of infrastructure is necessary for the adoption of swappable batteries?
Emote Electric: Swapping stations/kiosks are the general requirement where users can quickly add in more batteries or swap a depleted battery for a fresh one. There can be some flexibility about how the swapping station is managed. The key challenge is the Capex required and the being able to effectively manage assests (i.e the battery) such that a battery is always available for any person who arrives requiring a swap, while still being able to minimise the size of inventory required to meet this requirement.
Digit: What are some of the safety and security features on the bike?
Emote Electric: Collision alert and automatic notification, remote lock/unlock, keyless lock, sidestand cut-off, protection against unintended operation (3 different systems), automatic stand by, anti-theft alarm, Geo-fencing, smart speed limit, user specific modes and parental control, automatic headlights, combi brakes system (later versions to have ABS (Anti-lock braking system))
For battery safety, We have a built in Battery Management System that keeps a close watch on the battery health and is the first line of defence against battery damage. It comes with short circuit protection, reverse polarity protection, overcharge/overdischarge protection, passive cell balancing, etc. The cells we use are Cobalt free and do not present a fire risk even when abused. The high voltage systems are all shielded and out of reach of users. All electrical drivetrain components are IP67 rated waterproof and perfectly safe to operate in heavy rain and flooded conditions
Digit: What are the benefits of consumers opting for a subscription?
Emote Electric: The bike is fully operational (as a bike) without requiring a subscription. The subscription is required for additional smart features such as On-board turn by turn navigation, live telemetry, OTA updates, remote support, push instructions to the bike – like remote lock/unlock, remote disable, searching for places and directing to swapping stations, charging points or battery rental points, etc. The subscription cost covers overheads necessary for providing these services including but not limited to 4G LTE network link, GPS routing requests and database maintenance.
Digit: Can you tell us some of the capabilities of the companion app for smartphones?
Emote Electric: The companion app can Lock/unlock the bike remotely, Geo fence it, push navigation directions to the bike, view live location, view telemetry, schedule maintenance, automatically remind the user of maintenance to be carried out, keep a backup of maintenance records and other important data related to the motorcycle.
Digit: Could you elaborate on how your experience has been with the Nexus Startup Hub?
Emote Electric: The experience has been quite good. It was quite useful and surpassed my expectations given that it was conducted remotely. They do seem quite invested in the startups that are part of the programme. My peers of Cohort 10 were quite engaged in the programme as well and helped make it a success.