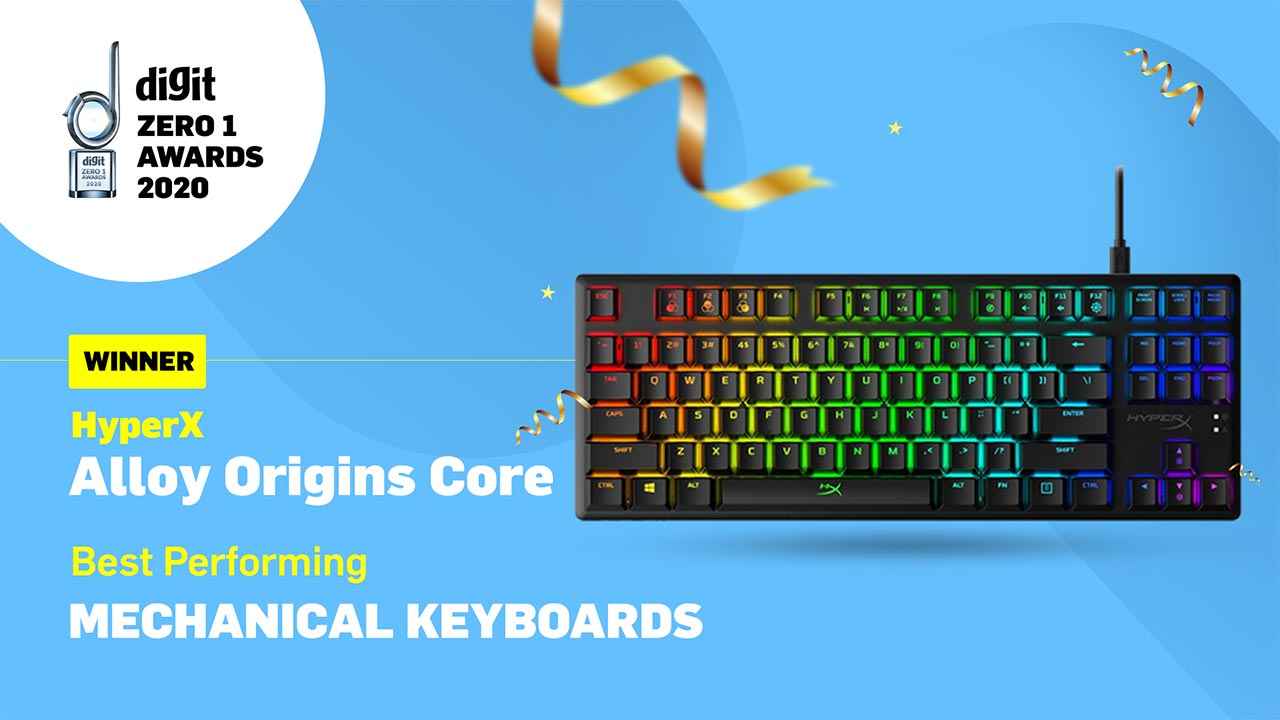 It's been a slow year for peripheral manufacturers, understandably. But the pandemic hasn't stopped them from putting out new offerings for mechanical gaming keyboards. Continuing the trend from the previous few years, mechanical keyboards have become increasingly more popular – and affordable – with a variety of switch types, keycaps and form factors to choose from. We're seeing more premium features showing up on budget keyboard offerings, and we're seeing brands stray away from Cherry MX keycaps and going for either their own variants or cheaper alternatives. In fact, none of the Zero1 mechanical keyboard contenders we got this year had Cherry MX keys! The winner and runner up were pretty close this time around, with the winner just barely inching past.
Winner: HyperX Alloy Origins Core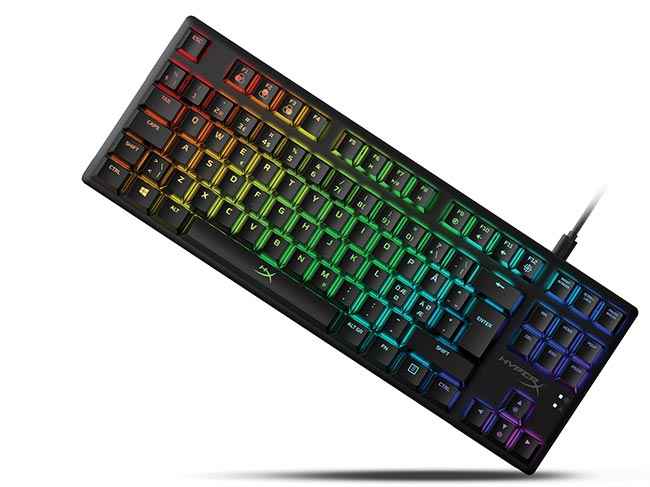 The HyperX Alloy Origins Core is a TKL version of the HyperX Alloy Origins. With its entire body made out of aircraft-grade aluminium, and a brushed aluminum finish, this is one very sturdy and premium looking keyboard. The Origins Core uses an open chassis design with floating HyperX Red – Linear key switches. The Alloy Origins keyboard was the first from HyperX to feature these keycaps, and they're not too different from their Cherry MX counterparts. While HyperX Reds feature the same actuation force as Cherry MX Reds at 45g, the total key travel distance and the actuation point have both been reduced by 0.2mm, from 4mm to 3.8mm and from 2mm to 1.8mm respectively. Is this a noticeable difference? We honestly couldn't tell. There is however no denying the quality of these keycaps and their impressive lifespan at 80 million keypresses. HyperX also has HyperX Aqua and HyperX Blue variants for the Alloy Origins, which are basically the same as the Cherry MX Browns and Blues respectively. We particularly enjoyed the comfort of both typing and gaming on the HyperX Alloy Origins Core. While the HyperX Alloy Origins Core is our Zero1 winner, we should point out that the accompanying software for the keyboard, NGenuity, leaves much to be desired. Other than that, we had no complaints with the HyperX Alloy Origins Core. (Click here to buy)
Runner up: ASUS TUF Gaming K3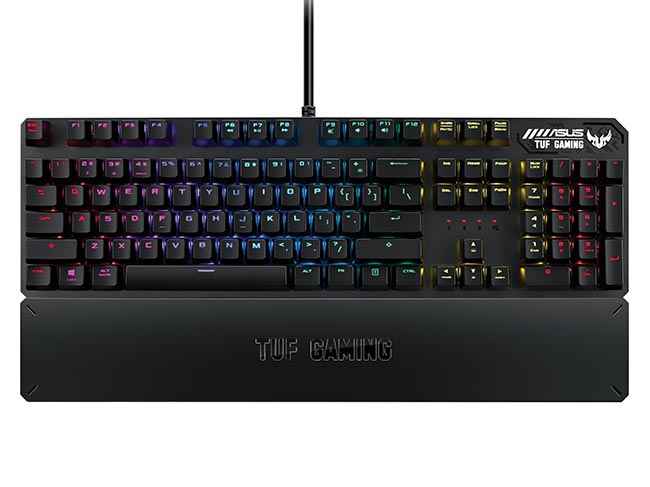 The ASUS TUF Gaming K3 is what one might call a budget mechanical keyboard offering from ASUS. For a budget offering, it comes packed with plenty of features. The K3 uses Kailh switches, our unit came with Kailh Reds. These are very similar to Cherry MX Reds, with the only major difference being an actuation force of 50g as opposed to Cherry MX's 45g. This difference in actuation is very minute, and it would be hard for anyone to discern the difference; the typing experience is essentially the same as one might have on Cherry MX keys. The K3 also has Kailh Brown and Blue variants. Kailh keys have improved a lot over the years, becoming a solid budget alternative to Cherry keycaps. Like with all of ASUS's offerings, the TUF Gaming K3 is fully compatible with ROG Armoury II. In addition to being able to sync and customise all ASUS products in one place, this software is much easier to work with. This includes setting up macros, customising lighting, and downloading firmware updates for the K3 as well. Ultimately, this is a solid mechanical keyboard offering from ASUS, and the K3 has just about every feature you might want from a mechanical gaming keyboard. The HyperX Alloy Origins Core won only by a hair. (Click here to buy)
Best buy: ANT Esports MK3200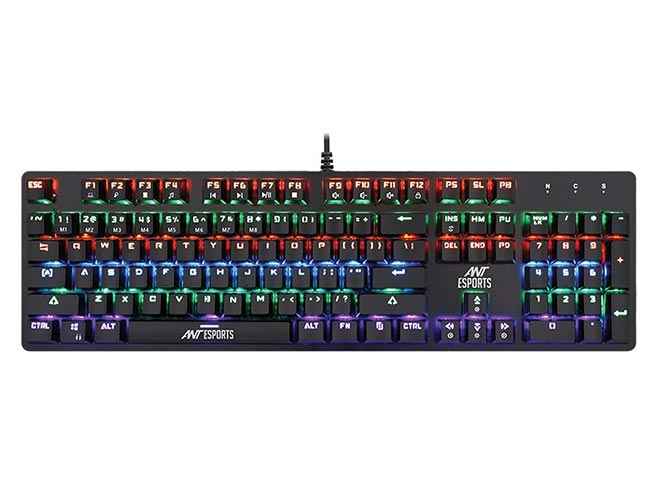 The ANT Esports MK3200 is a no-frills budget mechanical keyboard offering from ANT Esports. While the listed MRP is 5999 it's easily available at less than half the price, which makes it an easy choice for the best buy award. The MK3200 comes with Outemu switches, ours came with Outemu Blues. These are very budget switches, and it makes sense considering the price of the keyboard. Outemu switches have an actuation force of 60g, which is 10 higher than Cherry MX Blues. The other major difference is the actuation point of 2.7mm. The total key travel distance is still the same at 4mm. This means that you'll have to press these keys more in order for the press to actually register. In terms of features, you don't have much, there's backlighting (no RGB) and a few lighting modes, but other than that nothing, no software support either. But at this price point, you're still getting a decent mechanical keyboard. (Click here to buy)
About Digit Zero 1 Awards:
With a legacy of 20 years, the Digit Zero 1 Awards is recognized as the Industry's only performance-based awards. Digit rewards brands for putting in years of research in developing and introducing performance-driven products for their audience. All products are made to pass through a rigorous and scientific test process and compete with competitor brands in the same category. The Winner in each category is announced on the basis of their total score post complete performance analysis done across an average of 56 tests conducted for every category, across key performance parameters. The test process for the Zero1 Awards does not consider scores for features, price or design. The aim is to identify the very best products that money can buy, celebrate the innovations that push the industry forward, and reward the products that dare to disrupt the market.