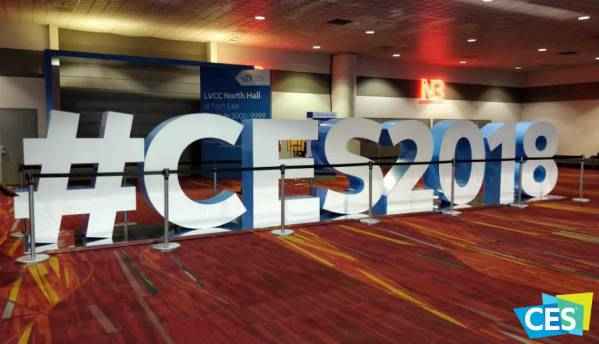 HIGHLIGHTS
CES 2018 plays host to thousands of new products and technologies, but not everyone can claim the Best of CES tag. Based on what we saw, we have compiled a list of all the products that are best CES had to offer this year.
The showfloors at CES play host to some of the most interesting and outright futuristic technology that will soon loom large upon our daily lives. Every year, companies all over the world gather to demonstrate what they have developed and while most are expected iterations to existing technology, there are some that push the envelope further and even bring something totally new to the table. Take Razer's futuristic concept of using smartphone guts to power a full-fledged laptop for instance. The device is the most logical path forward for smartphones which are already as powerful, if not more, than laptops. Then there is a wrist-band that essentially turns your fingertips into a phone receiver (totally out of a sci-fi movie). But the unlikeliest of them all is seeing old rivals, Intel and AMD coming together to design a chipset with the best of both.
With literally thousands of devices being showed off at the showfloors, it took some time to filter them out and select only the best, but hey, that's what we are here for. So without further ado, let's jump right in:
1. HTC Vive Pro
Virtual Reality may have taken the backseat now that augmented reality is making all the headlines, but that didn't stop VR headset makers to improve the existing technology further. Most OEMs that make VR headsets made the jump from a tethered headset to a standalone one, thanks to Qualcomm's Snapdragon 821 chipset, but the largest plunge has been taken by HTC Vive.
The Vive Pro launched at CES 2018 uses proprietary technology to re-create a virtual outline of one's surroundings. It features dual OLED displays of 2880×1600 pixel resolution and offers one of the best audio-visual VR experience out there without the need to tether the headset to a machine.
But the best part about the headset isn't the headset at all. It's the Vive Wireless Adaptor that works for both the Vive and the Vive Pro. It uses Intel's WiGig technology to offer a interference-free 60GHz band lowering the latest and improving the performance. Learn more about the device here.
2. The Wall by Samsung
At CES this year, the fight was all about who has the largest television panel among them all. And Samsung obliterated its rivals with a massive 146-inch 4K modular microLED TV, simply called, 'The Wall'.
The TV uses micrometer scale LEDs that serve as their own light source to display better contrast, have better energy efficiency with faster response times. The panel has a resolution of 4K and Samsung says the TV can be customised to different sizes and shapes to suit user's needs. Watch it in acton, here.
3. LG Rollable 4K TV
If Samsung can claim of having the largest panel, the most futuristic panel was unveiled by LG who demonstrated a world's first rollable 4K TV.
The 65-inch UHD OLED TV features a slim display that rolls out of its base which can also double up as a soundbar. Much like a projector screen, the TV can be rolled up and kept hidden when not in use, allowing it to be easily moved and stored and better space utilisation. Despite its rollable, portable and flexible nature, the 65-inch panels deliver 4K UHD picture quality. To learn more, click here.
4. Razer Project Linda
The usefulness of a phone and the versatality of a laptop comes together in Project Linda. Razer unveiled its concept laptop uses the Razer Phone's power to run. It may sound like what Samsung did with the DeX or even like Microsoft Continuum, but this concept is more refined despite being out of reach right now.
Project Linda features a laptop chassis with a 13.3-inch quad HD display and a dock in place of the touchpad where the Razer Phone fits snug. The smartphone doubles up as a touchpad or even a secondary display and mirrors the 120Hz screen of the Razer Phone into a wide laptop display. The laptop runs on Android and features a 53.6Whr battery that charges the docked smartphone. There's the usual array of connectors and ports and even a backlit keyboard powered by Razer Chroma. It's the best example of combining the two worlds so far. There's more and you can read all about it here.
5. Nvidia GeForce Now
If Nvidia has its say, there won't be need to buy expensive peripherals to run the most graphic-intensive games smoothly on PC. Instead, Nvidia will take care of the processing while you just sit back and frag opponents. The GeForce Now is the company's vision for the future of PC gaming where the processing is handled by Nvidia's data centers and delivered through a high-speed broadband connection to Windows users (and even Mac users for that matter). The service is currently in closed beta and only supports 1080p resolution and frame rates of up to 120fps. There are more than 150 titles supported right now. Get all the meat about the service here.
6. Intel G-series processors
The enemy of Intel's enemy is its friend. With Nvidia's surging popularity, long-time rivals Intel and AMD joined hands to release the new Intel 8th Generation Core CPUs that comes with integrated Radeon RX Vega M graphics. The two companies have always been neck-to-neck, competing for the prime real estate in motherboards, but CES 2018 brought the two together to create a CPU with graphical prowess similar to a standalone GPU. Laptop makers will now have a choice between using the new Intel processors or using a separate Nvidia processor with MaxQ technology, both of which will shrink down the size and weight of the laptop without compromising on the computing power. Learn more about the processors here.
7. Google Assistant everywhere
Google Assistant matured to a great extent at CES 2018 and found itself in a multitude of smart devices and even in cars. The digital assistant was being given a run for its money by Amazon's Alexa which had a headstart in rallying companies to include support for the assistant for years. Now Google is getting into the game and offerings by Lenovo and JBL are prime examples of that. Both are smart displays much like Amazon Echo Show. They support Google Maps, Google Photos, use Duo for video calling and double up as smart hubs for controlling smart devices. But the best part is that the devices support YouTube, which was pulled down from the Echo Show just a month back. Additionally, Google Assistant has also made its way to Android Auto. Finally. Cars can leverage the digital assistant's feature to augment their abilities and offer a more connected experience. Read more about it here.
8. Lenovo Mirage Solo
Even though virtual reality was a hugely anticipated technology, its logistical barriers kept it from going mainstream. But Lenovo's Mirage Solo could the one to break free. For one, it does not need a computer or a smartphone to run. It has its own display and is powered by the Qualcomm Snapdragon 835 chipset and runs on Google's Daydream platform. It is also integrated with Google's Worldsense technolgoy which is capable of tracking the headset's position in3D space without the need for external cameras or sensors. It even lasts for up to seven hours on a single charge. Read more about it here.
9. SGNL wristband
How cool would it be to use just your fingers to talk to people over the phone? The SGNL wristband is the answer to that. The wristband which also doubles up as a watch strap (supported by Apple Watch) is paired with a smartphone and when a call arrives, it vibrates and sends the vibrations through your wrist to your fingertips which you place on your ear and hear the person on the other end clearly. This is literally the future!
10. Byton Concept SUV
Chinese startup Byton showed off its 5G connected, all electric SUV which is still a concept right now, but a tantalising one at that. The SUV is Alexa equipped, has Level 4 autonomous driving and looks straight out the future. The car looks quite ready for production and Byton is aiming for a 2019 release date. The car is powered by a fully electric drivetrain equipped with two batteries that is capable of driving 402km and 523 km respectively. There are a bunch of sensors and algorithms necessary for autonomous driving. Inside the car, a sweeping, curved display across the entire dashboard is the center of attraction. Now all of this may seem a bit overkill, the car holds potential of delivering on its promises and Byton is confident it will be able to meet the deadline it has set for itself. For more details, check here.