"In this whole new digital music revolution, there is no market leader. There are small companies like Creative and Sonic Blue and then there's large companies like Sony that haven't had a hit yet and they haven't found the recipe. No one has found the recipe yet for Digital Music. We think, not only can we find the recipe, but we think the Apple brand is going to be fantastic."
Steve Jobs was a showman for sure and when he introduced the Apple iPod back in 2001 with this speech, Apple did exactly what it promised - changed the world of digital music.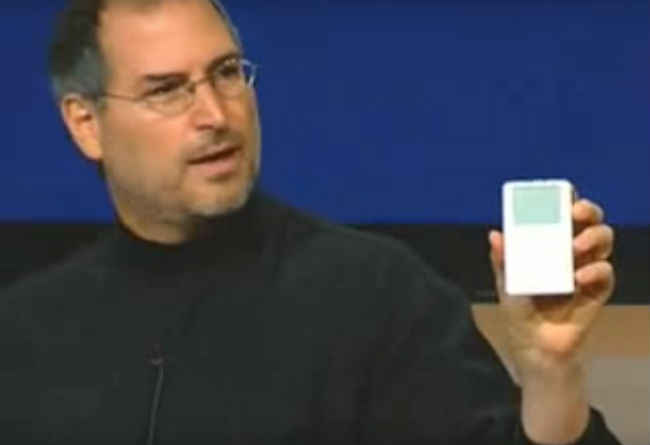 Steve Jobs introducing the iPod for the first time
The iPod is now 15 long years old and even though it may not be a significant part of Apple's product strategy now, it was one of the biggest disruptions in the digital music industry ever. We will remember the iPod for time to come and just to jog your memory, here's a look at how Apple's most iconic music player evolved over the past decade and a half.
The first iPod ever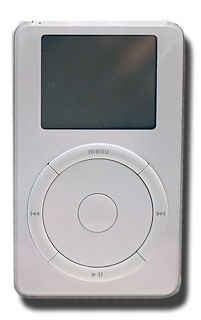 iPod First Gen
For its time, the first generation iPod was a market disruptor. Up until the iPod, audiophiles had four other options for music - an MP3 Player, a CD player, a flash player and a hard drive. To hit the sweet spot, Apple wanted to make a digital music player that was as cost efficient as a hard drive yet small enough to be portable. In fact, Steve Jobs even presented a price comparison of all 4 players along with the cost per song for each. This is what it looked like back then: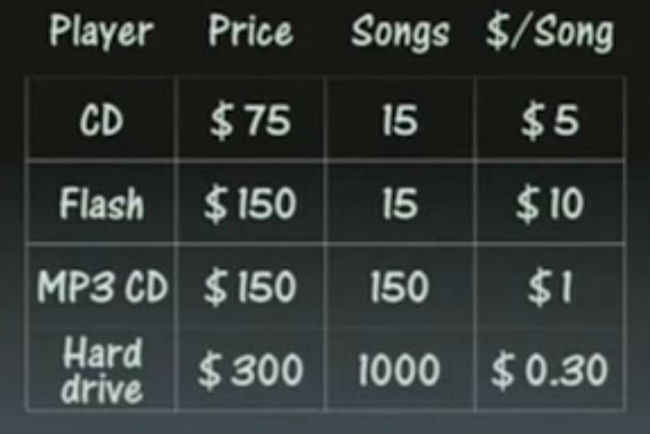 From Apple's first iPod presentation
And so the iPod was born. The first iPod had 5GB of storage and could house up to 1000 songs. However, the best part about it was its size. The iPod was a pocketable digital music player and Apple achieved this ultra-portable size by using a hard drive that was 1.8 inch in diameter with a thickness of just 0.2 inches. Millennials may not think this is a big deal, but back then, this was a competition killer! The iPod was also capable of supporting different formats such as MP3, MP3 Variable bit rate (VBR), Wav and AIFF all at the same time. It was also the first music player to have FireWire support built into it, this allowed for faster data transfers compared to USB.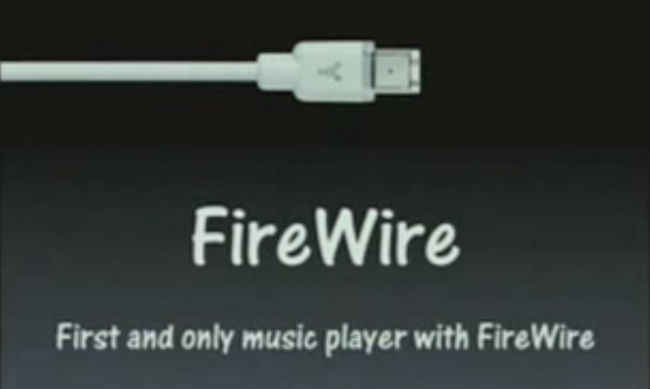 From Apple's first iPod presentation
Made of stainless steel, the first ever iPod stole hearts and how!
The second coming - iPod Second Gen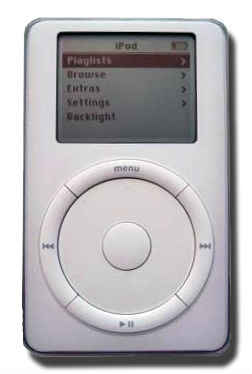 The second gen iPod was introduced in 2002 and this was the first time Apple did away with the mechanical scroll wheel, paving way for a touch-sensitive wheel. Apple also introduced a 20GB version on the second iPod, this after the company took out a 10GB version of the first-gen iPod. The FireWire port on the second gen iPod had a cover.
And then there were three - iPod Third Gen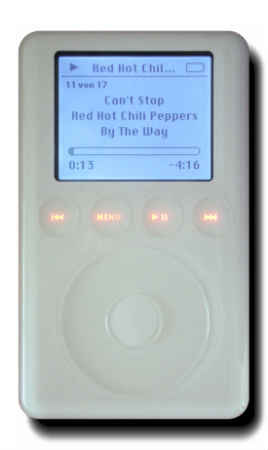 The third generation iPod was the first time Apple planned and executed a major redesign of the digital player. Media controls were presented as touch-sensitive buttons making it an all-touch interface. The 30-pin connector was also unveiled for the first time (which would remain until the Lightning Port was introduced in 2012). The iPod 3 came in 10GB, 15GB, 20GB, 30GB, and 40GB variants and yes, it got slimmer.
Small is big - iPod Mini First Gen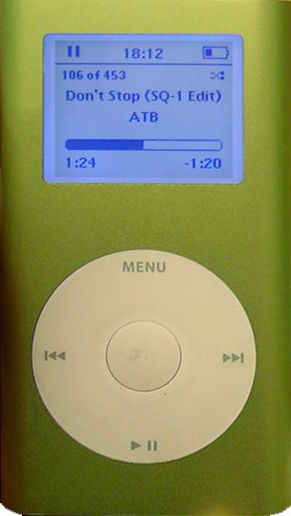 In January 2004, Apple made the iPod even smaller and introduced the click wheel for the first time ever. The click wheel would then go on to be featured in all of Apple's future iPods. Further, It sported a 138x110 LCD monochrome display, came in 5 colours and housed 4GB capacity. A 6GB version was introduced in the second generation of the iPod Mini.
Everything is shuffling - iPod Shuffle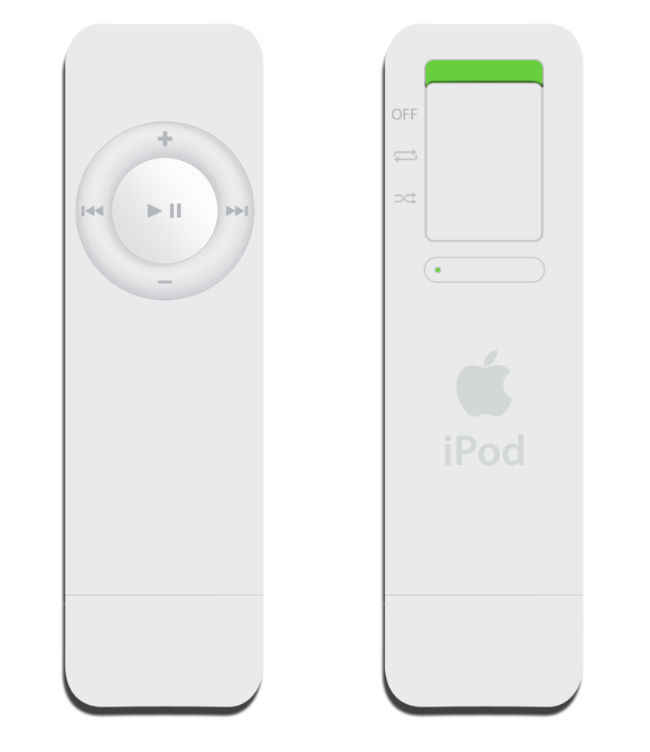 A year later, in January 2005, Apple unveiled the iPod Shuffle, the first iPod to use flash memory. It had no screen and offered 512MB, 1GB storage options. The iPod shuffle was also Apple's first entry-level iPod. The first iPod shuffle was followed by a clip-design second-gen shuffle, which featured an anodized aluminium casing. Did anyone notice how the iPod shuffle looks just very similar to Apple TV's (Third-Gen) remote?
The fantastic 5 - iPod Fifth Gen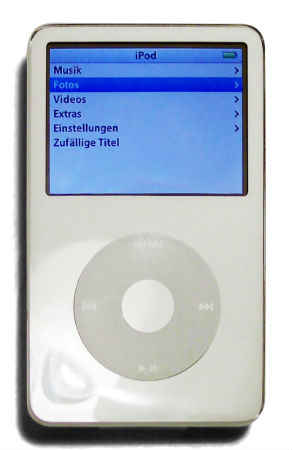 The fifth generation iPod was Apple's second major redesign of the product. By now, fourth-gen iPods has started support for picture viewing and had a colour screen. In its fifth avatar, the iPod became smaller, slimmer, had a larger screen, and supported video playback. It was also the first iPod to feature 80GB of built-in storage.
The 'Classic' 6: iPod Sixth Gen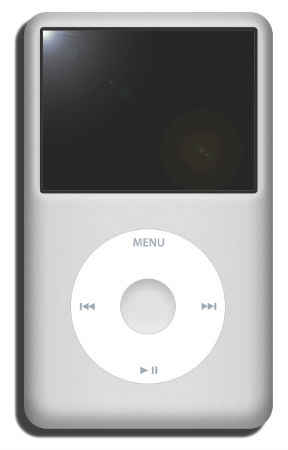 The sixth iPod was the first to introduce the 'Classic' suffix. It came with a new interface and an anodized aluminium front. The iPod Classic was available in 80GB, 120GB and 160GB variants. The Classic was discontinued in 2014.
The first touch - iPod Touch First Gen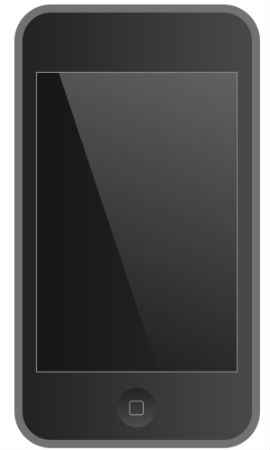 The iPod Touch was also unveiled along with the iPod Classic in September 2007. It was the first ever iPod to feature Wi-Fi connectivity and a Multi-touch interface. It added support for Safari and YouTube, and was available in 8,16, 32 GB variants.
Say Cheese - iPod Nano Fifth Gen
Image credit: Wikipedia
With the fifth iPod Mini, Apple introduced a video camera on the iPod for the first time ever. The iPod Nano Fifth Gen also included support for FM radio, a speaker and a pedometer. Quite a leap from its predecessors.
Getting smarter: iPod Touch Fourth Gen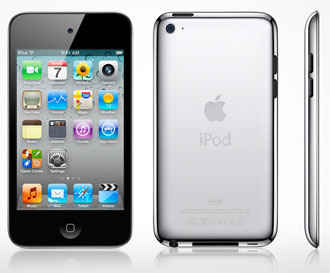 Now this was an awesome iPod. The fourth-gen Touch brought with it 2 cameras, Facetime support, HD video recording, Retina display, and Apple's A4 chipset. This was followed by the iPod Touch fifth-gen, which featured a new aluminium design, Apple A5 processor, a 4 inch retina display and support for Siri.
The last one - iPod Touch Sixth Gen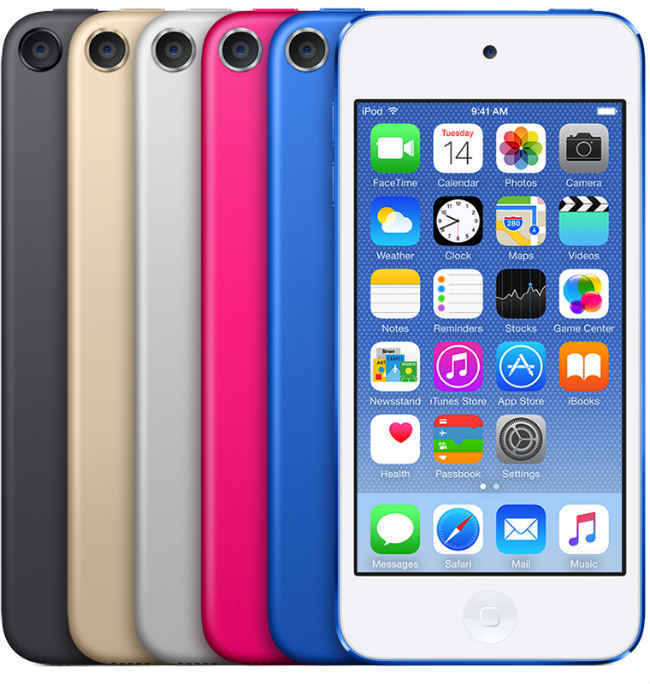 The last iPod ever to be made was the iPod Touch sixth-gen. Introduced last year, this iPod houses an upgraded A8 chipset from Apple. However, there's no major change in design here.