Button up your neon jackets and rev up that electric engine as we're about to dive into the much-awaited world of Cyberpunk 2077 in just a few hours. One of the most hyped titles in recent memory, Cyberpunk 2077 has captured the hearts and hard drives of players everywhere, including our very own, India. So, without further ado, here are 5 things you need to know before you rev up your electrobike and cruise the streets of Night City!
Platforms it is available on in India
Cyberpunk 2077 is available on PC, PS5, PS4, PS4 Pro, Xbox One, Xbox Series X, Xbox Series S in India, so if you've got any of these platforms, you will be able to play the game. The game will run using backwards compatibility on the PS5 and Xbox Series X.
Price in India
So, here's the thing, Cyberpunk 2077 costs Rs 3,307 on gog.com, Rs 3,205 on the Epic Store and Rs 2,999 on Steam. You can also buy a physical copy of the game from Games The Shop for Rs 2,499. Remember, these are prices for the PC version of the game.
If you're a console gamer then Cyberpunk 2077 will set you back by Rs 3,409 for the Xbox (One, Series X/S) and Rs 3,499 on the PS4, PS4 Pro and if you're one of the lucky ones, for PS5 through backwards compatibility.
System requirements for PC:
You can check out the official CDPR recommended specs in the image below.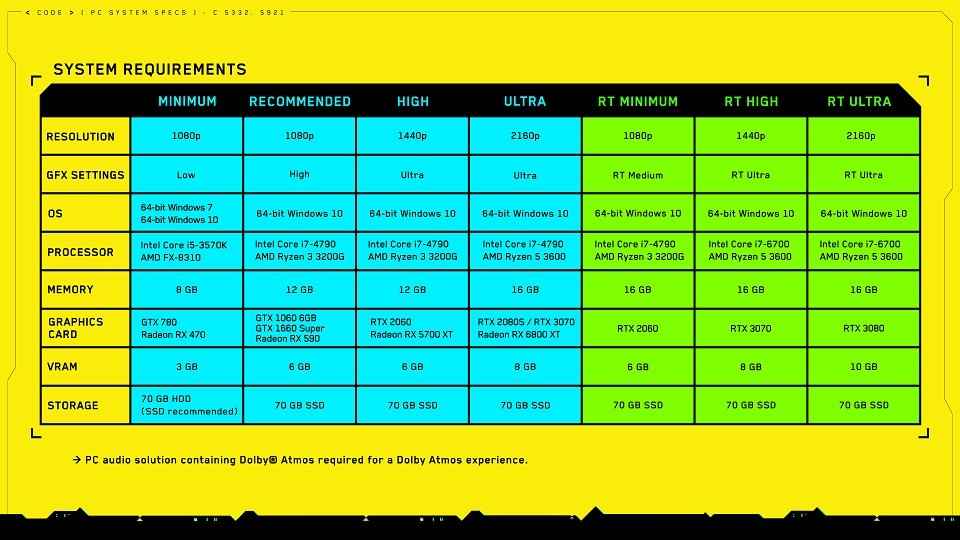 Backwards compatibility for next gen consoles
So, if you're one of the very few who own a PS5 or Xbox Series X/S, worry not as the game is perfectly payable on both consoles through the magic of backwards compatibility. As of now, you will be playing the PS4 and Xbox One versions of the game but the developers have sai that a "true" next-gen experience will be coming once the game official launches for next-gen systems.
Day 1 patch
There will definitely be a day one patch for both the Xbox Series X and the PS5. We do not have too much info on that fixes the patch will bring several next-gen improvements to the PS4 and Xbox One version when running the game on a PS5 and the Xbox Series X/S, respectively. Our money says that the patch will fix load times, frame rate issues and more.
(Bonus) Pre loading
If you've already bought a copy of Cyberpunk 2077 on either the PC or for your console, then you can begin pre-loading the game so that you can play it as soon it is released. I personally bought my copy of the game from gog.com (because all the money I spend goes straight to CDPR) and have already pre-installed the game. And, of course the impatience bug bit me and I tried to play the game only to be greeted by a screen that told me to go back to sleep!
So, there you have it folks! Cyberpunk 2077 is just a few hours away, and we know that you guys are all pumped up for the release. For more Cyberpunk news, stay tuned to Digit.in.