PUBG Mobile is nothing short of a phenomenon in India. The game was launched over a year ago, and back in May this year, it was reported that the game had over 10 million daily active users. While Fortnite was also launched in India, it failed to make a dent in PUBG Mobile's numbers. However, the juggernaut that is Call of Duty recently made its way to the mobile space and it seems to be giving PUBG Mobile a good fight.
According to a recent report by Ranker.com, Call of Duty: Mobile has surpassed PUBG Mobile in terms of popularity, at least globally. However, we wondered if that really was the case in a country like India where PUBG Mobile has such a strong foothold. So we did what anyone would do and asked the people. We created a poll on Facebook, Twitter and Instagram to see what our followers prefered and the results were interesting to say the least.
While most of us predicted that PUBG Mobile would win unanimously, that wasn't the case. While PUBG was the preferred game for our Facebook and Twitter audience, Call of Duty: Mobile was liked by those who follow us on Instagram. Regardless, the winning margin on all three platforms was so close, we could just call it even-stevens and call it a day. But that would be boring. So let's comb through what we got to see if we make something of the results
Facebook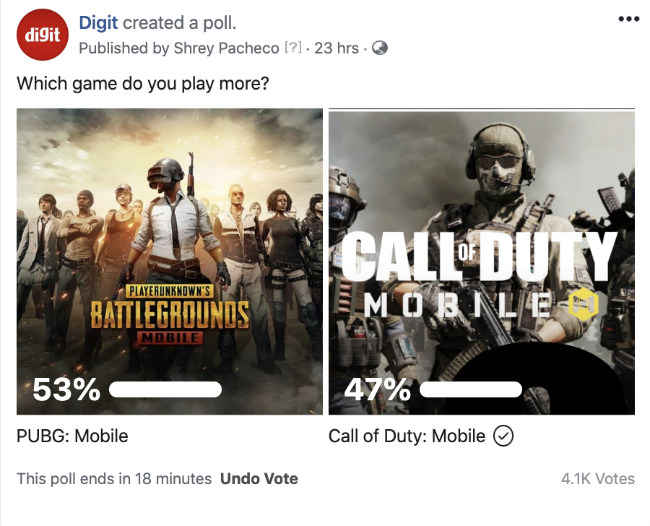 Our post on Facebook had around 4100 votes. Out of these, 53% said that they preferred PUBG Mobile over Call of Duty Mobile.
Twitter

We only got 126 responses on Twitter, but even they were pretty much split down the middle. 52% said that they liked PUBG Mobile instead of Call of Duty Mobile.
Instagram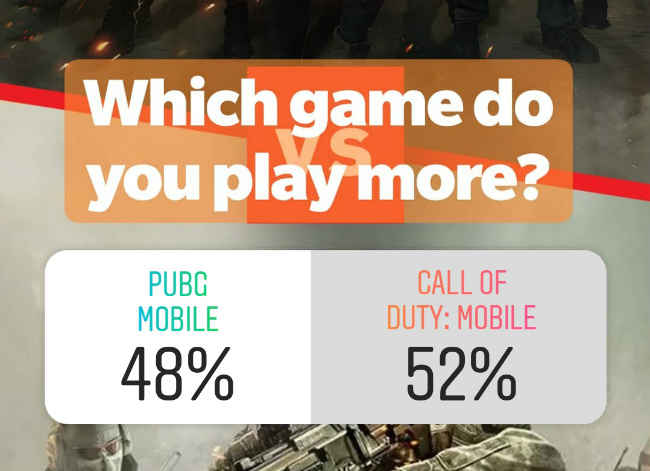 Our followers on instagram decided to buck the trend. 52% of the voters said that they liked Call of Duty: Mobile over PUBG Mobile.
So what does this all mean? Well, as mentioned before, many of us in the Digit office expected PUBG Mobile to be the unanimous winner. While the game did manage to be the overall victor, we were taken aback by how close the voting was. There could be many reasons as to why this is the case and many let their feelings know on Facebook. Many people said that they loved the team deathmatch (Frontline) mode in Call of Duty: Mobile, while a few others loved how polished the game was as compared to PUBG Mobile. There were also some who were critical of the cheaters and hackers in PUBG Mobile.
So what would account for PUBG Mobile still being so popular? Well, the game has been around for a very long time and has a sort of a community already built around it. As such, these players might be a little hesitant to make the switch as they have already invested a lot of time, and in some cases, money into the game. Additionally, Call of Duty: Mobile is barely a month old and many of the players might be charmed by the novelty of it all. It remains to be seen if the game will have the longevity of its peers.
When we asked Chris Plummer, Activision's VP, Mobile about what made Call of Duty: Mobile different from PUBG Mobile. He said, "when we look at how the game plays, looks and feels, there's definitely a different level of AAA polish on the controls, on the feel of the gameplay, the feel of the weapons. This, we think, is very unique and very familiar to Call of Duty fans because it's something that's been a hallmark of the franchise, and stuff like paying attention to the feel, the performance, and the way that mechanics play out. This is a true Call of Duty the experience." Plummer also talked about how the maps in the Multiplayer and how they have been "battle tested" over the course of 10 years. You can check out the entire conversation here.
Here's why VoWiFi calling is more convenient than a WhatsApp/Skype call
Previous Post