When was the last time you tuned into a Friday/Saturday night premier on Star Movies or HBO? When was the last time you spent 4 hours watching a 3-hour movie on Z-Cinema, on a Sunday afternoon? Come to think of it, when was the last time you waited for something to come on TV, so you could watch it?
India never really got into the "TiVo" phase of recording and watching their favourite TV shows. Sure, Tata Sky and all the other service providers out there give you the ability to record TV shows and movies, but the popularity of these services is still questionable. Additionally, not many of us directly stream movies to our smartphones, laptops, tablets and the numerous other devices at our disposal. How many of you have moved away from torrenting your favourite TV shows, and streaming them from legal or you-know-which sources?
There are a number of apps that let you stream movies and TV shows from the comfort of your smartphones, Smart TVs, tablets and laptops. Here, we have with us one such app – Spuul. Does it deserve your subscription, or are you better off looking elsewhere? Here's what I felt.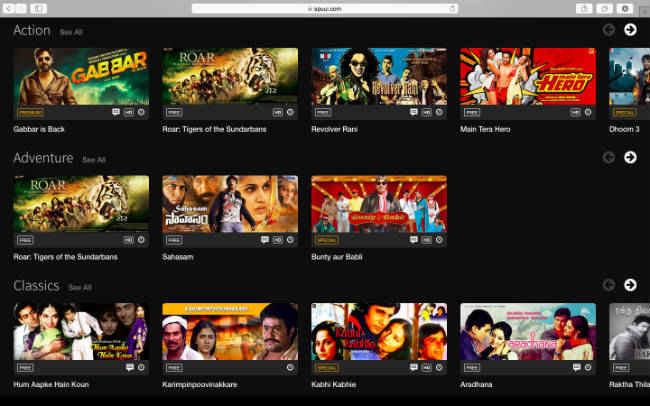 Movies by genre
Content and Pricing
Fire up the website, spuul.com, and you will be greeted by a homepage full of Indian movies and TV shows, in Hindi and other regional languages. So, if you are one looking for Hollywood content, you will have to look elsewhere.
There is a lot of content available for free, so that you can try out the service before investing on a subscription. For the free model, users can watch a select list of movies and TV shows, download them for offline viewing on smartphones or tablets, but at the same time bear the annoyance of advertements. Users can also opt for a 'Premium' account, which is priced at Rs. 300 per month. There is also a 'Special' subscription plan, where users can pay a minimum rental amount of Rs. 60 per movie, and watch it within 72 hours of subscribing.
In my opinion, that's a little steep, but we will get to that when we talk about the variety and quality of content that Spuul has on offer.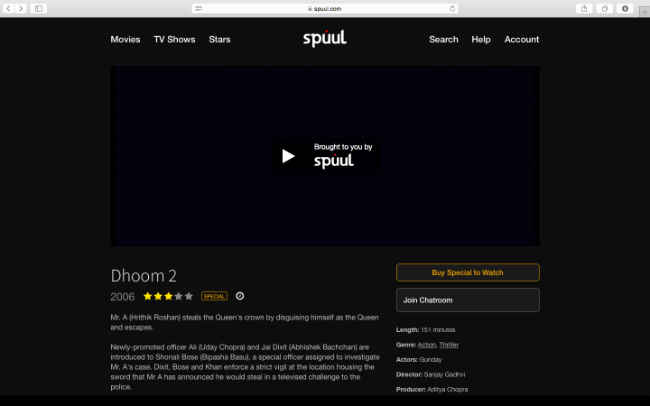 Now, here is the funny thing. Despite having a 'Premium' account for the course of my usage, if I wanted to watch a movie that was categorised as 'Special', I'd still have to pay for it! This somewhat defies the logic of paying for a 'Premium' account, doesn't it?
Coming to the variety of regional content available, I have found movies in Tamil, Telgu and Punjabi. Spuul Global VP, Ravi Bhushan says, "We support all languages. While the focus is currently Hindi, we are looking to add regional content in the coming few months."
Coming to the movies themselves, the library is large, with "500+ of the choicest, handpicked, recent Hindi movies with a smattering of other languages," remarked Bhushan. While the library of movies is really large, you will mostly find all the popular movies here. If you are looking for any movie published by Eros, you wont find it here. So, if you want to watch movies like Badlapur and NH10, you will have to log on to the Eros Now website.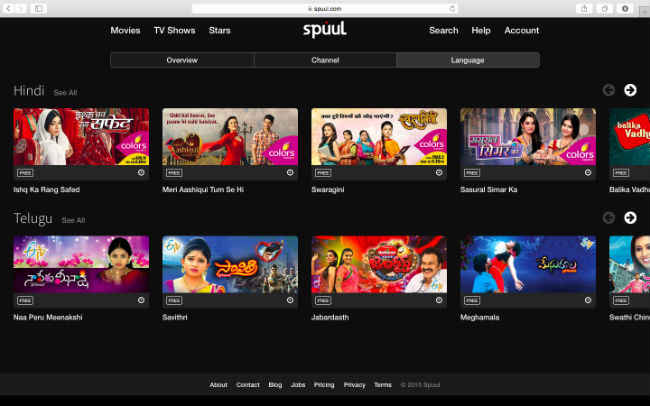 Coming back to Spuul, even searching for popular films like Dil Chata Hai, Jaane Bhi Do Yaaro and Andaz Apna Apna yielded no results. Even though the library seems large, it is selective, and not for those with specific tastes. That said, the titles that do exist on the Spuul platform are an eclectic mix of recent Bollywood hits such as Ugly, Revolver Rani and some memorable oldies like Karz (the original one, and not the Himesh Reshammiya one), Hum Aapke Hain Koun, Pardes, Lootera, and more, in its free library.
The paid library includes the likes of Saheb Biwi Aur Gangster Returns, A Wednesday, Paan Singh Tomar, Swades, Dev D, Queen and more. Yeh Dillagi is also a part of the Premium library, and watching it after ages was a lot of fun.
There are TV shows here aswell. So, for those of you who like over-the-top reality cum drama shows, you will find some crowd favourites like Roadies, Webbed 2, Code Red and more, available. Being a Shah Rukh Khan fan, the only exciting thing in the TV shows section for me was Fauji. Remember King Khan somersaulting in his Army Khakis? Yes, it's here.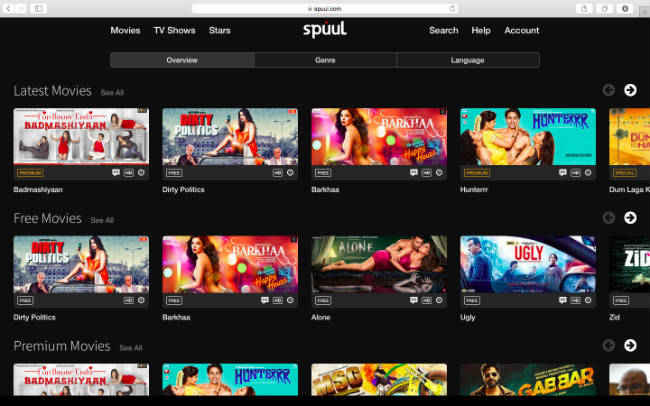 Design and apps
The design and layout of the website is clean, and easy to navigate. The homepage has a carousel of new and trending movies. Next, you have "Recommended for You", "New on Spuul", "Free Movies", "Director's Cut", and the likes. The layout is simple, clean and elegant, and I like it.
The same can be said for the design of the mobile app. The layout is the same, but compressed for the small screen of the smartphone. I personally like the layout of the app and the website, both aiding ease of viewing and finding specific content.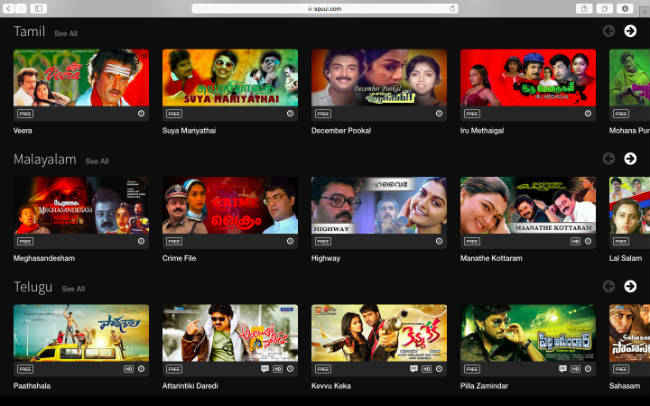 Performance and streaming
Movies stream in the following resolutions – 108p, 182p, 272p, 362p, 544p and 816p. There is no 1080p movie streaming here. If you are one that enjoys movies in high resolution, and has a laptop with a 1080p display, then the quality of movies will be an issue for you. For me, setting it to 816p and waiting for it to buffer worked fine. Then again, my device has a 13-inch display with a resolution of 1440x900 pixels. For desktop or laptop viewing, the movies run fine.
Where I did face a problem, was on my smartphone. My smartphone has a 5.5-inch display with a 1080p resolution, and some of the movies looked very fuzzy on it. The low resolution renders pixelated clips, hampering the viewing experience. There is no manual control as to what resolution you are watching the movie at, on smartphones. The quality of movies seem unpredictable, and without the option of manually toggling the print quality, you will be stuck with a pre-selected resolution for viewing. For instance, watching 'A Wednesday' on the smartphone was not a pleasant experience, but on the other hand, watching a movie like 'Queen' seemed fine.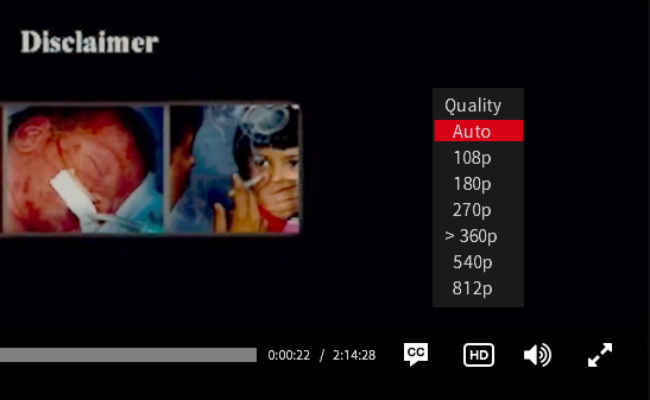 Offline view
One good thing about the app is that it lets you download movies for offline viewing on your smartphone. A movie like 'Queen' was available in low, medium and high resolution variants, spanning 291MB, 540MB and 955MB file sizes, respectively. Resolutions at which it is downloadable range from 400x170px to 1280x544px. On the other hand, 'A Wednesday' was available in a tiny – 44MB size, with a resolution of 256x106px, and low – 238MB with a resolution of 430x178px.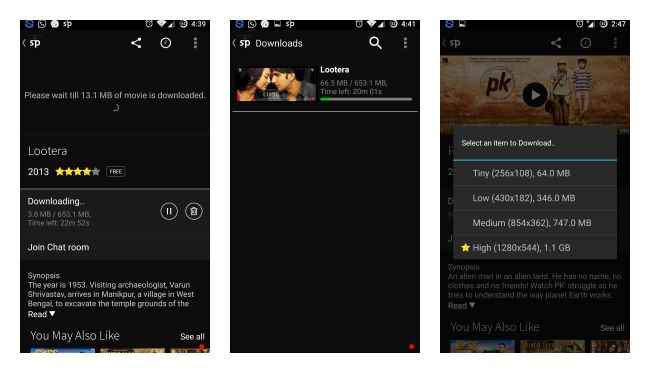 Downloading a 653MB file of Lootera took a little less than half an hour on my office connection speed, which was acceptable. You also have the option to stream the movie, as you download. If you are someone looking to watch movies on your smartphone, I would suggest downloading them at the highest possible resolution, to best view them on your smartphone.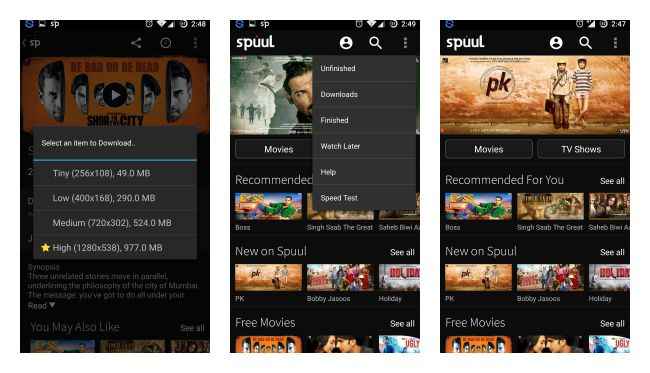 Conclusion
So, here is the Rs. 300 question – should you invest the amount on a monthly scheme to watch films via Spuul, primarily a library of Bollywood movies? I'd recommend you to go through the free service first. If you are into Bollywood movies and enjoy watching them, then there is a lot for you here.
The consumer today is spoilt for choice, with services such as Google Play Movies, Hooq, Bigflix, Eros Now, YouTube Movies and more, offering users a diverse portfolio of movies at different prices. I am not a big Bollywood fan, and yet, I enjoyed Spuul. I watched movies I would have otherwise ignored, and got to relive some old memories. Apart from the low resolution in some cases, I liked the offline playback option and the overall service made my metro ride home a lot more fun. The only real downside, apart from the resolution, is that, despite having a Premium account, some movies still required me to pay for them, and that's a major detractor.
If you are going to watch more than 10 movies a month from the Premium section, Spuul does make sense to subscribe, at Rs. 300 per month. It will make commuting via public transport, or any random boring moment, definitely more entertaining.
For those of you looking to subscribe for online streaming, here is a quick look at the pricing structure of other similar competing services.
| | |
| --- | --- |
| Service | Monthly Plan |
| Spuul | Rs. 300 |
| BoxTV.com | Rs. 199 |
| Eros Now | Rs. 250 |
| mavshack | Rs. 400 |
| Hooq | Rs. 199+tax |
| BigFlix | Rs. 249 |