HIGHLIGHTS

Adobe Fresco is an app for painters and artists

Live Brushes simulate real-world characteristics

Fresco is currently exclusive to Apple iPad
When Adobe showed off Project Gemini last year, there was a lot of excitement around the product. However, at the time, Adobe had neither given the product an official name, neither announced any timeline on when it will come to market. After a few months of waiting, Adobe finally announced Fresco, the official name for Project Gemini. Adobe Fresco is an app that seeks to bring the analogue medium of painting to the digital realm. Adobe shared an early release of Fresco for iPad with us and here's what its been like painting on a screen for us using the Apple iPad Pro (11-inch) and the Apple Pencil.
Getting Started with Fresco
Adobe Fresco is a rather unique painting environment for several reasons. While there is no dearth of apps that enable creative expression on the iPad, Fresco goes the extra mile in various ways. One of the biggest highlights of Fresco happens to be Live Brushes, brushes that replicate their real-life, analogue counterparts. That means the strokes of watercolour would interact with other watercolour strokes already made, oil paint would mix with other oils in a more realistic manner. While this is big in of itself, the other major strength of Adobe Fresco happens to be the fact that it combines Raster, Vector and Live Brushes into a single application. It's not just that you have access to all three types of brushes in one app, but also the fact that they can all be used together on a single piece of artwork.
Using Adobe Fresco
As of now, Adobe Fresco is only available for the iPad. We used the beta version of the app through Apple's TestFlight program on our 11-inch iPad Pro coupled up with an Apple Pencil. After playing around with the app for a few hours, some very interesting things about the app immediately stood out. If anyone has ever used Adobe Photoshop or Illustrator, you're going to feel somewhat at home.
Fresco offers the same layer-based workflow we're seen in Adobe's popular editing programs like Photoshop and Illustrator. You get the same kind of control over layers such as opacity and blending modes, which comes in handy when you're working on a complex piece of art.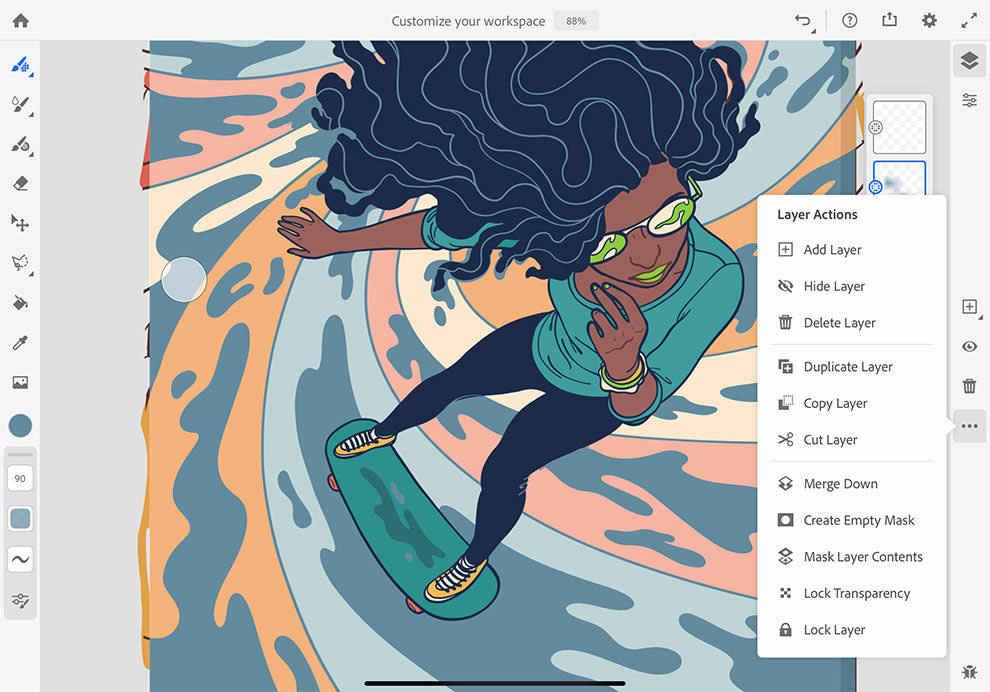 Despite being a new app, Adobe Fresco feels incredibly familiar (Artwork Courtesy: Adobe Stock)
When it comes to creating artwork, Adobe has really squeezed the most out of the Apple Pencil. Each of the brushes, whether raster or vector, can be configured with great precision. Everything from the pressure sensitivity to the way the paint reacts to the pressure of the pen can be adjusted. Depending on the brush type (watercolour, oil, raster), you'll have a mind-boggling number of settings you can tweak, besides the normal stuff like paint colour, opacity etc.
Live Brushes
Probably the feature that has created the most hype around Adobe Fresco is the Live Brush feature. The concept behind Live Brushes is simple. When using watercolour or oil based paint in the app, the "paint" should behave exactly like it would in real life. This means that when you push the Apple Pencil against the canvas of Fresco, you will see the watercolour spread across the page, just like it would had you been using a wet paintbrush and paper. Its quite something to watch this occur on a digital screen. Switch to a different colour with the watercolour brush and every new stroke that interacts with the previous one will cause the paint to spread and create a new mix of colour. This, of course, only works if you're painting on the same layer. While using the beta, there were times the feature did not exhibit the "flow" like it should have, but that's alright given that the app isn't yet finished.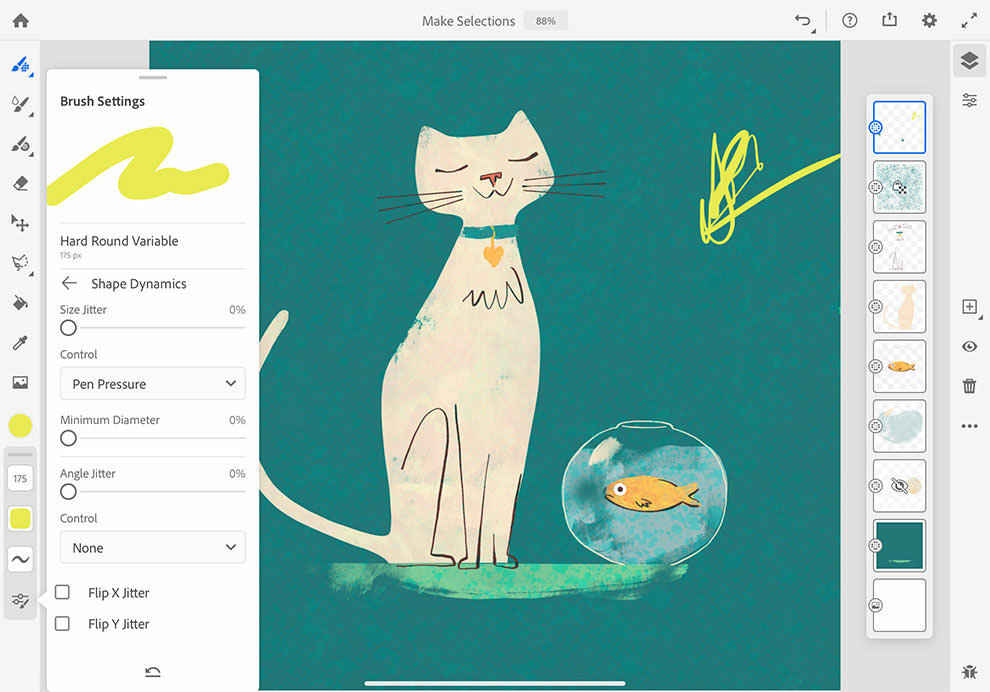 Adobe Fresco offers extensive control over the brush behavior (Image courtesy: Adobe Stock)
Switching over to oil paint was another "whoa" experience. When you run the Apple Pencil across the display like you would a brush laden with oil paint across a canvas, you will see oil paint come to life. You can see the ridges on the paint glisten. It literally looks like a stroke of oil paint, which is pretty impressive in of itself. The ridges and sheen is produced in relation to how the Apple Pencil moves across the display. If you decide to mix paints, you will observe a rather life-like behavior on how the paints mix. Varying the pressure between strokes translates into the paint's behavior changing as well, which is very impressive to see on a digital platform.
Creating Artwork
Adobe Fresco is loaded with brushes and tools to aid you in expressing your creative best. Fresco isn't a "typical painting app" and in order to create great artwork, you will have to spend plenty of time finely drawing our lines and filling in the colours. Coupled with a set of powerful tools right out of Photoshop, Adobe Fresco offers quite an intricate and life-like experience when it comes to painting. I am personally not a very good painter, but some of the works of art that have been created in Fresco are downright stunning. In the right hands, the iPad Pro with the Apple Pencil becomes a canvas for the painter. However, there are areas where Adobe could definitely finetune the painting experience.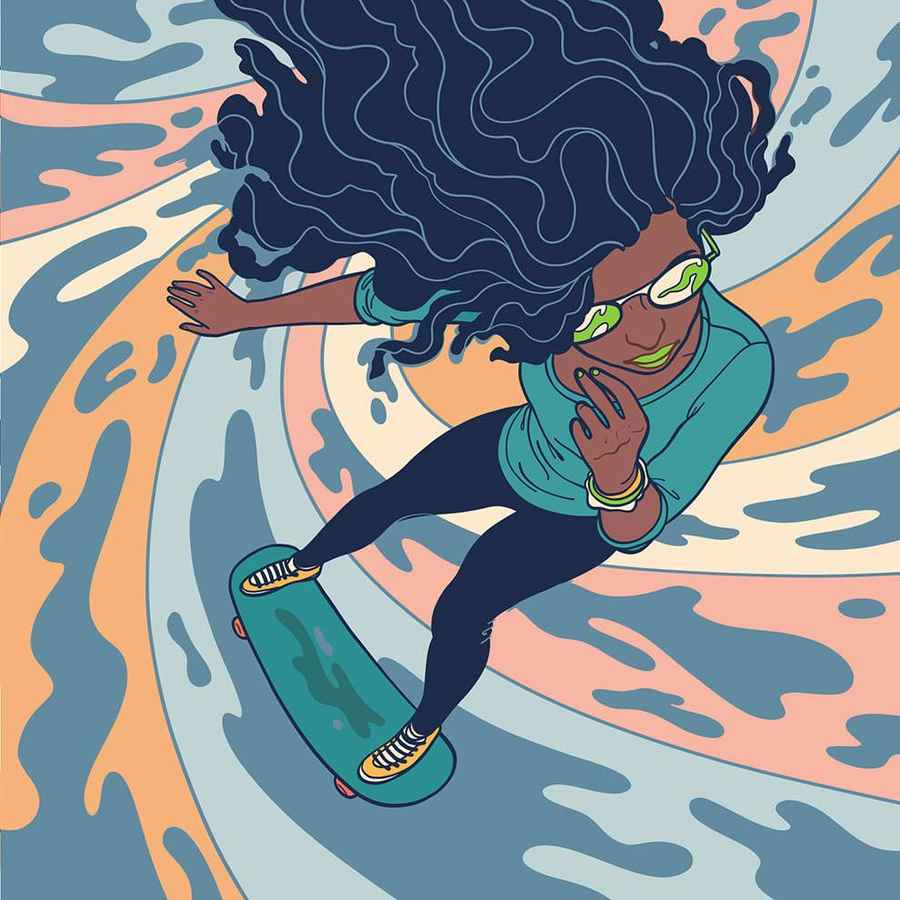 Adobe Fresco combines vector, raster and live brushes to open new doors for creative expressions (Artwork Courtesy: Adobe Stock)
Scope for Improvement
Adobe put a lot of emphasis on marketing the Live Brushes, which simulate the real-world characteristics of the paint, whether watercolour or oil. However, it felt a little weird to paint on a canvas that looked like an A4 sheet of paper. There is no way to select the type of paper or canvas you'd be painting on. One critical aspect of watercolour is the rate at which the medium absorbs and spreads the watercolour, so not being able to choose that is a weird experience. Even when using oil paints, the lack of a texture that resembles canvas felt very weird. We've discussed this with the good people over at Adobe and they agree that a textured surface for creating the artwork would add to the realism of working in Fresco.
For now, Adobe Fresco remains an iOS exclusive, but will soon be coming to other platforms that support a stylus. However, Adobe themselves say that Fresco was designed for the Apple iPad first, possibly due to similar reasons that other developers shared with us; lack of fragmentation. Apple's unified code base and APIs mean that Adobe can make Fresco work on a range of iPad models, as long as they support the Apple Pencil, regardless of whether it's Apple Pencil 1 or 2. Fresco is a powerful new tool for artists to explore, and while there is plenty of room for improvement, it is definitely a good start for the app. As far as availability goes, Adobe has not yet set an official launch date but did say that it will be coming very soon to the public.