Thanks to technology, all of us now have the capability of carrying an entire library's worth of books in our pockets. While there may be some who argue that nothing comes close to the feeling of holding an actual book in one's hand, even they will have to agree that having instant access to their entire collection of books is pretty cool. Here are 7 ebook reader apps that Windows phone users can use to get their fill of the latest ebooks, audio books and even comics!
Amazon Kindle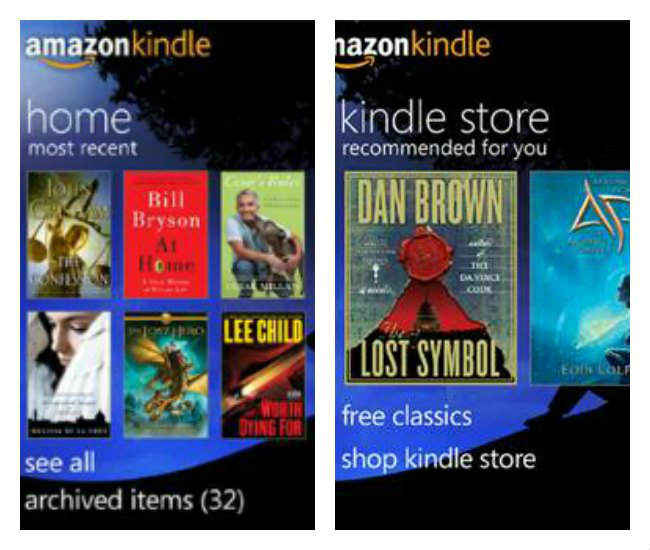 Kindle is a name that is synonymous with ebook readers. So what if you don't have a Kindle device, users can still download this app and read books on their phone. The account also syncs between devices, so avid readers can continue reading their book on almost any device that has the Kindle app.
Bookviser Reader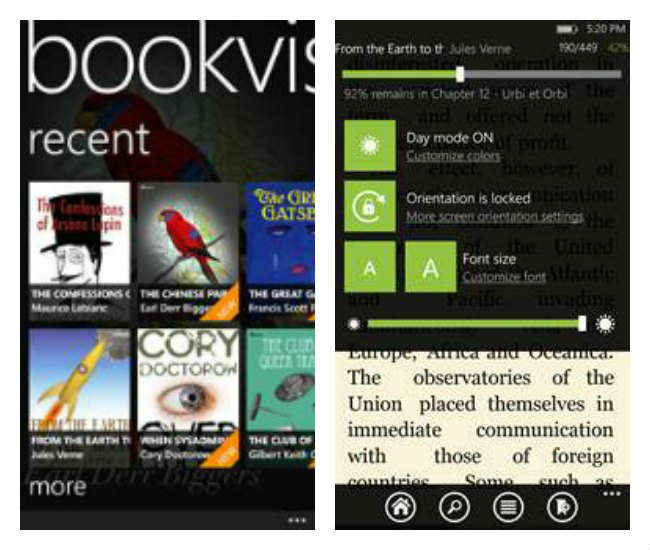 Bookviser Reader is a nifty ebook reader that offers number of customisation options to suit the user's reading styles. This includes the ability to set font type and size, set colour themes for night or day, text-to-speech support, and more. Users also have the option of importing books from the SD card, file system, or from their OneDrive or Bookviser account.
Comicana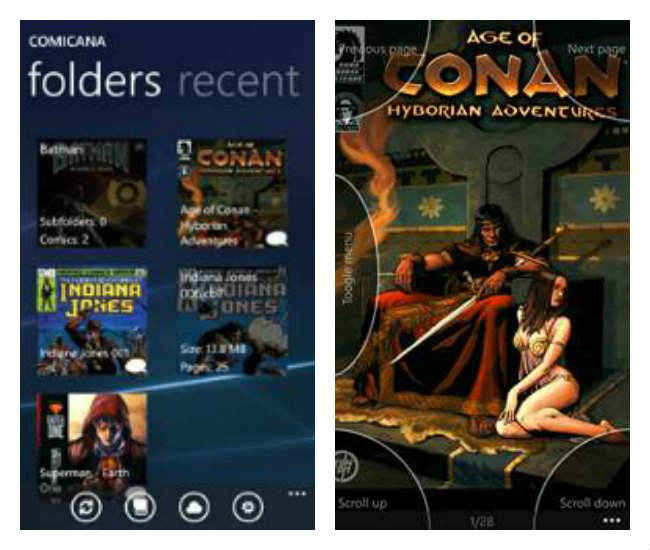 If you prefer reading comic books, you should definitely try Comicana. The app can open CBR, CBZ, CB7, EPUB and PDF files and offers easy navigation via specific touch areas on the screen. The app also allows users to import comic books from the SD card or from the user's OneDrive account.
Audiobooks from Audible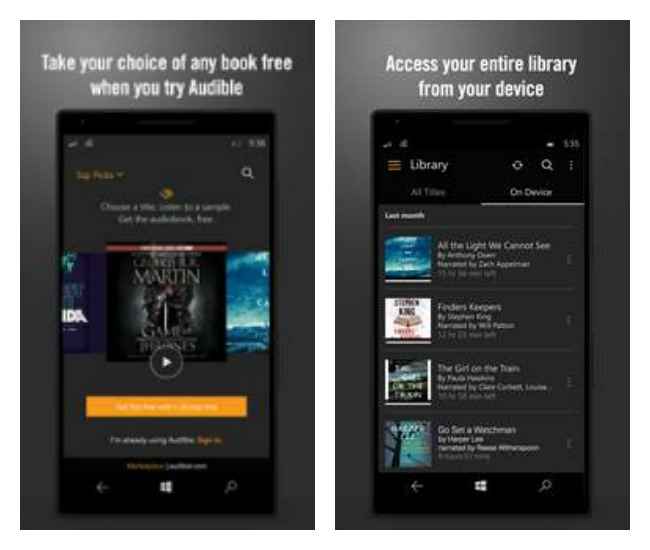 Not every reader has the time to sit down and read a book. If you think that you are one of those people, then you should try Audiobooks from Audible. This app will read out your favorite books so that you can enjoy books while also going about your chores. The app boasts of over 200,000 titles with professional narration. The app also users control their listening experience with Cortana voice commands and button-free navigation.
FBReader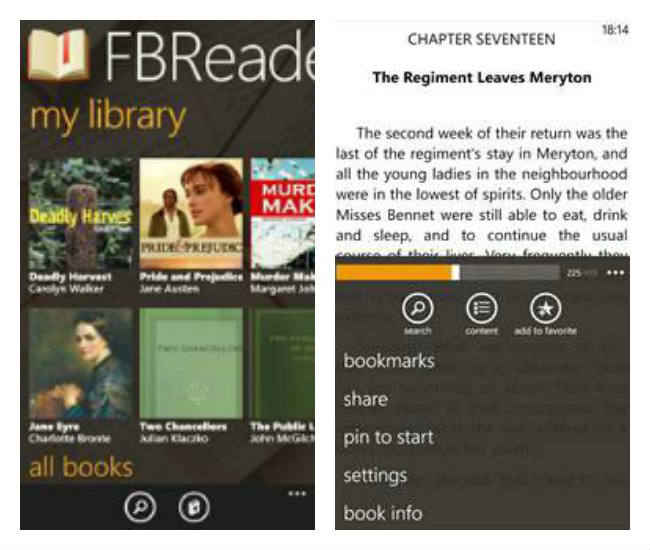 FBReader comes with a built-in local library that automatically organised books by author, tag, series, and more. Users also have access to online libraries like Feedbooks from where they can buy and download books. In addition, users can share books from email or OneDrive.
Tucan Reader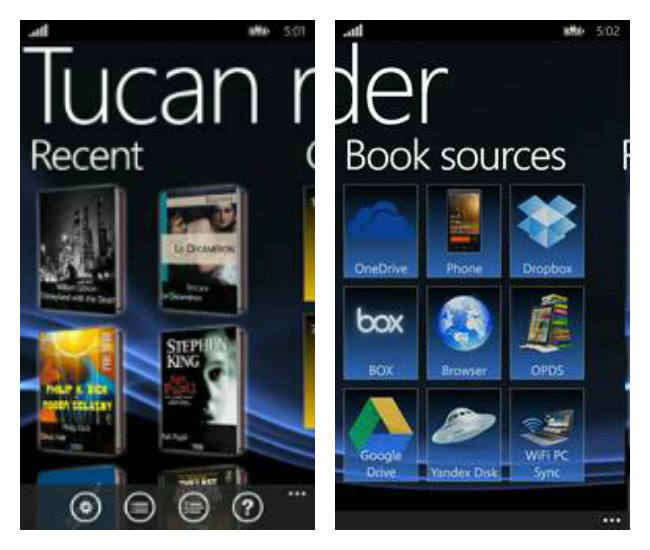 Tucan is another good ebook reader for Windows Phone users that supports a variety of file formats such as html, fb2, pdf, mobi (DRM-free), ePub (DRM-free), and more. The app also has the ability to open zip or rar files that contain books. Users can also import books from the SD card, or their OneDrive or Dropbox accounts.
Freda Epub Ebook Reader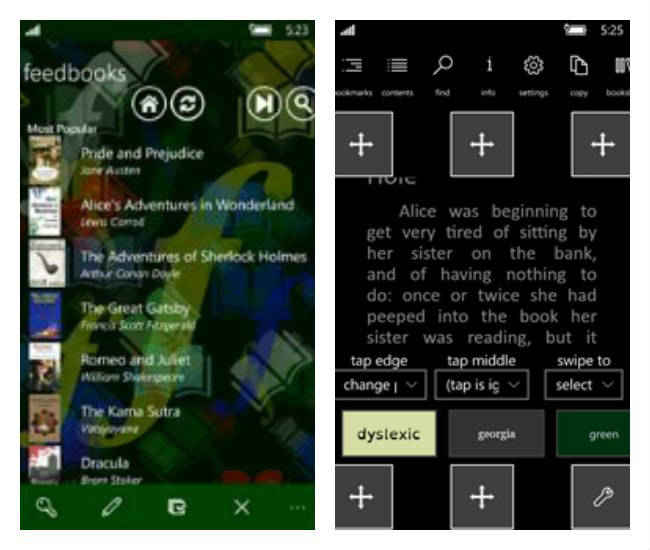 Freda is a great app for those users who are looking for a reader that offers a number of customisation options. Users can change the fonts and colours, look up definitions on a dictionary and translate text. Users can get books from Feedbooks, Smashwords, and the Gutenberg Project, or download their collection of OneDrive or DropBox.