Kent Alps Air Purifier Review: Busts foul smells, but lacks IoT smarts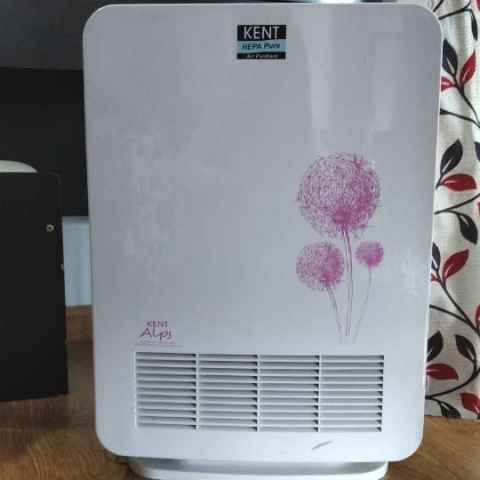 HIGHLIGHTS

Kent Alps Air Purifier is good for getting rid of foul smells in a matter of minutes with noticeable improvement in air quality, but it lacks app support and remote operation features.
Pros
Great at reducing foul smells
Stylish looks
Cons
Does not include filter cleaning brush
No app/IoT support
White colour prone to marks and smudges

How do air purifiers work? It's simple, air purifiers include filters that attempt to remove allergens and pollutants such as smoke, dust, pet dander (particles of skin and fur), chemicals, pollen, and asbestos (naturally occurring silicate minerals). Air purifiers suck in dirty, polluted air, pass them through filters and blow out cleaned air. Think of it like a large sieve which does not let pollutants pass through. The finer the filters, the better the purification.
Air Filteration on the Kent Alps Air Purifier
When it comes to the Kent Alps air purifier, the device houses three filters - a pre filter, an activated carbon filter, and a HEPA (High Efficiency Particulate Air) filter. The pre filter and the activated carbon filter are merged into one layer, with the latter stored behind the former.
The primary filter on the Kent Alps removes large particles such as human and pet hair, debris and cobwebs, from the air after which it hits the activated carbon layer. In our experience, the primary filter requires cleaning almost every 4-5 days, especially with a dog present in the environment. We used the filter in a bedroom which is exposed to outside air for at least three hours in a day and also has a dog sleeping in it every night. While the Kent Alps did suck in a lot of the dog hair that traditionally flies around the room, the effect is reduced every 4-5 days. Kent claims that it needs cleaning every two weeks, but we felt a need to clean once every week.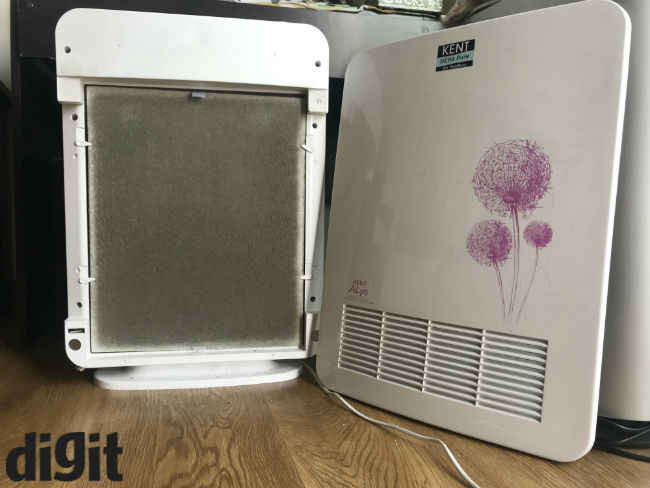 Primary Filter after one week of usage
Let's move to the second layer of filtration. Traditionally, Activated Carbon filters trap pollutants from the air inside their porous structure. The porous material acts like an absorbing sponge for different types of harmful gases and odours. The same are also used in many common water purifiers available in the market today. With the Kent Alps, there was a noticeable improvement in air quality, especially when it comes to filtering out foul smells. When cigarette smoke was introduced in the room, the purifier sensed it and turned Red (Poor air quality) almost immediately. It takes about 5-7 minutes for the purifier to then filter out the smoke and turn Pink (Good air quality) and another 2-3 minutes later, it turns Blue (Excellent air quality). The cigarette smell completely vanishes in a matter of 10-12 minutes, which is commendable. Of course, the HEPA filter also has a part to play when it comes to busting cigarette smoke.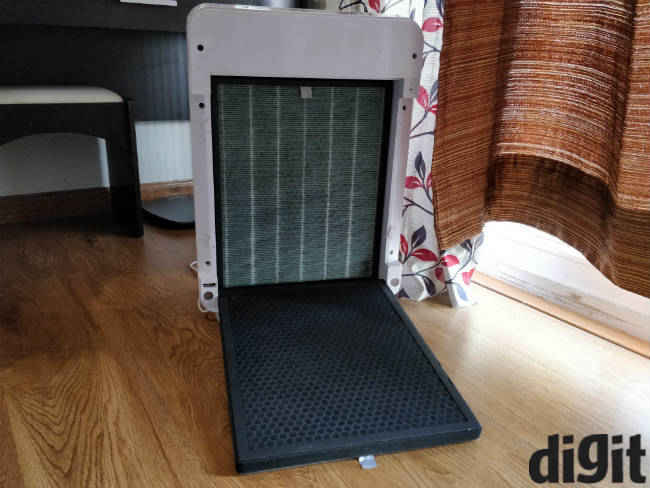 Activated carbon layer and HEPA filter
When the air passes through the HEPA filter, it traps particles smaller than 0.3 microns; such as bacteria, pollens, dust, mould and cigarette smoke particles. Microns is the standard unit used for measuring air particles. One micron is equivalent to 1/25,400 of an inch and the naked eye cannot see anything smaller than 10 microns. Kent claims that the HEPA filter used in the Alps air purifier efficiently remove PM2.5 particles. These are very small particles, 2.5 micrometers or less in diameter, that hang around in the air for a long time. If you live in the country's capital city of New Delhi, you have definitely been exposed to high levels of PM2.5 particles. You can check the PM2.5 levels in your locality on this website that monitors real-time air quality.
The downside of the Kent Alps air purifier is that it does not have a PM2.5 indicator or a supporting app that measure air quality in real time. There are many air purifiers in the market, including Xiaomi's Mi Air Purifier, that house this feature so users can actually see and measure the difference in air quality after using an air purifier. So, unless one uses a professional air quality monitor, which are pretty expensive to purchase, one will have to rely on their own experience and the Kent Alps' air quality indicator. The company could have easily included an app-based air quality display for the Alps using its own air quality measurment sensors, given that it's priced at Rs 21,990.
The Kent Alps is designed to function within a space of 430 sq ft which is fairly large so you can even deploy it in your living room or dining room depending on your needs. On an average, the purifier would take 15 minutes to turn Blue (Excellent air quality) in a 250 sq ft room it was placed inside.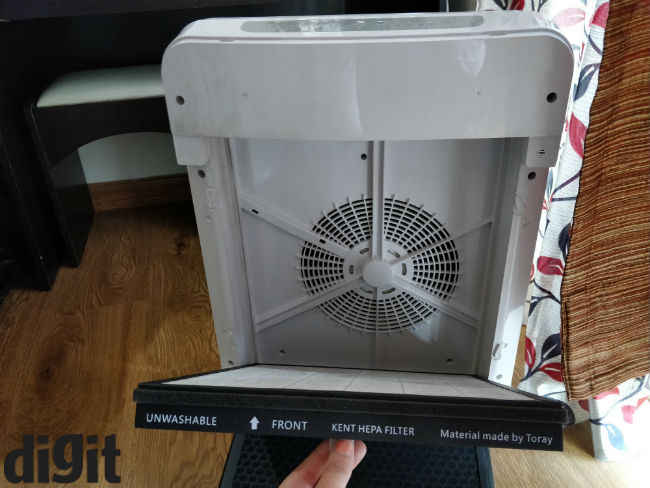 Kent has measured the CADR or Clean Air Delivery Rate of the Alps air purifier at 400 m3/hr. CADR is measured by combining the amount of airflow and particle removal efficiency, and is a standard recognised by most environmental regulatory bodies. The higher the CADR of an air purifier, the more air it filters per minute for that particle size range. According to the Association of Home Appliance Manufacturers in the US, the body behind the development of the CADR system, manufacturers need to provide separate CADR numbers for smoke, pollen and dust, but the Kent Alps does not do so.
Using it in the winters was a little difficult as well, given that on the highest speed setting, the purifier blows out cold air and it almost feels like a small cooler has been switched on, making the room colder than usual.
Ionizer
The Kent Alps air purifier also houses an Ionizer, which the company claims can generate negative ions in the air causing allergens floating in the air to stick to each other and form clumps. Ionizers have been known to remove infections in hospitals, but several studies have also shown that Ionization increases the level of Ozone in a small, closed space beyond the accepted guidelines. Having seen contradictory reports on Ionizers, I would not recommend it to be a factor for choosing one air purifier over the other. If Kent wanted it to be a USP of the Alps purifier, it certainly does not seem to be one in my books.
Design & Controls
The Kent Alps is stylish and merges well in a room with white walls. Weighing at around 8 kg, it's not so difficult to move around in the house. The fixed stand also functions as a housing for its wire, so when the air purifier is unplugged, the wire can be wrapped around the stand and hidden away from view. There are two crevasses on each side of the front cover of the air purifier making it easy to open and access the filters.
The controls and the indicators are housed on top of the device which also features child lock abilities and filter change indications. There is a timer which can be set to shut down the air purifier after 2, 4 or 8 hours. All of this works pretty smoothly. However, we really missed a remote control or app support for remote operation. The least they could have done is to include bluetooth on the device and have a corresponding app to help control it with ease.
Another issue here is that the white colour of the air purifier attracts smudges from dirty hands. The dust flying around also settles on the body at times and it requires regular cleaning. In my case, I clean the air purifier daily with a generic surface cleaning spray.
Cleaning The Filters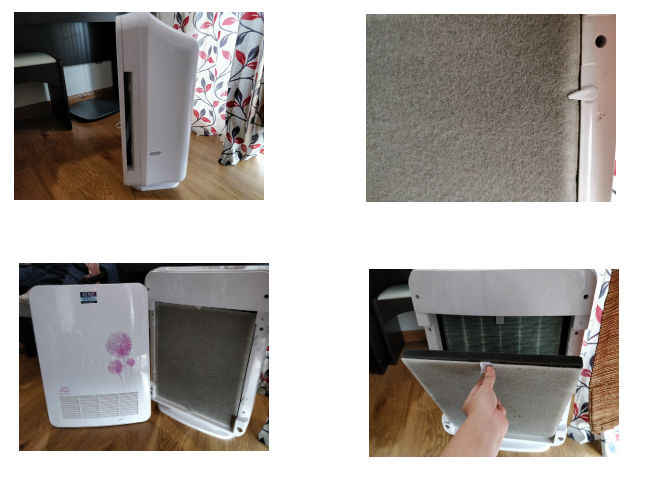 Cleaning the filters inside the Kent Alps is probably the most irritating task of all. The company recommends cleaning of the primary filter after every two weeks of usage. We already told you that we were having to clean it once every week. The company recommends cleaning the filters using a soft brush or a vacuum cleaner. However, it does not provide any cleaning brushes in the box which is a clear oversight on the company's part. In the absence of a vacuum cleaner, as is the case with a lot of Indian households, I had to use an old toothbrush to clean the filters and it took quite a lot of time to do so. If the company is listening, I would strongly recommend providing some filter cleaning gear in the box.
Power consumption
The Kent Alps has a power consumption of 55W, which means if you use the air purifier for 20 hours, it will consume 1 unit of power. In my experience, I used the purifier for a maximum of 8 hours in a day and discovered little to no difference in my regular power bill.
Should you buy it?
At a price of Rs 21,990, the Kent Alps Air Purifier lacks IoT skills, does not have an accompanying app for remote operation, and does not include cleaning supplies. All these are essential components and features, the lack of which makes the Kent Alps fall behind its competition. However, while writing this article, we found that the air purifier has been heavily discounted on Flipkart, bringing its price down to Rs 10,464, which seems like the right amount of money to pay for it.
So if you have a 10K budget and getting rid of foul smells is your fundamental goal, I would say go for the Kent Apls and purchase it on sale. However, I would not recommend purchasing it for a price of Rs 21,990 and would rather direct your attention to similarly priced purifiers with smart capabilities.