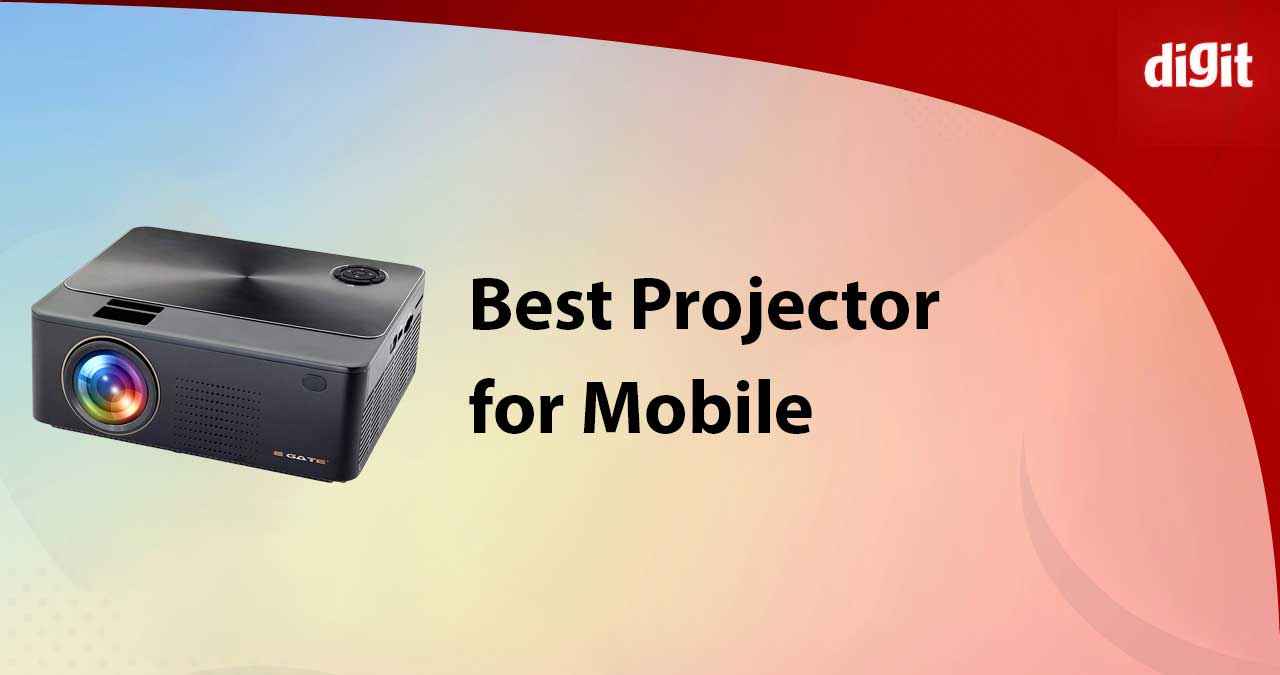 Everyone loves a good movie every now and then, but when it comes to planning the perfect weekend at home, a projector compatible with smartphones can prove very useful! If you have been planning to buy one for quite some time or have recently realised that such a gadget exists, then this list will help you narrow down your options! So go ahead and give it a read so you can get a projector for mobile phones that best suits your taste and requirements.
1. Egate K9 HD Projector (E10k62 )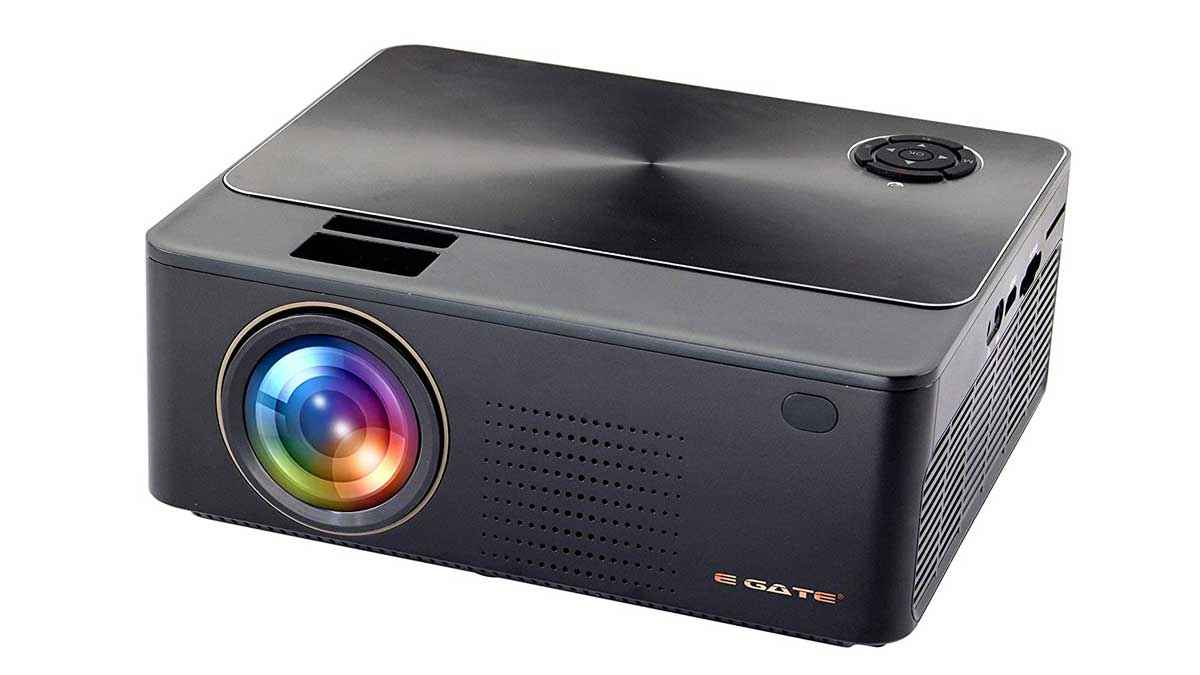 The EGate K9 (E09k61) projector comes with a High Definition Multimedia Interface (HDMI), power cable, Amazon fire TV stick, AV cable along with a remote and a voice controller. Its minimum and maximum throw distance are 3 and 5 meters, respectively. Its dimensions are 23.8 X 20.5 X 9 cm, and it weighs approximately 2 kilograms. Egate is known and trusted by customers for always prioritising quality, and this projector is a no different story. You can watch your favourite movies, web-series on a high definition widescreen of 457 cm, i.e., 180-inches, at the comfort of your home using this projector for mobile phones. It also comes with Alexa voice search, a volume control remote and an inbuilt 5W speaker, so you don't miss out on anything. It gives Cinemascope a competition with its HD 720p resolution.
Moreover, you can switch from movie mode (16:9) to presentation mode(4:3) with just a click and enjoy everything from shows available on OTT platforms like Netflix or Amazon Prime to your videos stored on your phone with your loved ones without experiencing any lags.
2. Visitek iQ³ HD Projector (O51Q61)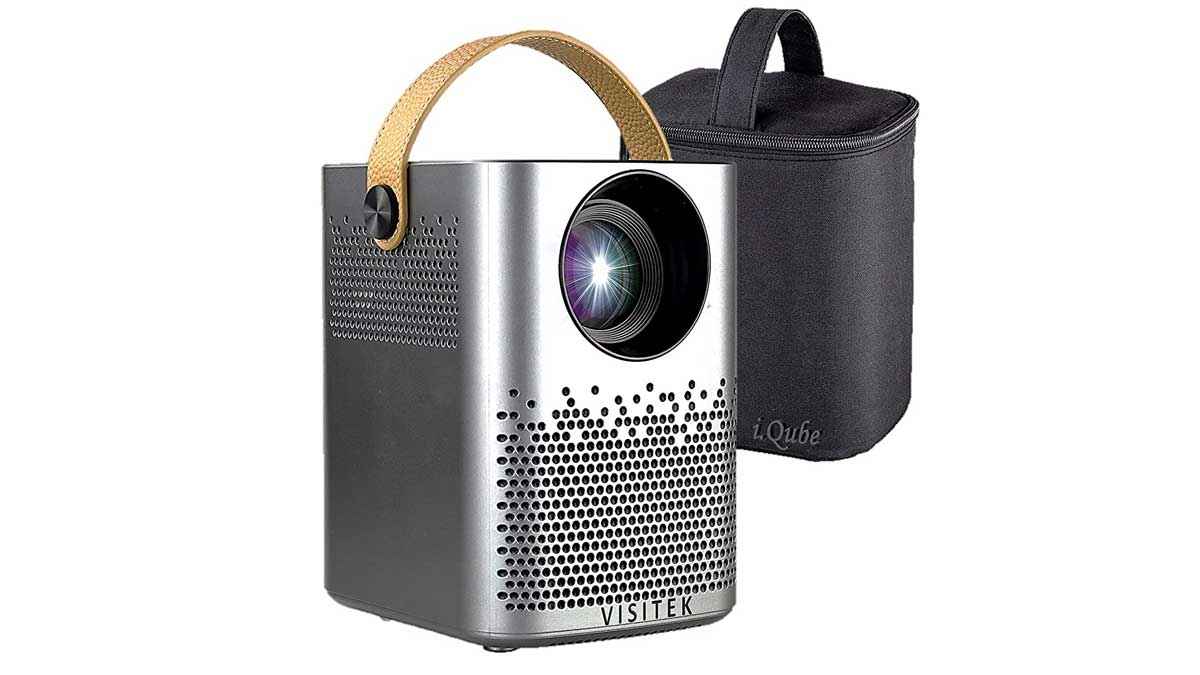 Yet another video projector for mobile that you can invest in is the Visitek (051Q61) HD Projector. Visitek claims that it gives better colour representation with 1.6 million colours, full HD 1080p and 85% uniform brightness using the latest iQube technology revolution supported with vertical LCD. This latest iQube technology revolution provides one of the best cinematic experiences at 3300 Lumen LED, giving its competitors tough competition! The project is also equipped with multiple connectivity options like USB and High Definition Multimedia Interface(HDMI) and has a minimum and maximum throw distance of 1 meter and 4.2 meters, respectively.
This product's dimensions are 14.5 x 12 x 18 cm, and it weighs 1.5 kilograms. The projector's compatible with Fire TV or any Google device. Its makers claim that any trapezoid image can be corrected into a perfect rectangle by the +/-45°digital vertical keystone, which ensures better and clearer visuals. The projector has an inbuilt speaker, power cable, AV cable, manual and a remote controller. When it comes to looks and style, its ergonomic leatherette handle gives it a classy look so you can entertain your guests and flaunt it effortlessly!
3. ViewSonic M1 Mini Portable Projector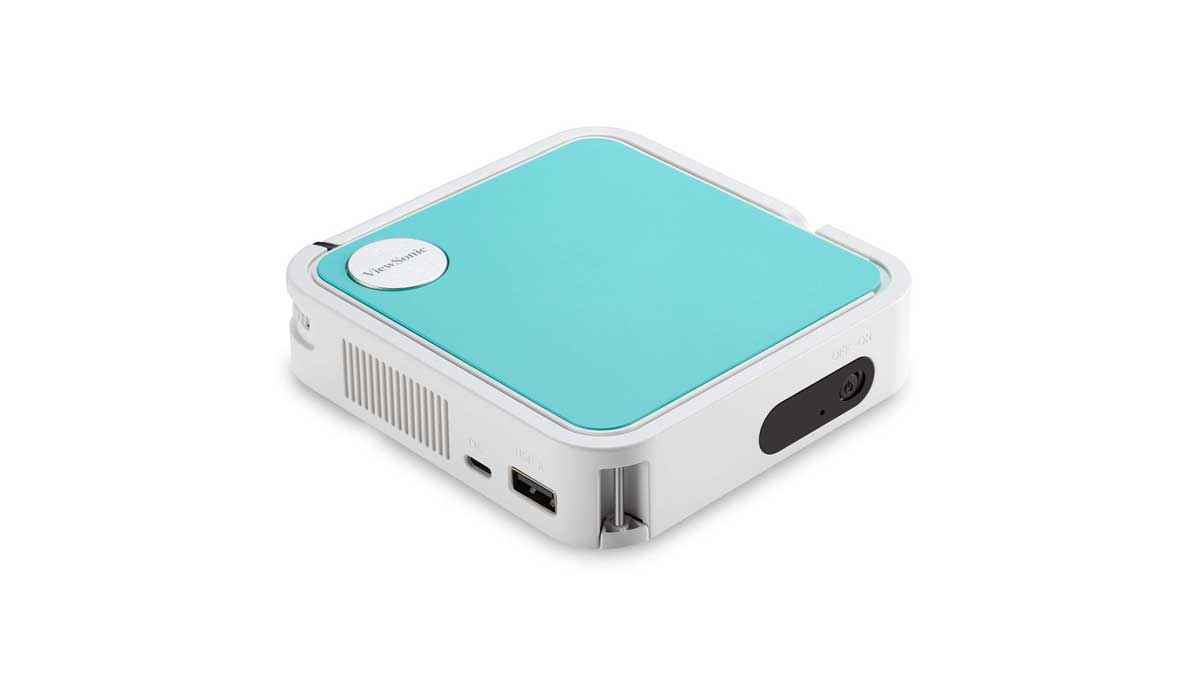 The ViewSonic M1 Mini portable projector comes in an ultra-portable design and measures 4×4 inches only. You can carry it easily in your bag, pocket and even in your palm, thus making it a perfect travel and party companion! This projector for Android mobile and other devices also comes with swappable projector panels that let you change the projector's colour as per your choice (you can pick between grey, yellow or teal). When it comes to connectivity, ViewSonic has equipped it with multiple connectivity options like High Definition Multimedia Interface and USB so you can easily plug it in and play videos from your device. The projector comes with a JBL speaker, an in-built battery that provides up to 2.5 hours of power, along with a compatible power bank and an integrated smart stand for easy setup.
It offers a screen resolution of 854 x 480, has dimensions 10.92 x 10.41 x 2.79 cm and weighs only 300.5 grams. Its light source wattage is 3.5 Watts, and the minimum and maximum throw distance are 0.64 meters and 2.66 meters, respectively. All these features combined with the compact design make it easy to carry around and use with your smartphone.
4. OOZE Myra Q7 1080P LED Projector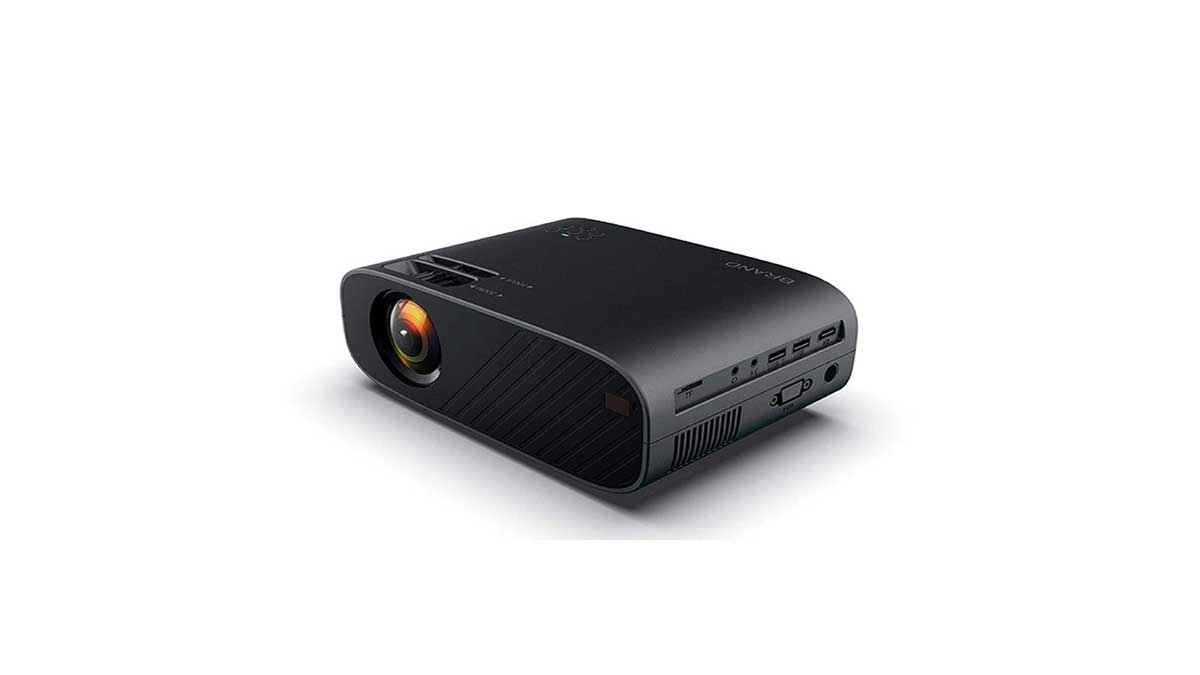 Myra Q7 LED Projector from OOZE comes with a screen resolution of 1920 x 1080 and an image contrast ratio of 3000:1. It offers a Video graphics array(VGA), High Definition Multimedia Interface(HDMI) and USB interface so you can easily connect with multiple devices such as an Android phone, iOS, Android, among several others. It determines the size of the picture by the distance of projection; if the projection distance is longer, the screen will be larger, and if the distance is closer, then the picture will be smaller and clearer, thus providing sharp and high-quality visuals in all circumstances. OOZE has also equipped it with support for Dolby sound. This HD projector for Android mobile can be a great addition to your home entertainment as you can stream your favourite shows, movies (on various OTT platforms) and even play videos stored in your phone without any hassles. So you can invest in this 1080p LED projector that can make your home entertainment more accessible than ever!
5. EGate i9 Pro-Max (E03i31)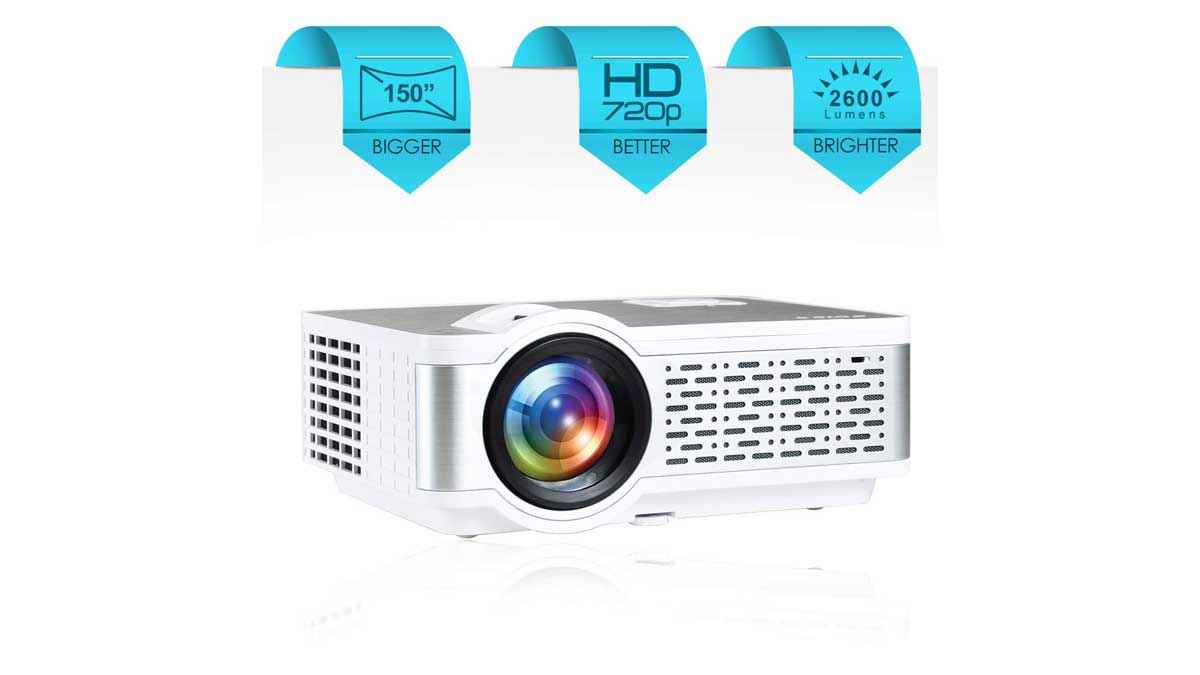 The EGate i9 Pro-Max is a recent addition to EGate leading i9 HD series of projectors. You can now enjoy better visuals, better pixels, brighter images and clearer pictures to enjoy large screen luxury at affordable prices. It has a native resolution of 1280 x 720 (full HD support up to 1920 x 1080) with a contrast ratio of 1500:1 and 2400 Lumen with an LED lifelong lamp with 30,000 hours of life.
It has 2 HDMI ports, a USB port, an SD card slot, and dedicated outlets for AV, VGA and audio out so you can connect it to various devices with ease. It also has an in-built stereo speaker for providing clear sounds (3 Watts) and is compatible with TV (Set-Top Box), Fire TV Stick, PC, Play Station, etc., and smartphones. Last but not least, this Indian brand can provide you with fast customer care support and understands the demands of Indian consumers and has even undergone several quality checks, including seven hours burn and 3 ft. drop test for greater durability.
6. VISITEK V6 (V45V62)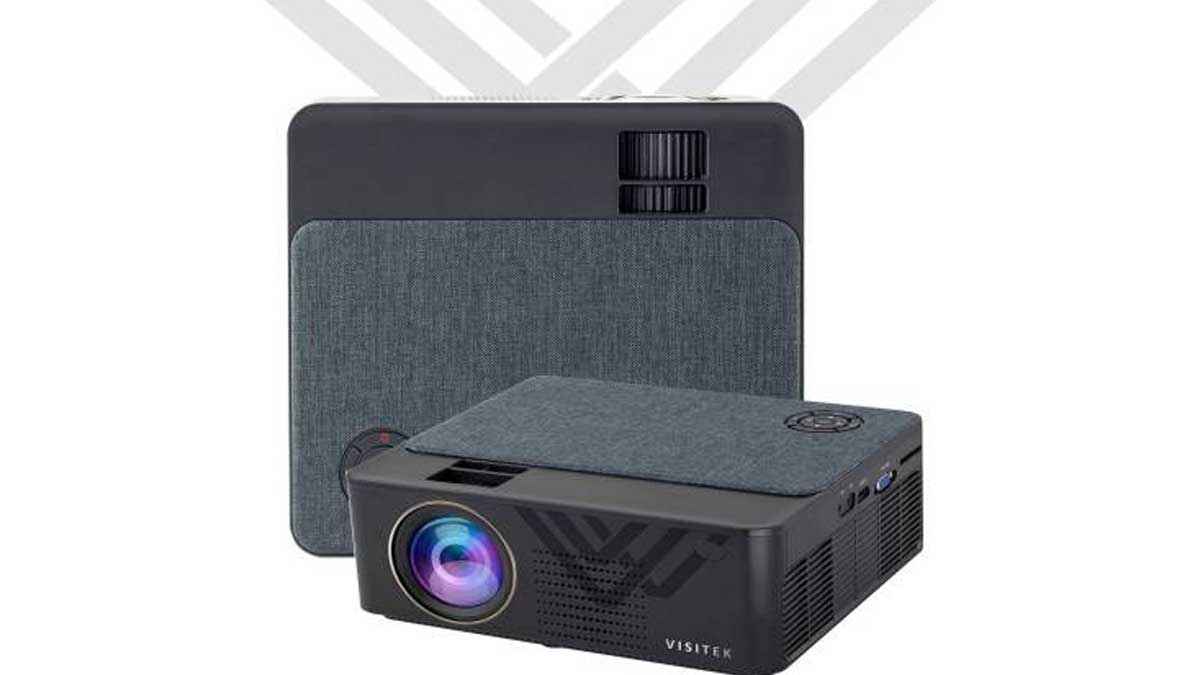 VISITEK V6 (V45V62) is a portable projector compatible with almost every device out there with a compatible port. It has support for 720p video playback natively and supports 1080p video playback using an HDMI port, and can even display your device image/video wirelessly through WiFi. You can use it to watch all your favourite movies and TV shows of screen size ranging from 60-inches to 210-inches. VISITEK has equipped it with ports and slots such as an AUX port, an AV port, dual HDMI ports, a USB port, a VGA port and an SD card slot.
VISITEK V6 has a dynamic contrast ratio of 2000:1, resulting in deep blacks making the visuals even more realistic. It is even equipped with dual stereo speakers with a wattage of 5W each. This compact (23.8 x 20.5 x 9 cm) and lightweight (1.5 kilograms) projector from VISITEK has an aspect ratio of 16:9, which you can change to 4:3 depending upon the content you are viewing.
7. MANIA ELECTRO Multimedia Mini Unic Portable L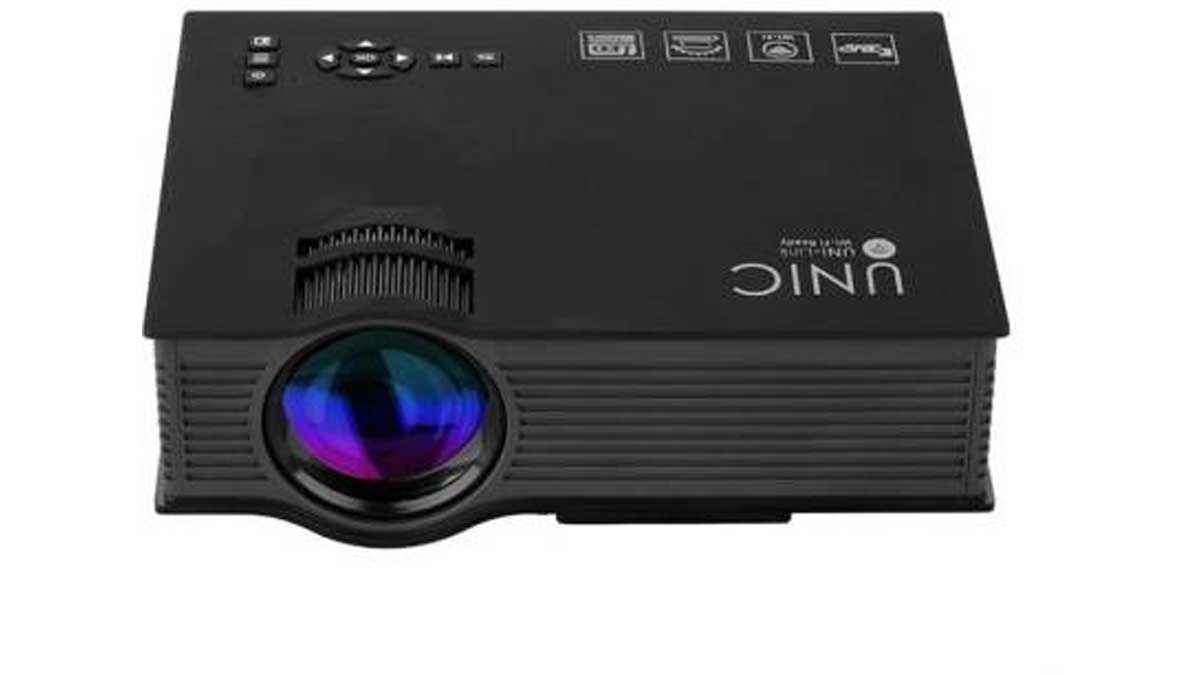 MANIA ELECTRO is a good quality projector with an affordable price tag. This compact projector from MANIA is loaded with features and functions that help it compete with other projectors that are way above its price range. It has a host of connectivity options like an audio out port, an AV port, a VGA port, an HDMI port, an SD card slot and dual USB ports. If you are not a big fan of tangled wires, then you'll be glad to know that this portable projector from MANIA also supports Miracast, DLNA and many other popular wireless connections.
It is compatible with a number of devices like computers, smartphones, gaming consoles, and set-top box and media players. It can display up to a resolution of 1920 x 1080 pixels which offers a screen size of up to 130-inches. The projector can deliver a peak brightness of up to 1200 lumens and a dynamic contrast ratio of 800:1. MANIA ELECTRO can be carried around easily thanks to its lightweight (1 kilogram) and compact design.
8. IBS T21 LCD Mini Projector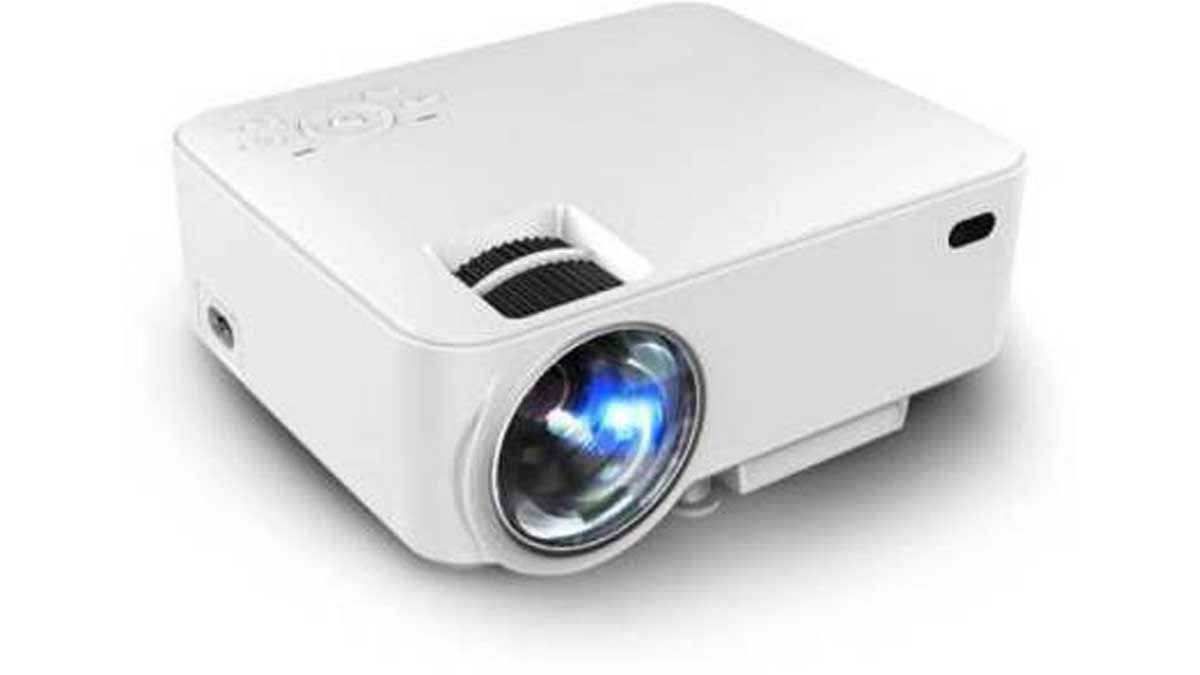 If you are looking for a video projector for mobile without spending truckloads of money, then this IBS projector is the best one for you. IBS T21 is one of the cheapest portable projectors out there, but don't let its low price tag fool you as it is loaded with features and functions that you won't even get in projectors double its price. The projector can project up to a resolution of 1920 x 1080 pixels. It offers display sizes of 32-inches to 176-inches with a projector distance of 1.5 metres to 5 metres.
It is equipped with an SD card slot, dual USB ports, a VGA port, an HDMI port and dual 3.5mm jacks. The projector is compatible with a number of devices likes desktops, laptops, smartphones, tablets, set-top boxes, media players and gaming consoles using one of the many connectivity options provided on the projector. You can view video content directly from a USB drive or an SD card simply by inserting them in the provided port/slot. This projector from IBS has a lamp life of 20,000 hours and a peak brightness of 1,500 lumens.
9. AUN AKEY6 1080P Full HD LED Home Theater Proj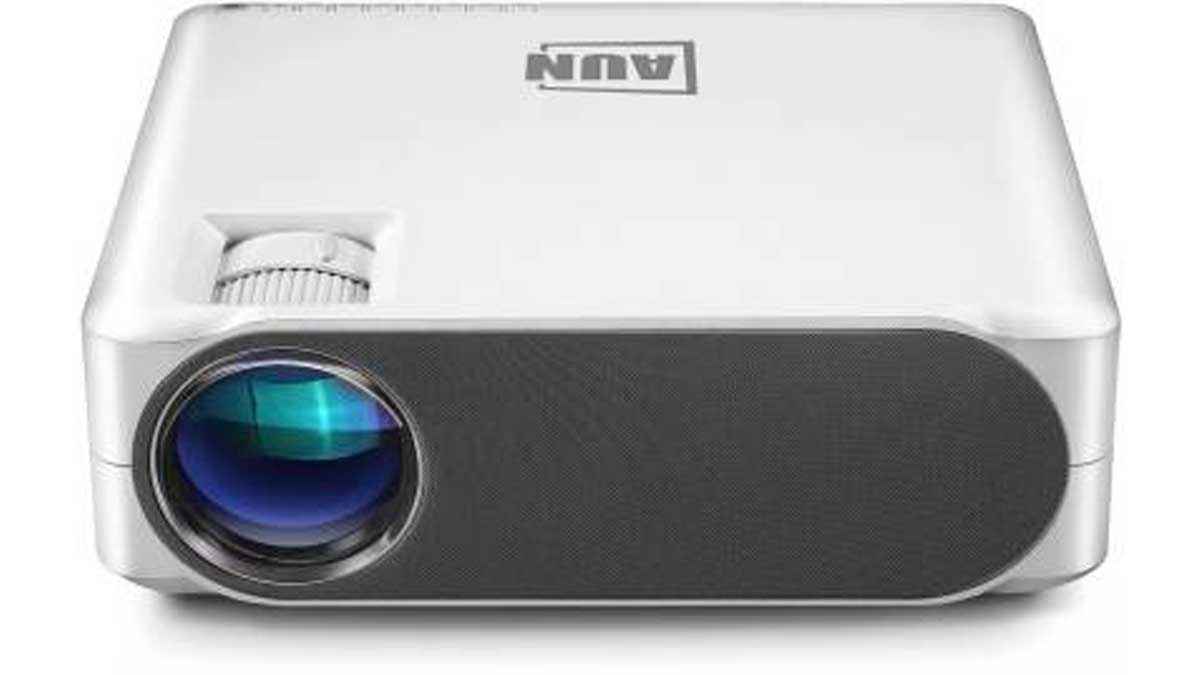 AUN AKEY6 is another great portable projector that you can use to create large displays anywhere and anytime you want. When it comes to connectivity, AUN has made sure to leave no stones unturned and equipped it with an SD card slot, dual HDMI ports, a VGA port, dual USB ports, an IR receiver, dual 3.5mm jacks and RJ45 port (just for Android version). It is compatible with almost every modern device with a display out port on it like laptops, desktops, smartphones, tablets, media players, gaming consoles, and numerous others right out of the box without needing any software update.
The projector supports up to 4K video playback through the HDMI ports available on it, while all the other ports support video playback of up to 1080p. AUN claims that it has an LED lamp life of 50,000 hours which means you can binge-watch all your favourite movies and TV shows without worrying about replacing its LED lamp every now and then. It has screen brightness of 6,800 lux and a contrast ratio of 5000:1, which makes it a great choice for dark environments.
10. IBS WIFI Mini Projector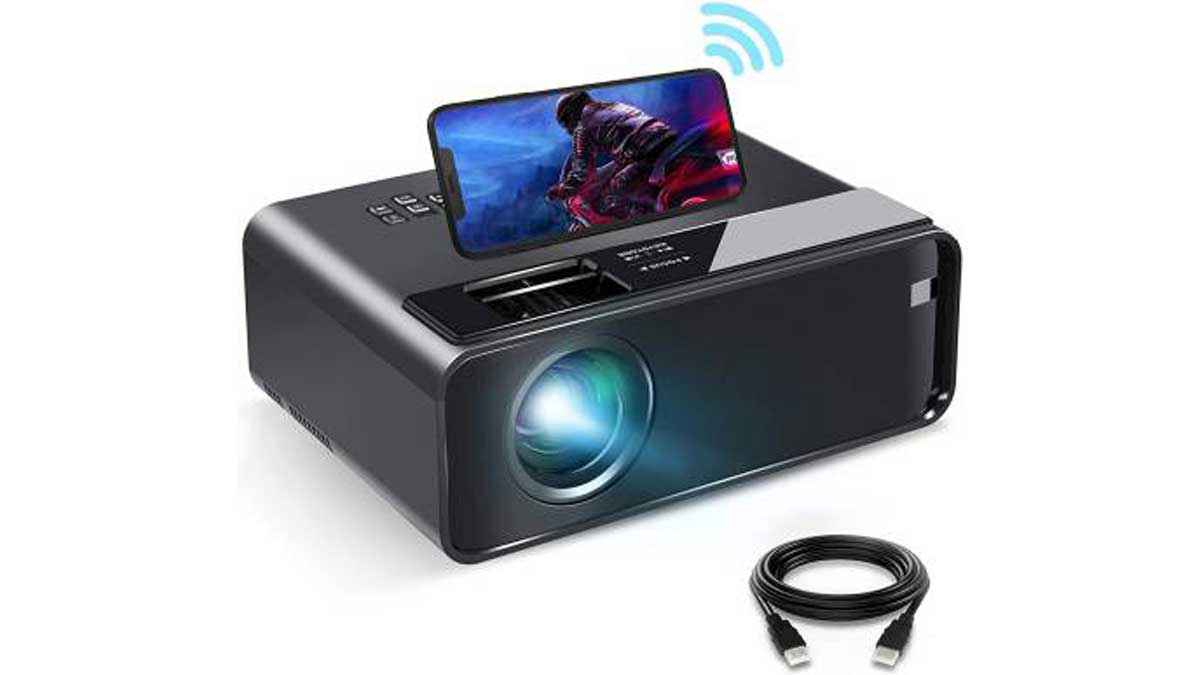 IBS projectors are so good that another one of their products made it to this list. The IBS WiFi Mini is a compact projector that can output content from your device to a screen as large as 200-inches. It is compatible with Android, iOS, PC, gaming consoles, set-top boxes, media players and cameras. This mini IBS projector can easily synchronise with the audio and video of your device and provides crystal clear aural and visuals.
IBS has even provided remote control with the projector to ensure complete control over your screen without disturbing the position of your projector while adjusting the volume or playback speed. It can create bright and focused large screens with a luminous intensity of 4,600 lux, which is quite the number in its price range. The projector can display 1080p video on a 200-inch screen without any problem. This compact and lightweight projector is among the best projectors that you can carry around easily in your backpack.
Disclaimer: Digit, like all other media houses, gives you links to online stores which contain embedded affiliate information, which allows us to get a tiny percentage of your purchase back from the online store. We urge all our readers to use our Buy button links to make their purchases as a way of supporting our work. If you are a user who already does this, thank you for supporting and keeping unbiased technology journalism alive in India.