As reliable as the growing cloud system is, it's always better—and recommended—to store your files in a hardware device. Pen Drives are inexpensive, portable and convenient, which also makes them great secondary alternatives to cloud storage. The best versions are the On the Go Pen Drives, which can transfer files from any device. OTG is a remarkable technology that eliminates the hassle of too many wires and connections and the need for a dedicated computer. It expands the storage of the device and can be maintained with a mobile phone—making it more accessible than an SD card. There are many variants and models with different storage spaces. So, which are the best pen drives with OTG you can purchase? What pen drives for mobiles are there that may serve as an extension for the limited storage space on your device? Read on and look at our best picks for pen drives with OTG.
1. SanDisk Ultra Dual Drive Go Type C PenDrive f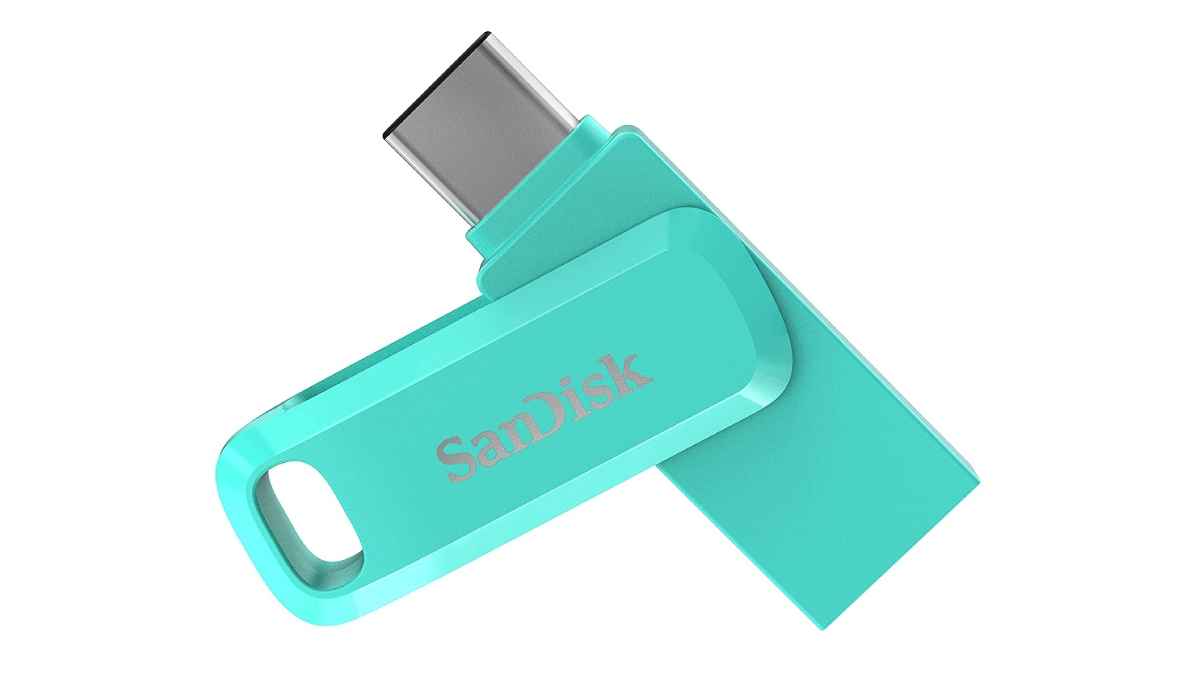 SanDisk is well known for its name and excellent computer appliances. The ultra-dual drive is no different either. It is a sleek, polished-looking device available in two colours—black and bright mint green, weighing 4 grams. It has a USB 3.0 interface and an all-metal body with an ergonomic design.
It is sold with a starting storage space of 32GB and is available in variants up to 512GB storage space. The purchase price varies accordingly. Ultra Dual has a keyhole and a swivel design that, when turned, reveals one USB-C and one USB-A type connector. As a result, mobile devices with a USB type C port and all computers with both type A and C can be used as hosts with SanDisk ultra-dual.
To better operate, the SanDisk manual advises the installation of the SanDisk Memory Zone app on the phone. The app backs up your files while also storing them on the flash drive. Ultra Dual pen drive type C boasts a speed of 150MB/s to transfer your files at the speed of light.
2. HP HPFD302M 32GB OTG Flash Drive (Sliver)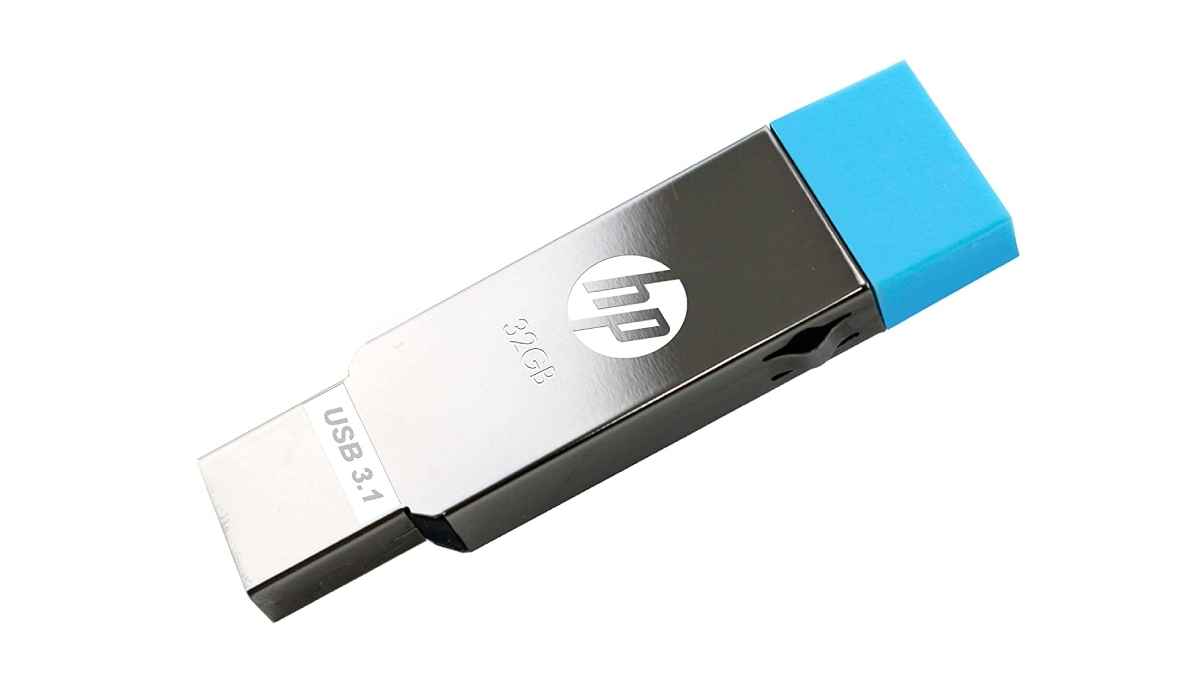 If you're looking for a cheap pen drive that connects to mobile, then this is it. HP is a household name known for its versatile products, and this is one of the best pen drives with OTG for its price. This HP OTG has a steel body, weighing 7.7 grams with a USB 3.0 interface with a speed of 100 MB/s for a 32GB storage flash drive.
On one end, the pen drive connects to the computer/laptop USB slot. The other end, concealed with a blue cap, connects to a mobile phone with a micro-USB. There are variants of this available from 16GB to 128GB. It doesn't have a keyhole, and the only colour variant provided is silver; its uses are plenty. Due to all the storage variants, you can choose any of them to extend your storage space on your phone externally.
3. Strontium Nitro 16GB One OTG 3.1 150 MBPS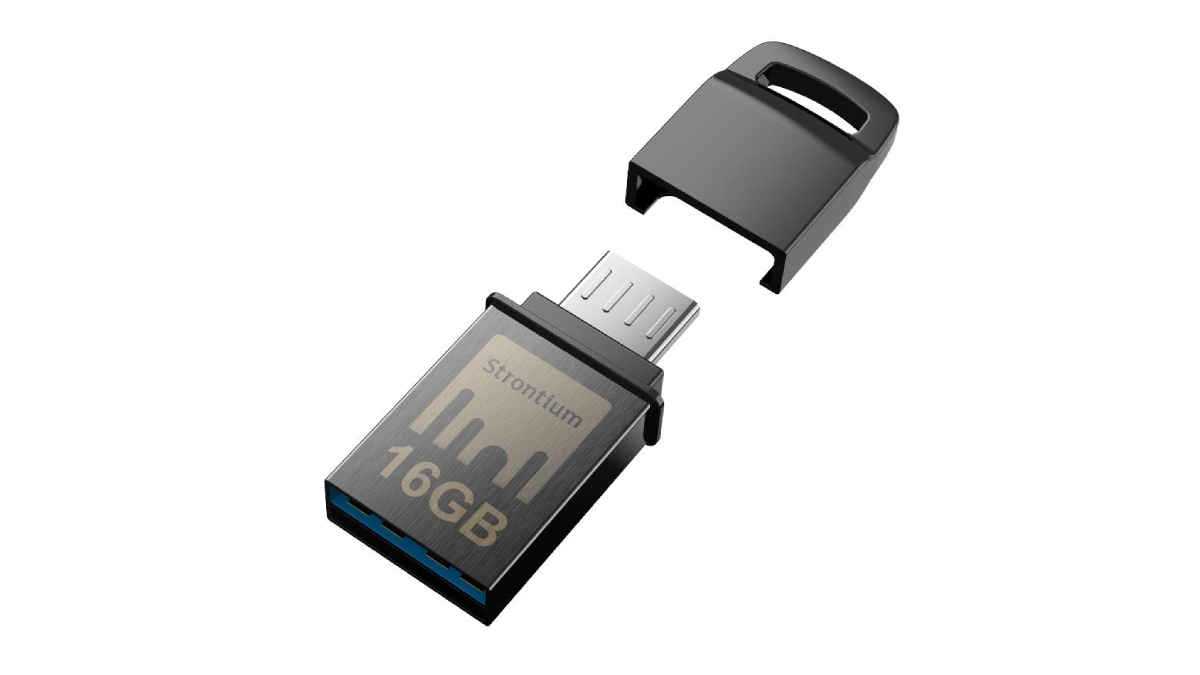 Strontium Nitro is the cheapest of this lot for 16GB storage best pen drive with OTG. It has a very small but sturdy body and connects to computers and mobile devices alike. Unlike other OTG pen drives for mobile, Strontium's small body enables ease and convenience because of how little space it occupies when in use.
As such, it may also pose the risk of effortlessly blending with your surroundings, so it's better to use the keyhole and make it distinguishable. It uses a USB 3 interface and transfers files at a speed of 150MB/s. It uses a type-A port for computers and uses a type B (micro USB) for mobile phones that is covered with a cap. It weighs only 2.30 grams and has a metal body.
On the one hand, it is very compact and takes up little space. But the build quality is not up to the mark that makes up one of its cons. Due to its metallic and small body, the drive may heat up quickly. There are few options for colour and storage differences.
4. SanDisk Pendrive 32GB OTG Drive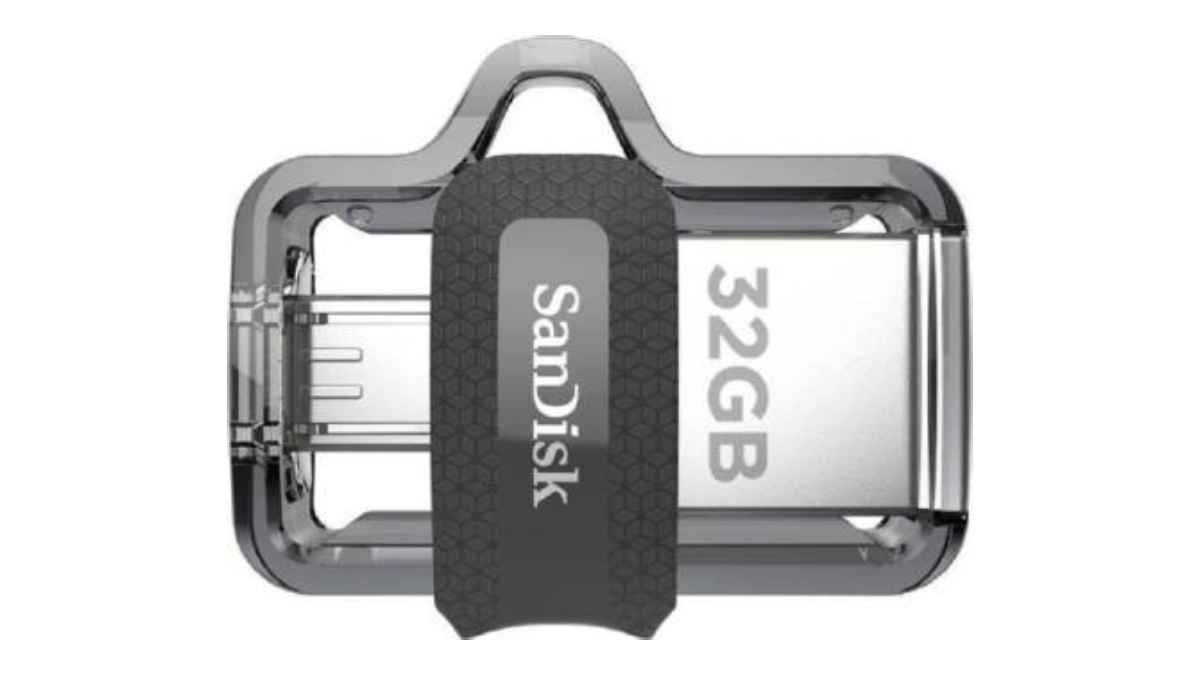 Its polished metal body shines in its looks and performance too. This 32GB OTG pen drive for mobile frees up a lot of space on your Android phone. On one side, the micro USB enables speedy connection and transfer of files at a speed of 130MB/s between the phone and the pen drive. On the other end, the drive connects to the computer using a type C USB 3.0 connector.
The positive thing about this SanDisk pen drive is that it is a 32GB storage variant with such speed. It is sturdy looking, as it is in its longevity with its metal body and retractable design. But, it may heat up on long, continued usage. It also weighs heavier at 100g.
5. SanDisk SDDDC2-032G-I35 32 GB OTG Drive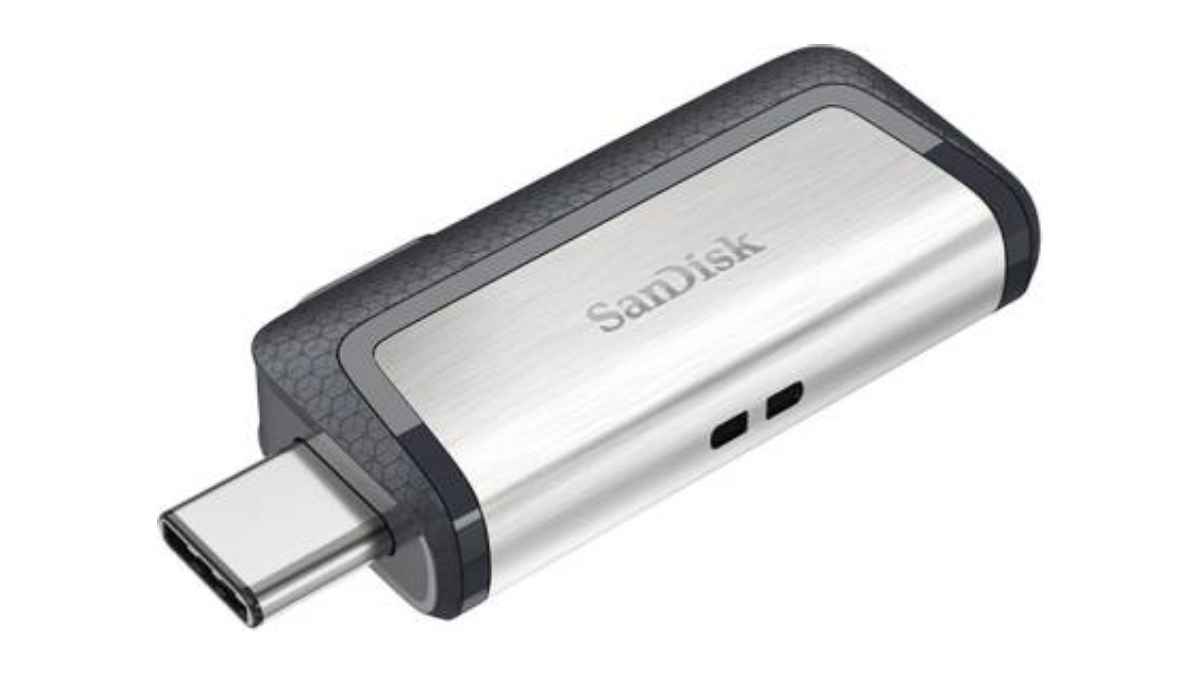 Looking for Pen Drive type C OTG drives? This SanDisk flash drive is the answer. There are many reasons it is a favourite: it starts with the 16GB variant, climbing up in price and storage space up to 256GB. Even though it is available in one colour, it has an eye-catching and ergonomic design. The 32GB variant works on a USB interface 3.1 at a 150MB/s speed.
It has a reversible, retractable function of exchanging the type C connector for connecting into the traditional USB 3.0 or 2.0 computer USB port. It has a symmetrical design with a textured edge on one side for better handling and grip. It's a versatile OTG pen drive type C for all devices that use C ports.
The best part? C ports are quicker than the rest of the ports, and the OTG drive already has a good speed by itself. The transfer of files between all your devices will be smooth and flawless with this SanDisk OTG drive. But it does run a slight risk of heating up that the textured edge helps absorb and dissipate.
6. SanDisk iXpand 32GB Flash Drive for iPhones,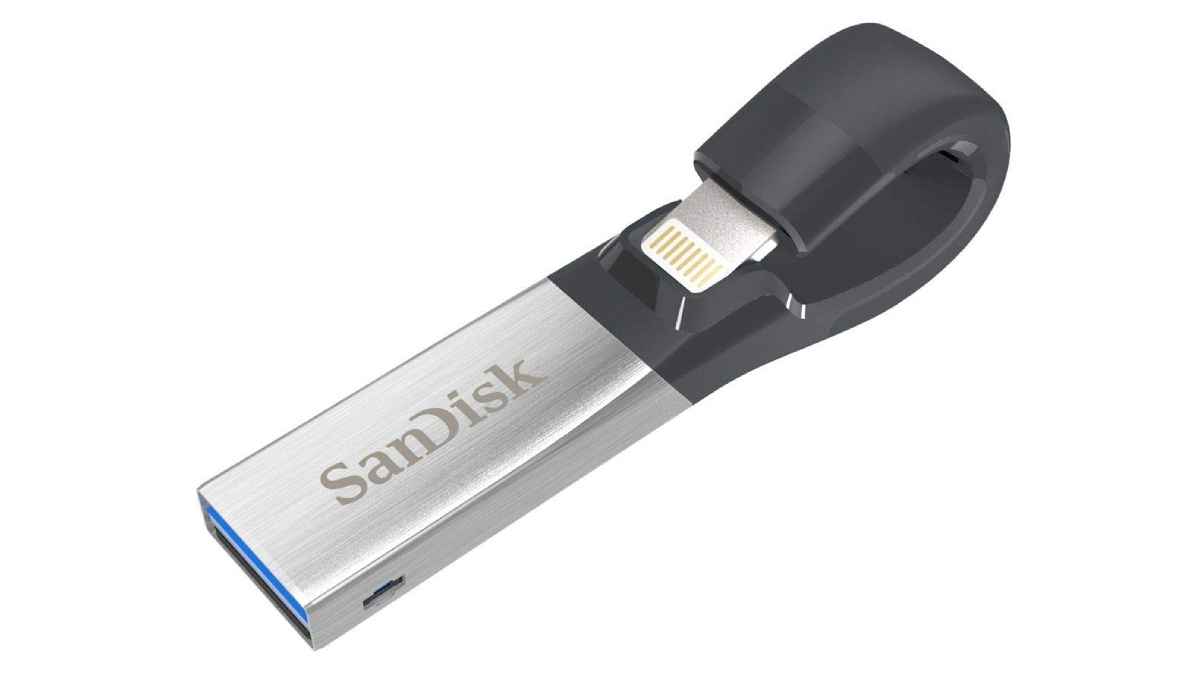 A bit on the expensive end, but iXpand is a versatile and swift pen drive to mobile connector, particularly Apple phones. It has an interesting, hook-like design that connects to the device super quickly, almost at lightning speed. It also has an app that can manage your drives and files, which can copy photos instantly.
The brilliance of the app is understated. You will be able to play directly from the iXpand sync app available for download from the App Store, syncing with the files in your flash drive. It even locks your iPad or iPhone and follows & ensures encryption of data.
It is available in various storage variants, starting from 16GB up to 128GB across a range of Apple devices, like phones, iPads and various OS and generations. Additionally, it can also be used for specific Windows versions too. It weighs only 5.4 grams for 32GB. iXpand is a new method for transferring files with ease, without using Bluetooth or Airdrop.
7. SanDisk Ultra Dual USB Drive 3.0 SDDD2 64GB
Looking for a pen drive that connects to a smartphone and a type C connector? This drive manages that with its integrated memory zone app that manages files and all your documents with the added protection of both on the hardware and the cloud. It even automatically detects when connected and shows you all the files available for transfer between devices. Said devices include the ones with USB 3.0 ports, micro USB slots or even type C connectors.
It has a retractable design that makes it very sleek and portable, with high build quality to last it longer through the years. It weighs 18.1 grams, with a metal body and a plastic, textured cap for better grip and management. Its storage variants start from 16GB to 256 GB and support all the latest smartphones that are OTG enabled. Given its USB 3 interface and type C connectors, the speed it transfers files among all possible devices is stellar. The risk of breaking that plastic still exists, though it manages heat generated very well.
8. SanDisk Dual 64GB USB Pen Drive
This pen drive for mobile easily transfers files across mobiles and computers, including Windows and Mac. It has a micro USB on one side and a USB 2.0 connector on the other. It has a Memory Zone App that automatically uploads and backs up the files of the flash drive.
Because of the speed and ease with which this pen drive works, on a USB interface of USB 2.0, you can easily free up space on your phone. This 64 GB pen drive to mobile connector weighs only 2 grams.
9. Kingston DataTraveler Duo 32GB USB-A and USB-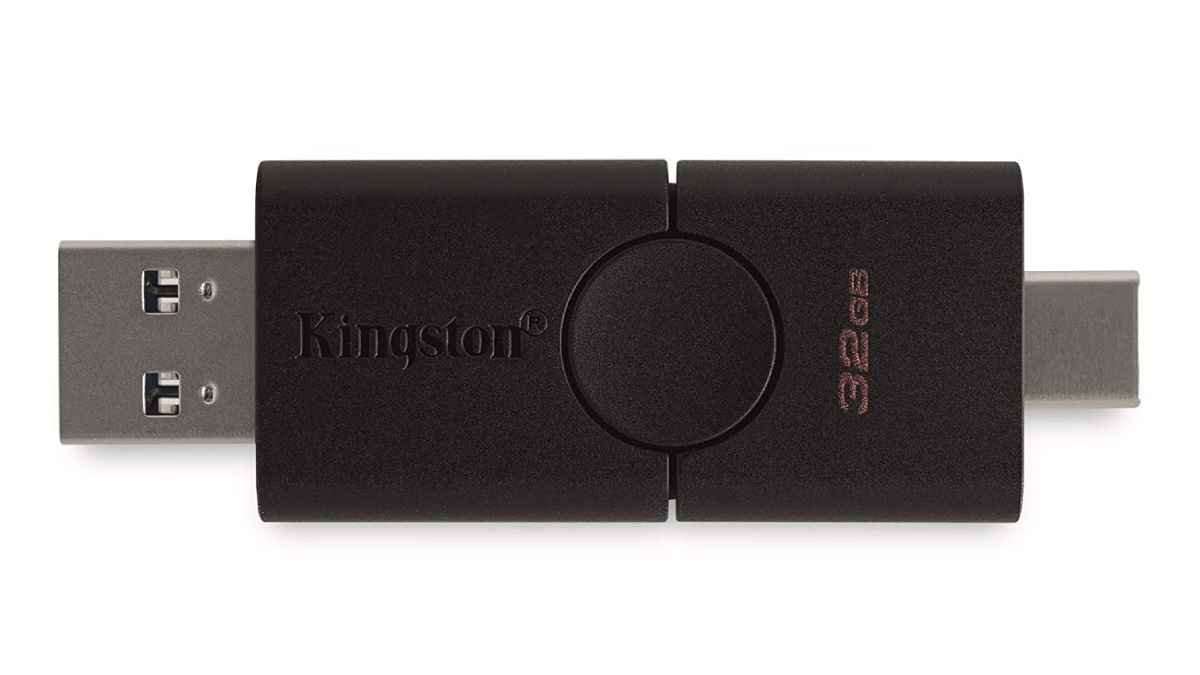 This 32 GB pen drive for mobile is a simple looking dual interface that hosts a traditional USB type A on one side and type C on the other. It has a unique double sliding casing and uses an interface of USB 3.0.
The USB itself transfers files from one device to another with a new generation at faster speeds than most USB 3.2 pen drives do. Kingston's DataTraveler weighs 20 grams, and its unique style dissipates heat with its casing while staying sturdy. It even has a 5-year warranty provided.
10. Gigastone 16GB USB Flash Drive, USB3.0 and US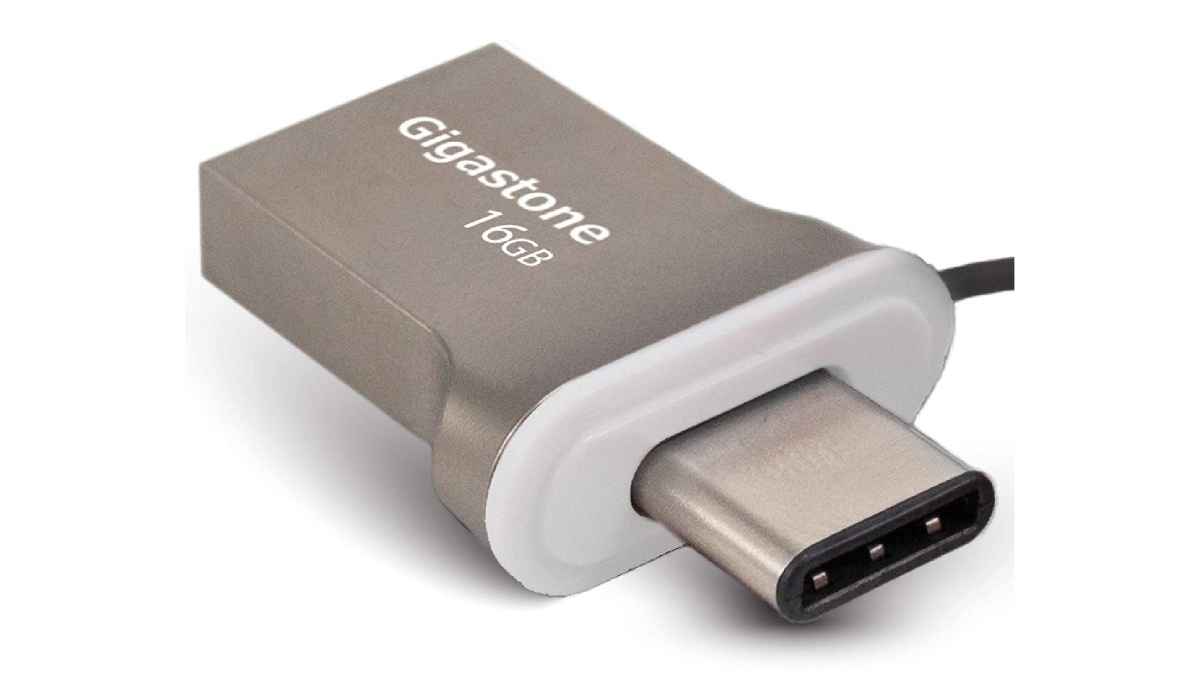 Gigastone offers a stylish, earthen colour that many other pen drives for mobile don't. Its speed is 5 times faster than usual drives and supports USB 2.0 and 3.0 in both PC and Mac for Windows, Linux and more. It works as a storage expansion for mobiles, car audio systems, gaming consoles, desktops, laptops, etc., with its type C connector. It stores all media files and large documents.
The storage capacity starts from 16GB to 216GB. It weighs 23 grams and boasts an interesting design and a textured grip. It has a 5-year warranty on endurance. It can easily be plugged in and out without damage.
Disclaimer: Digit, like all other media houses, gives you links to online stores which contain embedded affiliate information, which allows us to get a tiny percentage of your purchase back from the online store. We urge all our readers to use our Buy button links to make their purchases as a way of supporting our work. If you are a user who already does this, thank you for supporting and keeping unbiased technology journalism alive in India.