Best 1.5 Ton Window AC in India
The best way to deal with Indian summers is to stay indoors to avoid dealing with the harsh sun. But once humidity kicks in, fans and coolers can't provide you with the kind of comfort that the best 1.5 ton window ACs can. If you're planning on spending the summer season enjoying chilled air from a 1.5 ton window AC for home, but are not sure which ones are the best, then this list will help you pick the best from the lot song with the best 1.5 ton windows AC price. Although the prices of the products mentioned in the list given below have been updated as of 22nd May 2022, the list itself may have changed since it was last published due to the launch of new products in the market since then.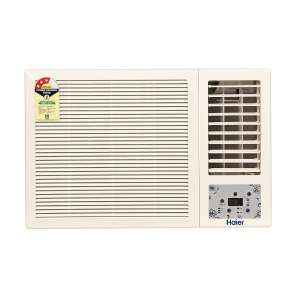 Power Consumption(watts)

NA
Haier's known for making some of the best home appliances in India, and this window AC is a case in point. Equipped with Haier's innovative technology, this 1.5-ton AC has a 3-star energy rating and annual energy consumption of approximately 1359 KWH, which means it will be easy on your pocket and the environment. The low-maintenance grooved copper condenser, 15-meter long air throw capacity, dehumidifier and super anti-corrosion technology allow this air conditioner to bring down the temperatures effectively. It boasts an anti-bacterial coating, dust filter, 2-way auto swing and a high-efficiency rotary compressor with max air circulation of 800 CFM that ensures proper cooling. Last but not least, it uses R32 as a refrigerant that doesn't contribute to ozone layer depletion and an ergonomic design that'll blend in well with your room.
SPECIFICATION
Capacity (Ton)
:
1.5
Star Rating
:
3
Type
:
Window AC
Power Consumption(watts)
:
NA
Power Consumption(watts)

1338.43 UNITS
Bid adieu to your summer woes with the Voltas 1.5 window AC, an energy-efficient air conditioner with an active dehumidifier and a multi-stage filtration feature to enjoy the cool air without worrying about skyrocketing electricity bills and harmful particles like allergens or bacteria. This 1.5-ton all-weather comfort AC claims to provide optimum cooling at temperatures as high as 50 degrees, thanks to the 100% copper condenser coils and the turbo cooling mode. It also has an Eco mode and sleep mode so you can pick one as per your requirements so you can be comfortable even during the hottest days. It even has a self-diagnosis feature that highlights failures and issues that the AC can fix and reset itself automatically, making it worth the bucks.
SPECIFICATION
Capacity (Ton)
:
1.5 ton
Star Rating
:
3 star
Type
:
Window
Power Consumption(watts)
:
1338.43 UNITS
Power Consumption(watts)

NA
Yet another brand that we couldn't keep off the list was Daikin. This 1.5-ton window AC by Daikin gives its competitor a run for their money, thanks to the sleek design and annual consumption of 1265 kWh, so you don't get outrageous electricity bills. The AC's noiseless operation (up to 49 dB) and the sleep off timer ensure that you get a good night's sleep even on the most humid summer nights! It boasts of advanced Power Chill operation that ensures quick cooling and uses R32, a single component refrigerant that makes it an eco-friendly home appliance that you can bring home without spending a fortune. Its 4-way airflow, modern temperature display and wide-angle louvre ensure that cool air reaches every corner of the room.
SPECIFICATION
Capacity (Ton)
:
1.5
Star Rating
:
3
Type
:
Window AC
Power Consumption(watts)
:
NA
Power Consumption(watts)

NA
The Sleep Mode on the Croma window AC reduces the room temperature in line with the atmospheric cooling. This also saves energy during overnight usage. The efficiency is further enhanced by the Energy Efficient Rotary Compressor used by the model. The R32 refrigerant used by the model is less harmful to the environment. For days when you need that extra power, the Croma window AC's turbo mode can step up the cooling intensity on demand. An antibacterial filter in the design keeps the model free from contamination by harmful microorganisms. The Blue Evaporator fins on the condenser make the build robust for a longer lifespan.
SPECIFICATION
Capacity (Ton)
:
1.5
Star Rating
:
3
Type
:
Window AC
Power Consumption(watts)
:
NA

List Of Best 1.5 Ton Window AC In India (May 2022)
| Product Name | Seller | Price |
| --- | --- | --- |
| Haier 1.5 Ton 3 Star Window AC | Amazon | ₹ 28,990 |
| Voltas 1.5 Ton 3 Star Window AC | Flipkart | ₹ 23,980 |
| Daikin 1.5 Ton 3 Star Window AC | Amazon | ₹ 29,990 |
| Croma 1.5 Ton 3 Star Window AC | Amazon | ₹ 23,990 |
Sanyo 2 Ton 3 Star Dual Inverter Split AC (Copper, PM 2.5 Filter, 2020 Model, SI/SO-20T3SCIC White)
₹ 48,999

|
LG 2 Ton 3 Star Inverter Split AC (Copper, 2019 Model, KS-Q24ENXA, White)
₹ 51,990

|
Hitachi 2 Ton 5 Star Inverter Split AC (Copper RMOG524HCEA Gold)
₹ 58,500

|
Panasonic 2 Ton 3 Star Wi-Fi Twin Cool Inverter Split AC (Copper CS/CU-SU24WKYW White)
₹ 46,097

|