VERDICT:
The Altec Lansing MZW300, despite being priced very well, fails to deliver in terms of audio quality. It is not comfortable to wear either, and this, coupled with sharp highs, muddled bass and practically absent mids make for an underwhelming experience. You should rather opt for the Skullcandy Grind Wireless or Creative Outlier, if you are looking for a pair of on-ear Bluetooth headphones in relatively low prices.
From the onset, they do not really create striking first impressions of quality and durability, something that we have come to associate with Altec Lansing audio products. The MZW300 here feel somewhat lightly built, although for its price and the features on offer, this can still work. After nearly one month of listening, here's what I found about Altec Lansing's new, budget Bluetooth headphones, the MZW300.
Build and Design
There's nothing really striking about the design of the MZW300. Altec Lansing has tried to keep it lightweight and uncluttered to ease usage and long hours of listening, and it almost works. The over-ear build is not as hefty as many over-ear headphones that I have tried, but the biggest discomfort is the plastic head band, which is too short. This makes the MZW300 a very tight fit, while almost every over-ear headphone fits me reasonably well.
Despite the light build, the tight fit takes away a lot from what could have been a very comfortable wear. Even after one month, I could not adjust to the tight fit, and after about 30 minutes of listening, I had to remove the headphones and take a breather. The three buttons are ergonomically placed on the left earcup, and is very easy to reach out for. Once you begin using it, controlling audio from the headphones itself becomes really easy. The buttons themselves are reasonably responsive, although they seem a bit stiff. The two volume buttons double up as 'next' and 'back', and the power button can be used to play/pause music, and accept/reject calls.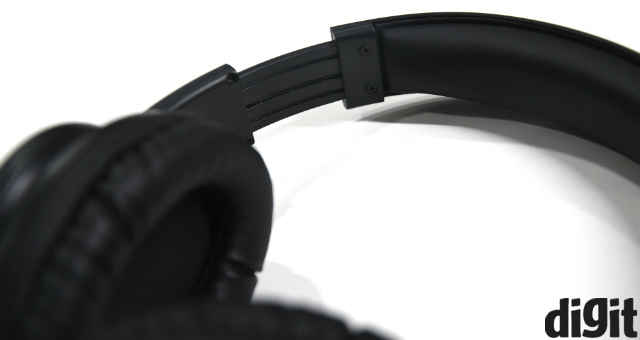 The plastic adjusters is just one aspect of its unimpressive build
In terms of design, the Altec Lansing MZW300 is fairly simple. There are no notable frills or patterns, and the plastic build can often look somewhat uninspiring. While the light weight still works, the headphones look distinctly inexpensive. It does look like it's built better than Creative's Outlier (our leading pair of budget on-ear Bluetooth headphones that look inexpensive, too), but not by a mile. It is not very sleek, either, and fixed, non-collapsible build makes it a bit difficult to carry around with you. The earcups are reasonably soft, and so is the inside cushioning on the headband, but the overall tight fit somewhat ruins the experience.
The Altec Lansing MZW300, to sum up, offers a mixed bag in terms of build quality and design. It is neat and uncluttered and offers a good deal as a pair of Bluetooth headphones priced within Rs. 3,000, but unless you consider these factors, it is not really that attractive.
Audio Performance
Here, too, the Altec Lansing MZW300 is a mixed bag. It does have its strengths, but loses out on a number of core aspects. Let me explain this further.
When I had reviewed the Creative Outlier, I could consider the incredible number of features to excuse the lack of finesse in build. In terms of performance, although it was not as peppy and bright as good audio sounds like, its price, the decent balance of audio and the array of features on offer made up for its loose ends.
With the Altec Lansing MZW300, you only get what you see. It can connect to your smartphone via Bluetooth or an analogue cable, and you can charge it up via a microUSB cable. There are no microSD card readers, or NFC connectivity, to make up for the weak areas. This no-frills bearing would have really worked, had the audio delivery been exceptional. Unfortunately, it is not.
The Altec Lansing MZW300 has really sharp highs and muddled yet deep bass, and mid frequencies are very audibly subdued. In any song that you listen to, there is always a deep hum of the low frequencies, which becomes somewhat disturbing after a point. The sharp highs do not sound too bad, but can be rather piercing, which is yet again a major deterrent for long hours of listening. The subdued mids, meanwhile, do sound well-poised, but are too low to deliver depth or details to your music.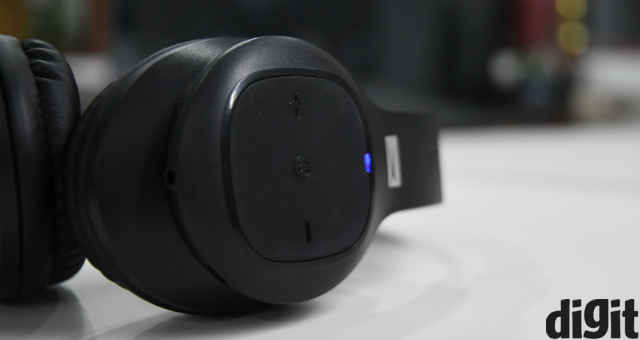 Blue LED indicator denotes that it is connected to your device
There is a distinct lack of details, and the booming bass overlaying tracks contributes heavily to this. For instance, in tracks like Porcupine Tree's Blackest Eyes, the snare roll does not sound as exquisite as it does in similar headphones like the Skullcandy Grind Wireless and Creative Outlier. The audio timbre is not that great either, and despite considerable warmth in audio, the lack of details in mid frequencies is the biggest disappointment here.
Soundstaging is not too great, either. The Altec Lansing MZW300 does not lay out instruments very well, and the distinct difference in direction of audio is somewhat missing here. One good thing here, however, is the lack of distortion in audio. The audio delivery is reasonably clean, even in volume levels above 80%. Although this works in making the audio more pleasant for those who like listening to music at high volumes, the lack of emphasis on mids and sacrificed details ruin the overall experience.
In-call voice sounds clear, although the placement of the mic on the left earcup may make it difficult to talk handsfree. Even in a silent room, the mic reception faltered, and I had to put my hand up near my mouth if I was in a crowded environment and yell, which somewhat defeats the point of a wireless headset.
To sum up, the Altec Lansing MZW300 falters when it comes to audio performance. The highs are a bit too sharp, the bass lacks composure and sounds muddled, the mids are too subdued, and despite minimal distortion in higher volume, the Altec Lansing MZW300 is difficult to recommend.
Battery Life
The best bit about these headphones is its battery stamina. I have managed to listen for about 12 hours, which covers one week worth listening over Bluetooth, and some more on the cable. The headphones take about an hour and half to charge fully, and the single LED indicator on the left earcup denotes if you are connected, or shows red when you are charging the device. Overall, the battery life is dependable, and Bluetooth connectivity remains stable for about 18 feet, should you need to get up from your desk and take a stroll without wanting to carry the phone or stop the music.
Good battery life fails to save the day here
Bottomline
The Altec Lansing MZW300 is priced only at Rs. 2,990, but fail to really impress with its audio performance. It is among the most affordable Bluetooth headsets you can buy in India right now, but we would recommend you to spend a little more and go for the Creative Outlier (Rs. 4,680) or Skullcandy Grind Wireless (Rs. 3,750), if on-ear Bluetooth headphones on a budget happen to be your priority.