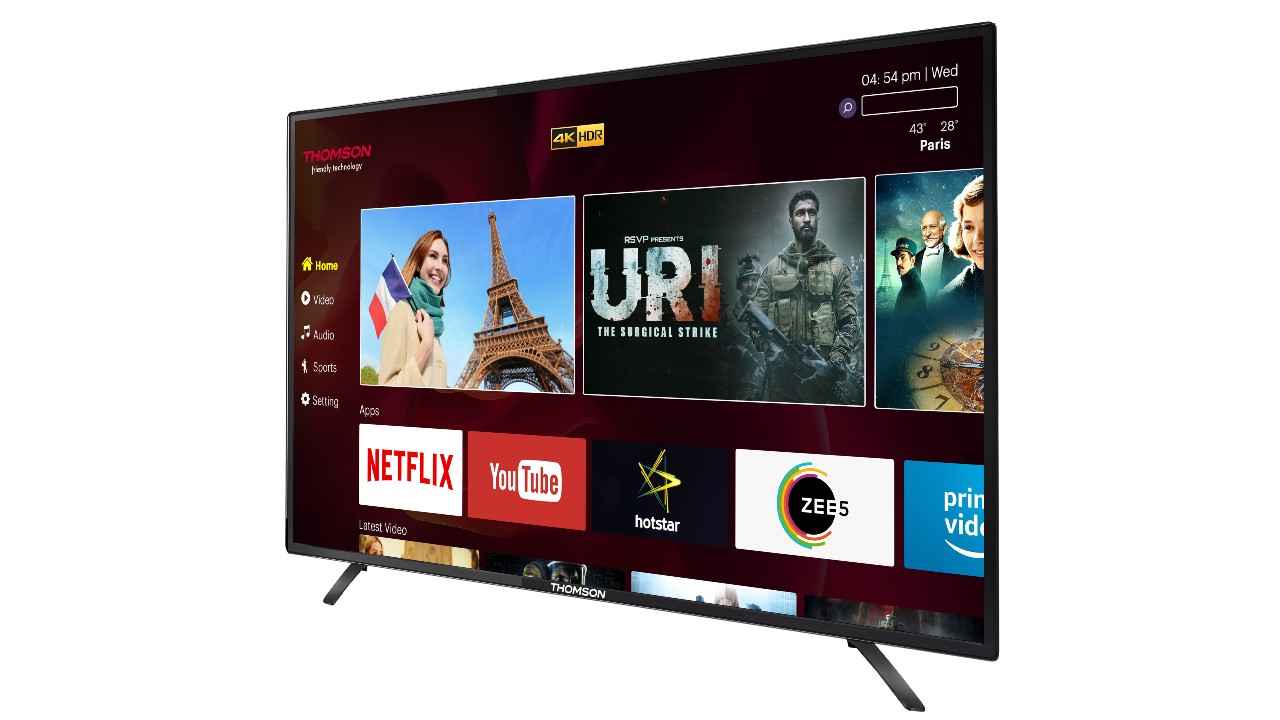 HIGHLIGHTS
Thomson TV has launched three new TVs. It is celebrating Thomson TV Day on Flipkart.
French consumer brand Thomson, has announced the launch of its three new models in the smart and non-smart category. The products include- 43" Full HD TV, 50" Full HD Non-SMART TV & 65" Android-Open-Source-Project TV. The brand new models will be available to buy from 00:00 hrs. (12:00 AM) onwards on 29th August till the 30th during Thomson TV Day, only on Flipkart.
You can read the complete press release below
As a part of Thomson TV Day, the brand has also slashed the prices for various other models, which include-
24-inch basic TV for 7,499
32-inch basic TV for Rs 8,999
32-inch smart TV for Rs 10,999
40-inch smart TV for Rs 16,499
4K TVs from Rs 19,999 to Rs 28,999
4K Android TVs from Rs 28,999 to Rs 59,999
The new launches range from Rs 19,999 to Rs 52,999.
Kick starting the festive season with Thomson Tv Day sale just ahead of Ganesh Chaturthi, Mr. Avneet Singh Marwah, India Brand Licensee, Thomson TV says "Thomson's commitment to bring friendly & high-end technology for all, is resolute. With our 3 new launches across the Smart/ Non-Smart TV category and major discounts on more than 10 of our other TV models. We hope to bring cheer to the celebratory sentiment and fuel optimism into the sector".
The 43 inch Full HD SMART TV is the latest from the brand's B9 PRO range. It boasts of in-built Wi-Fi and has pre-downloaded applications such as Netflix and Facebook. In addition, the TV can support a wide range of other applications like Zee, Sony, Soundcloud, Shazam, Hotstar, FIFA, just to name just a few. The TV is supported by Android 7.1 open source. The TV also supports digital and analog TV for an enhanced and integrated viewing and user experience. It is reasonably priced at INR 18,499.
The 65 inch AOSP TV is from Thomson's UD 9 PRO range. The SMART TV comes with a built-in WiFi and runs on Android 7.0. While it is already loaded with a range of apps such as Netflix, one can install upto 5000 other apps thus allowing for a seamless & integrated user-experience. The latest model in the AOSP category by Thomson is loaded with 8GB storage and 2GB RAM. Thomson's 65 inch AOSP TV is a great addition to those who have a SMART home and have each of their home-appliances connected. It is priced at INR 52,999.
Thomson's third newly launched TV is the 50 inch Full HD Non-SMART TV. It is loaded with an array of features such as- Netflix, 4K resources and VR, 3D Gaming, Multiplayer mode, Mass memory. The latest addition to Thomson's FHD Non-SMART range is priced at INR 19,999.
Thomson TV is fully manufacturing its entire range of television sets in India, thus honoring the Make in India initiative. Thomson, earlier in June, also marked its entry into India's premium TV space by launching its Official Android TV Range and became the first television company in the country to have entirely manufactured the range in india.