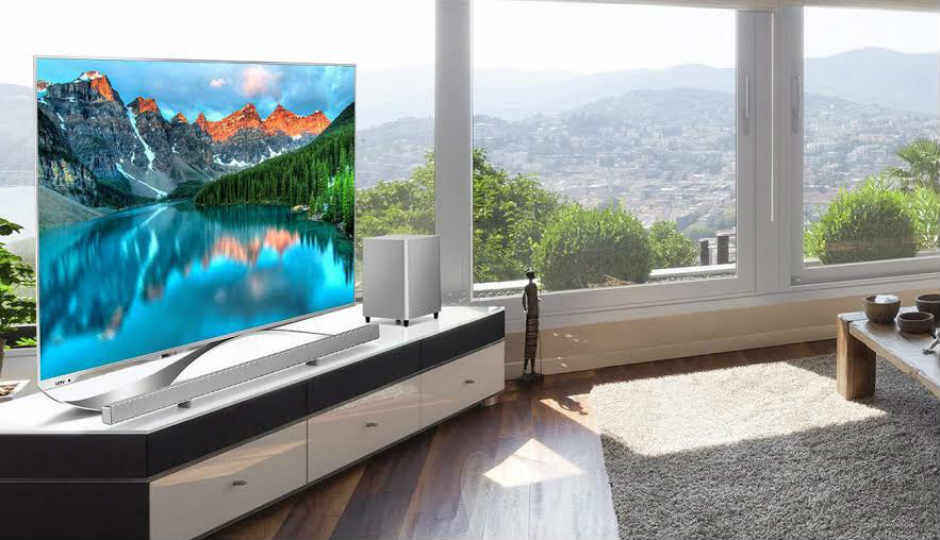 HIGHLIGHTS
LeEco says that superior hardware, display, design, disruptive pricing and LeEco membership ensure that its TVs stand out from the rest
LeEco recently launched its range of Super3 TVs in India and the company has given five reasons why it's TVs are better than the competition. The company has stated that not only does its superior hardware technology sets it apart, but its display and modern design also help. Further, LeEco says that its disruptive pricing and the fact that its TVs come with a two-year subscription to its content ecosystem give its TVs more value.
Read the complete press release below
Global internet and technology conglomerate LeEco has recently launched its Ecosystem enabled Super3 TVs in India. The range consists of Super3 X55, Super3 X65 and Super3 Max65 (which supports 3D display). With this launch, the company has started a revolution of content enabled TVs in India.
LeEco started its journey in India with the launch of the Superphones and now with the TVs they have added another screen to the portfolio. Through its connected devices approach, LeEco seeks to be the top choice for the Millennials, Generation Z and the digital natives. It has already started making in-roads in these segments with its Superphones and the Super TVs.
LeEco has already concluded a successful pre-sale for the Super3 TVs and in that these Super TVs have emerged as the top choice for online TV buyers in the 55-inch and above category.
Here are top five reasons that makes LeEco Super3 TVs the most compelling buy in this category.
Superior hardware technology and easy-to-use interface
The Super3 series from LeEco come with superior specifications. The TV packs in a Quad-core Cortex A17 CPU, a quad-core Graphics Processor and a top-of-the line 60 fps 4K video decoder. All these help in enabling smoother playback, faster decoding & accurate computation.
The Super3 X55 and pack in a high-speed RAM of 2GB DDR3 and a high-capacity ROM of 8GB eMMC Flash that enables HD videos, apps and games load smoothly. While Super3 X65 and Super3 Max65 offers a high-speed RAM of 3GB DDR3 and a high-capacity ROM of 16GB eMMC Flash that ensure superior performance.
The Super3 series comes with a professional MACE PRO4 image processor and the application of the MEMC dynamic image compensation technology maintains frame-to-frame coherence without image trailing.
Experience your TV like never before with a breath-taking interface and lightning-fast Android-based operating system. eUI comes with friendly design and easy-to-use interface that the children and the elderly can use with equal ease. These Super TVs run on eUI5.5 user interface, which brings with it the option of customization that shows different apps depending on the frequency of use.
The TVs are equipped with LeEco's self-developed and renowned content-viewing apps such as Levidi, LIVE, LeView along with other tailor-made apps like Panosearch.
Gorgeous display
Users can enjoy 4K and 1080p quality on the Super3 TVs by LeEco, which also comes with A+ grade IPS panel. Equipped with as many as 14 core display technologies, including state-of-the-art ones, the Super TVs provide a crystal-clear viewing experience. The screens offer a 178° wide viewing angle, suitable for viewing by all family members together and offers a wide colour gamut of up to 85% NTSC that makes the colors more vivid and clear.

LeEco Membership
LeEco through its Super TVs is all set to change the way users consume content on televisions. This is the first time in India that any company is offering content-enabled TVs. All three Super TVs come bundled with 2-year content subscription that gives users access to one of the largest content libraries in India. Users can enjoy at least 2000 Full HD/HD films from Hollywood and Bollywood, more than 100 satellite TV channels, 3.5 million songs (coming soon by software upgrade), and more than 50 live & exclusive concerts.
The users of the Super TVs will also get access to a cloud storage space of 5TB with strict privacy protection so users can store pictures capturing memorable moments on the cloud and share them conveniently with family and friends.
Disruptive Pricing and superior after sales service
The Super TVs from LeEco come at a disruptive price. Super3 X55 is available for Rs 59,790, LeEco Super3 X65 is priced at Rs 99,790 and Super3 Max65 is retailing at Rs 149,790. While most competing brands offer only a year of warranty, LeEco doubles the industry standard by providing Super3 Series a 2-year product warranty. In addition to this, the company is offering a full 4 years of warranty on the panel.
LeEco also has a large after-sales service network in India with over 333 outlets that are located at convenient places.
Modern design
The Super3 TV range from LeEco have been crafted keeping in mind Northern European style of simple integrated design concept. The TV range sports a strong all-metal body that exudes elegance and sophistication. The use of the sophisticated monochromatic anodized wire drawing metalworking process makes the product exude class and quality. The Super TV's top-notch industrial design is backed by materials that are free from lead and chromium making the TV fully eco-friendly.
The Super TVs are perfectly complemented by the Yoga Stand that comes free of cost with them. It is distinctive, high-quality, and aesthetically pleasing. The unique curvaceous stand contrasts well with the straight-line design of the TV set.
So don't miss your chance of owning the future proof Super TVs. The registrations for the first flash sale are already underway on LeMall and Flipkart.