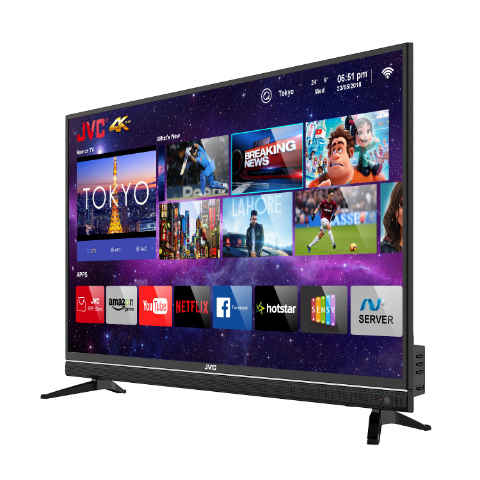 HIGHLIGHTS
The JVC 43N7105C 4K Smart LED TV comes with 1 year of warranty and is available via Flipkart.
JVC has launched its latest JVC 43N7105C 4K Smart LED TV in India, which is priced at Rs 24,999. The new TV features a 43-inch display panel and comes with Quantum Backlit Technology. It is powered by a quad-core 1.5 GHz processor and features 8 GB of inbuilt storage with 1 GB RAM.
Read the complete press release below
JVC, a part of Viera Group (one of the largest OEM for Consumer Durables in India) extends its Quantum TVs range with, 4K 43" UHD Smart LED TV. With signature, Japanese Technology & astoundingly easy to use interface in bezel less design the 43inch Quantum backlit TV is available on Flipkart.
The 43" Ultra HD 4K Quantum Lit JVC LED TV is a High Contrast TV with gorgeous 109cm display size, that makes the images powerful & sharp adding to the minimalist look of the TV. With a resolution of3840 x 2160p Ultra HD – 4X resolution of Full HD, the TV promises more depth in every picture. With a refresh rate of Blur Free 60Hz and Response Time of 5Ms, enjoy gaming and more.
Also, packed with the powerful Dolby-certified speakers (20 W + 20 W) to ensure an enthralling aural experience, this TV has an inbuilt soundbar that features a front-firing a front firing Direct to Hear sound technology. The JVC 43N7105C 4K TV is powered with quad-core 1.5 Ghz processor and Mali 450 Quad-core processor for impressive and uninterrupted performance. The 8 GB of inbuilt memory and 1 GB of RAM ensure that your TV operates smoothly without lag.
Equipped with the smooth and intelligent User Interface- Sensywall, the TV enables the user to view more than 30 trending videos on the home page. Furthermore, the E-share application provides seem less mirroring of picture directly from your smart phone to your TV, bringing uninterrupted experience. The TV comes pre-installed with a host of applications, such as Hotstar, YouTube, Netflix and many others (up to 500 which guarantees 1 Million Hours of Content to watch) to ensure that you're always entertained.
Browse all multimedia content with 2X USB and 3X HDMI ports that support a range of peripheral devices. The TV comes with Direct Key Remote Control that connects this TV to the JVC app store, Prime Video, YouTube, and other apps directly via the hotkeys.
The product with 1 year of warranty is available with Flipkart.