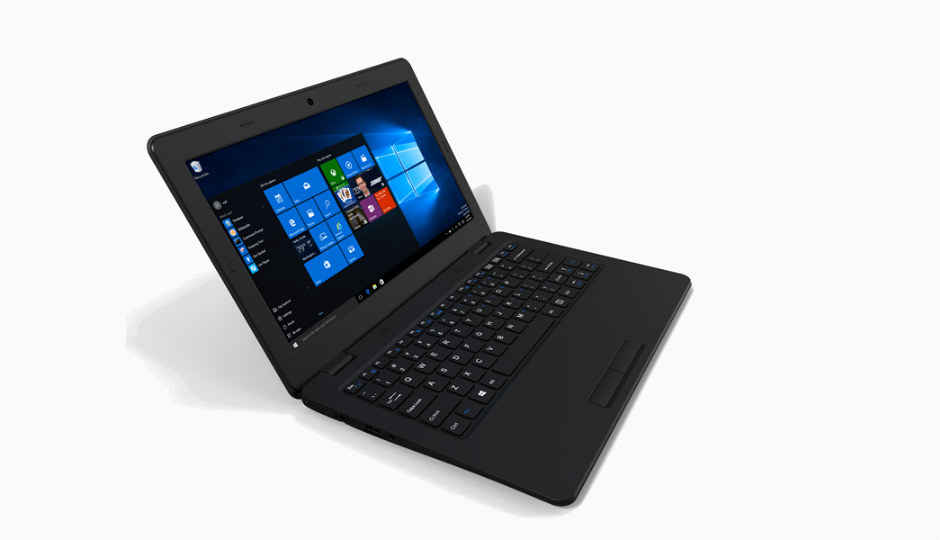 HIGHLIGHTS
The Micromax Canvas Lapbook is exclusively available on Amazon and has a 11.6-inch screen, 1.8Ghz Intel quad-core processor, 2GB RAM, and runs Microsoft Windows 10
Micromax has launched the Canvas Lapbook L1160 at Rs. 10,499 and will be exclusively available on Amazon. The Lapbook runs Windows 10 and has a 11.6-inch screen with a resolution of 1366 x 768 pixels and is powered by a 1.83Ghz Intel quad-core processor with 2GB RAM. It sports a 4100mAh battery and 32GB of onboard storage that can be expanded by up to 64GB. Micromax says that it has partnered by Microsoft and Intel in order to further consolidate the 'Productivity Devices' category in India.
Read the complete press release below
Aiming to drive accessibility, productivity at ease and affordability at the mass level in India, Micromax Informatics, India's leading consumer electronics company announced the launch of its new Canvas Lapbook L1160 at an attractive price of Rs. 10,499/-. Targeted at the youth, students and first time laptop users, the new launch will accelerate the PC adoption in the country and will further break the barriers to the Indian computing eco-system aiming to drive 'Digital India' initiative to the next level.
Commenting on the launch Shubhajit Sen, Chief Marketing Officer, Micromax Informatics Limited, said, "After successful launches of Canvas Laptab I, Laptab II and Canvas Lapbook, Micromax is ardently building its presence in the laptops category in India. Our current portfolio of computing devices provides technology hardware solutions to those who are often neglected by the big players in laptops market. With the new Lapbook L1160, Micromax aims to provide students, small time business owners, on the move executives, an extremely convenient and efficient way to handle everyday computing tasks."
He further added, "This is yet another step from Micromax towards making 'Digital India' a reality by providing every Indian with an affordable, creative multimedia tool that will enable them to live, learn and work in an information-rich society."
Canvas Lapbook is a power packed laptop preloaded with genuine Windows 10, a powerful Intel Quad Core processor and a battery which lasts an entire day. The fully loaded laptop at this price and spec ratio is a jump start for those who are looking to invest in a computing device that can not only take care of their skills development and productivity needs but also double up as an entertainment device. The launch is aimed to address a very important need of affordable computing, aiming to connect the next billion with the power packed device.

"We are very happy to be the partner of choice for Micromax and offer our customers the opportunity to be the first to own the new Canvas Lapbook L1160. We are customer obsessed and always focus on ensuring that customers have a delightful shopping experience every time they shop on Amazon.in. Laptops are one of the fastest growing product lines on Amazon.in and we see this as a great opportunity to offer customers across India the ease, convenience & joy of experiencing this latest computing device," said Mr. Noor Patel, Director Category Management, Amazon India

Sandeep Aurora, Director – Marketing and Market Development – Intel South Asia, said, "Accessible and affordable technology are the first steps to realizing the vision of Digital India. At Intel, we are focused on creating solutions that accelerate this process of making technology available to students and entrepreneurs, especially those who are buying a PC or laptop for the first time. Our goal is to continue collaborating with like-minded companies in the ecosystem, and Micromax, with the launch of its Canvas Lapbook L1160, is one such brand, with whom we are proud to associate."

Sharlin Thayil, Group Director – OEM, Microsoft India said, "Within a year of its launch, Windows 10 has scaled up to over 270M devices globally, empowering consumers to do more and achieve more. Our collaboration with the strong ecosystem partners in India such as Micromax enables us to offer the Windows 10 experience at very affordable price points to all our customers. We are excited about the launch of Canvas Lapbook L1160 with Micromax which will build further on the success of Canvas Lapbook series."

The Micromax Canvas Lapbook L1160 – Perfect Beginner's laptop!
Catering to the needs of the first time users in Tier 2 and 3 markets, the new Lapbook pre-bundled with Windows 10 promises improved UI experience ensuring fast boot ups, web browsing and smooth multi-tasking. Designed for better battery life, one gets 8-10 hours of non-stop usage enabling you to be your productive best. The new Lapbook L1160 also gives the new age consumers freedom from Piracy with the genuine and latest Windows 10 and provides freedom from restrictions as it provides fast processor with Intel, long-lasting battery backup, light-weight design

Power infused performance
Now first time users/students/mobile jobbers can quickly implement their ideas as the new device is powered by Quad Core Intel® Atom™ Processor (upto 1.83Ghz) and ensures that they can enjoy a seamless multimedia and multitasking experience without the problems of device heating and lag. From being a productivity partner to a great entertainment hub, consumers can enjoy movies and music of their choice as the new Lapbook comes loaded with the powerful speakers on for the entrainment aficionados which enable louder sound, deeper bass and unmatched sound and picture clarity. Power packed with a 4100mAh battery, 11.6-inch HD IPS display, 32GB inbuilt storage expandable up to 64GB, 2GB RAM and lightweight weighing 1.13 kg, the Lapbook is a perfect sleek and portable laptop available at a disruptive price of Rs. 10,499/- from 4thMay, 2016 exclusively on Amazon.in.