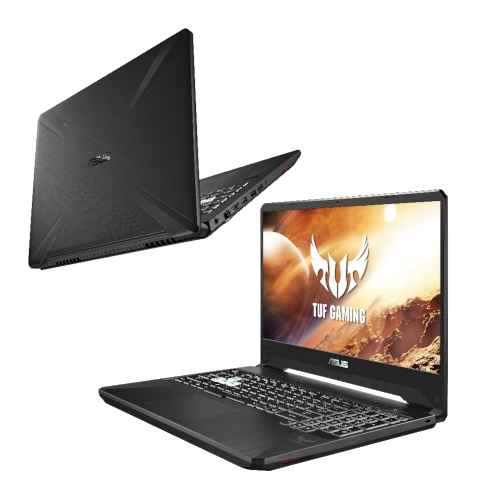 Asus has announced two new TUF Gaming laptops in India, the Asus FX505DT and FX705DT. The new laptops are powered by up to AMD Ryzen 7 3750H with Radeon Vega Mobile and feature either the NVIDIA Geforce GTX1050 with 3GB GDDR5 VRAM or the Geforce GTX1650 GPU with 4GB GDDR5 VRAM. The laptops are priced starting at Rs 64,990 and are available online and offline.
Read the complete press release below
ASUS unveiled the latest TUF Gaming Laptops FX505DT & FX705DT, combining the power of the latest AMD Ryzen™ processor and NVIDIA® GeForce® GTX™ GPUs up to 120Hz IPS-level NanoEdge display to deliver an exhilarating gaming performance and effortless multitasking at an extremely comfortable price range. Carrying the trademark durability and toughness of ASUS for everyday work and play, the laptops are tested and certified to meet military-grade MIL-STD-810G standards.
With the launch of the latest TUF Gaming Laptops, ASUS has solved the challenges of incredible performance endured by gamers. For long, in their pursuit of powerful performance, enthusiasts have been combining AMD processors with GeForce GPUs. However, the latest brand launches allow users to carry the combined power of both in their backpacks. Now, teaming the latest Ryzen mobile APUs with GeForce GTX 1650 GPU, ASUS gaming laptops allow users take that potent combo wherever they go.
Commenting on the latest development, Arnold Su, ROG & PC Head of ASUS India said, "With the rise of online gaming and e-sports in India, gamers in the country are demanding high-performing laptops perfectly matching their soaring ambition. At ASUS, we are glad to unveil the TUF Gaming Laptops FX505DT & FX705DT that combine amazing processing power and graphics upgrade with durability. Available at affordable prices, we are affirmative that these laptops will prove to be suitable partners to India's growing brigade of passionate gamers and multi-tasking individuals wanting more from their laptops."
Bringing Turing Architecture to Gaming
Custom-made for today's games, FX505DT & FX705DT are powered by the latest Turing architecture through GeForce GTX 1650 GPU deployed NVIDIA. The upgrade offers performance enhancement over previous generation.
The powerful GPU puts triple-digit frame rates within reach in popular games, and it's paired with a fast display that allows enjoyment of every frame. With a 120Hz refresh rate that's twice the speed of standard screens, FX505 enables smoother gameplay that provides an edge on the battleground. Its high refresh rate is especially helpful in fast-paced shooters and e-sports titles. The 15.6 inch panel also comes with a 120Hz option that's better for graphically demanding games that run closer to 60 fps. For users who prefer a larger screen, FX705 features a 17.3 inch display and is available with a 60Hz panel.
ASUS TUF Gaming FX505_FX705DT features a brilliant IPS-level panel for smooth gameplay, with wide-view technology that ensures consistent colours when you're looking at the screen from extreme angles.
Firepower Processing for Any Task
Powered by AMD Ryzen processor, these TUF Gaming Laptops pack powerful performance and versatility. While the latest GeForce GTX™ 1650 GPU for smooth gaming and live-streaming, the AMD Ryzen processor with quad cores and eight threads make daily multitasking and productivity quick and efficient. The combined firepower of these processors equips unrivalled performance within the gaming arena and otherwise.
HyperCool Technology for Improved Durability
To keep the laptop cool and top-performing at all times, ASUS has packed in its Anti-Dust Cooling (ADC), HyperFan technology, and dual-fan that cools CPU and GPU from both sides. The technology is also equipped to not let dust accumulate over time and hence, increases the reliability of the laptops for long-term use.
Tougher than the Rest
Inculcating the spirit of The Ultimate Force (TUF) FX505_FX705DT has passed a series of rigorous military-grade MIL-STD-810G durability tests. The laptops have successfully survived pressing situations like extreme temperatures, high altitude, and exposure to solar radiation, amongst others.
HyperStrike Keyboard Technology
Bringing familiarity for gamers and users, ASUS TUF Gaming FX505_FX705DT has a RGB keyboard configuration with customizable colours and effects, with a recognizable WASD keys. The keycap curve is 0.25mm and OverStroke technology ensures precise control. Another favourable development for the gamers, the keys can withstand over 20 million presses. The HyperStrike Gaming Keyboard ensures not only precision gaming but also a comfortable typing experience.
DTS Surround Sound & Easy Connectivity
Enjoy an immersive audio experiences with 7.1-channel virtual surround sound. DTS makes the experience more realistic by enhancing audio for music, movies, and games. It also brings a host of I/O ports including a single USB 2.0 and two USB 3.1 Gen 1 Type-A ports for your gaming peripherals, as well as HDMI 2.0 to connect to an external display.
AVAILABILITY & PRICING
Different variants of FX505DT and FX705DT with GTX1650 are available online and offline, the prices range from INR 64,990
Product Specification
FX705DT & FX505DT

Processors

AMD Ryzen™ 7 3750H with Radeon Vega Mobile Gfx AMD Ryzen™ 5 3550H with Radeon Vega Mobile Gfx

OS

WIN10

Memory

DDR4 2666 MHz up to 32GB / DDR4 2400 MHz up to 32GB

Display

15.6" Anti-glare FHD (up to 120Hz) / 17.3" Non-glare FHD(60Hz) – value IPS

Graphics Card

NVIDIA Geforce GTX1050 with 3G GDDR5 VRAM NVIDIA Geforce GTX1650 with 4G GDDR5 VRAM

Storage

1T 5400RPM

256GB/ 512GB PCIe SSD

Keyboard

RGB backlight with number pad

1.8mm key travel

Connectivity

802.11AC+BT 5.0

Interface

2 x USB 3.0 Gen1 ; 1 x USB 2.0

1x HDMI 2.0

1x RJ-45 Jack

1x 3.5mm headphone and microphone combo jack

1x Kensington lock

Battery

3 cell. 48WHr (15") / 4 cell, 64Whr (17")

Camera / Microphone

Built-in HD(array mic)

Dimensions / Weight

15"

36.04(W) x 26.2(D) x 2.675/2.58 (H) cm / 2.2 kg

17"

39.9(W) x 27.9(D) x 2.66 (H) cm/ 2.7 kg