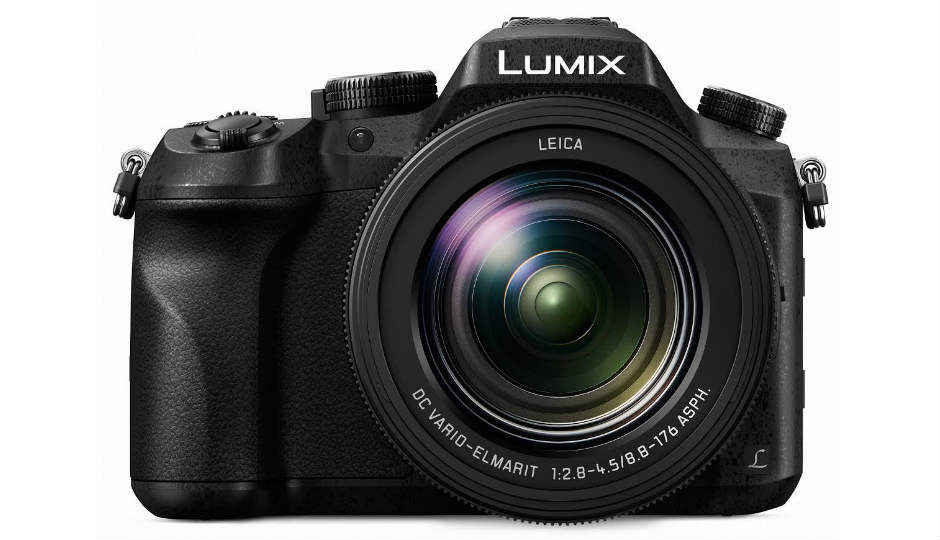 HIGHLIGHTS
The camera offers a 20x zoom and sports a 1-inch 20.1MP High Sensitivity MOS sensor.
Panasonic has launched the Lumix FZ2500 mirrorless camera in India at Rs. 94,990. The camera offers a 20x zoom and sports a 1-inch 20.1MP High Sensitivity MOS sensor. The Panasonic Lumix FZ2500 is capable of capturing 4K video at 30fps.
Read the complete press release below
Leading the way in innovative technology, Panasonic India today launched the Lumix FZ2500 camera. With extraordinary features, the new Panasonic LUMIX FZ2500 defies comparison with any conventional compact cameras, satisfying professional photographers and advanced amateurs needs. As the latest addition to Panasonic's line-up of bridge camera, the FZ2500 camera boasts exceptionally high performance in both photography and videography. With this launch Panasonic aims to expand their market in tier I and II cities.
Key Highlights
• High Videographic performance for Prosumers and Amateurs
• Video performance to meet professional needs
• Freeze moments with 4K & ultra-fast AF
• Carefully Calculated, Intuitive Operation
• New way of photographing
A big step-up from basic cameras, Lumix FZ2500 is ideal for sports, nature and wildlife photography. Its high video graphic performance meets professional needs with availability of a powerful zoom and 1-inch sensor, truly designed for creators.
The new FZ2500 packs a host of advanced functions and technologies that let users capture the unmissable moments. With the capability of 4K technology it further evolves to meet professional quality. The unlimited 4K video recording makes it evolve beyond the limitation of conventional compact cameras. Moreover, the 4K technology allows to capture the perfect moment in 30fps and select the best photo after shooting.
Equipped with the powerful lens 20x LEICA DC VARIO-ELMARIT, the new 4K mirrorless camera boasts high optical performance for both photos and videos. The newly developed 20x Optical zoom lens serves as the eye of the camera to achieve excellent detail and powerful zooming performance. The inner zoom structure allows smooth zooming which makes easy to shoot videos without jerk. For a unique video expression, Variable Frame Rate, Slow & Quick motion, and Dolly
Zoom are also available along with a variety of practical functions required for professional video recording. The large, 1-inch 20.1-megapixel High Sensitivity MOS Sensor lets the user capture clear images with minimum noise even when shooting at a high ISO. The Venus Engine features multiple noise reduction systems to achieve high color reproduction and high image quality with natural, true-to-life detail.
Mr. Gaurav Ghavri, Product Head- Digital Imaging, Panasonic India, said, "Lumix FZ2500 is targeted towards the professional users as well as those amateurs who need access to 4K video feature and inspire DSLR like quality in their pictures. Providing video solution for professionals along with 4K photo, it is the ultimate video & photo hybrid camera for the Indian market which provides professional video quality ideal for events and documentary. The camera comes with a 20x zoom and 1 inch 20 Megapixels sensor which makes it the best pick for photography enthusiasts and amateurs."
By combining the built-in ND filters in FZ2500 camera, 4 setting modes for ND filters are available with direct switch operation. It allows to record videos while keeping the exposure level the same with a fixed shutter speed or with a fully open aperture even in high brightness. To elevate the video expression performance even more, a variety of effects are available on the LUMIX FZ2500.
The VFR (Variable Frame Rate) lets users record over cranked and under cranked video. With the newly added Slow & Quick, users can apply a slow or quick motion effect with just one press during the recording.
Offering both sleek and solid exterior design with intuitive control, the new FZ2500 has a well-defined grip with a stable hold with minimum fatigue despite its substantial weight. The photography enthusiasts and professionals can grab their unit from Panasonic stores across the country at the price of Rs. 94,990.