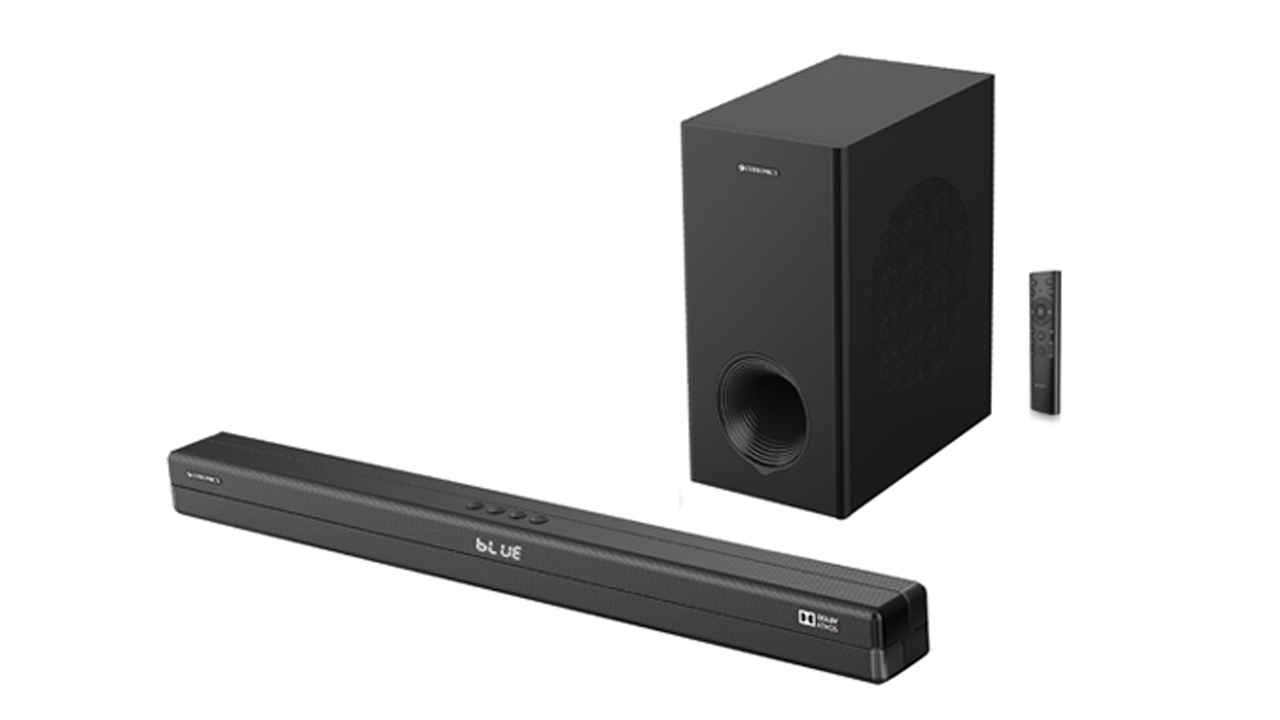 Zebronics, a home-grown audio system brand, launched the Zeb-Juke Bar 9700 Pro Dolby Atmos Soundbar in India on Thursday, priced at Rs 17,999. The bar comes equipped with a 16.51cms subwoofer driver and quad 5.71cms and dual 5.08cms drivers. It also comes with a subwoofer unit in addition to the soundbar itself. The soundbar has a power output of 450W and frequency response range of 45Hz to 20,000Hz.
Read the entire press release below
Zebronics, India's leading brand of IT & gaming peripherals, sound systems, mobile/lifestyle accessories, surveillance and power solution is the first Indian brand to launch a Dolby Atmos® enabled soundbar in India named "ZEB-Juke Bar 9700 Pro Dolby Atmos".
Entertainment can change you. re-watching a movie for it's amazing scenes and dialogues or listening and discovering your favorite track after years can be a mood uplifter. Discover the Dolby difference — a premium entertainment experience that helps you feel a deeper connection to the movies, shows, music, sports, and games you love. Hear what you've been missing with an immersive experience like no other. Once you've experienced it in Dolby, you won't want it any other way.
Elevate your entertainment with Dolby. Experience the immersive sound of Dolby Atmos and go deeper into the story. It's easier than ever to take your entertainment to the next level with Dolby Atmos. Whatever kind of entertainment you love, it's better in Dolby and you won't want to experience it any other way. Why go anywhere else when you can get the comfort of your home along with a hi-fidelity immersive sound experience right at your home with ZEB-Juke Bar 9700 Pro Dolby Atmos soundbar.
Escape the tangled mess of wires of multi channel surround speakers, since the soundbar is designed to deliver more in a simplistic design that grapples you in the immersive audio experience minus the wires and a fairly easy hassle-free set up enhancing the ambiance of any room.
The "ZEB-Juke Bar Pro Dolby Atmos" comes with a 16.51cms subwoofer driver for loud and punchy bass experience. The soundbar comes with quad 5.71cms and dual 5.08cms drivers so that you're floored with scintillating audio clarity and immersive sound.
The soundbar does not only have a hassle free setup but a fairly easy way to connect with multi-connectivity options like; wirelessly stream your music from your phone, using the USB/ AUX, you can connect via HDMI (ARC) or the optical input and connect without a hassle. The Sound bar also comes with dual HDMI input along with one HDMI output.
Commenting on the announcement, Mr. Pankaj Kedia, Managing Director, Emerging Markets, Dolby Laboratories said, "We are thrilled to have partnered with Zebronics to bring their first Dolby Atmos enabled soundbar to Indian consumers. Zebronics customers can now enjoy a breathtaking Dolby Atmos experience, with a large and constantly growing library of titles available in English and in Hindi."
Speaking on the launch of the Soundbar, Mr. Pradeep Doshi, Director – Zebronics says, Being the first Indian brand to launch our soundbar with a Dolby Atmos audio is truly exciting. As our ideology states we're always geared to 'Stay Ahead' of the times. With our newly launched ZEB-Juke Bar 9700 Pro Dolby Atmos Soundbar, entertainment at home will be a promising affair blending the perfect fusion of minimal design that delivers a powerhouse of sound."
The ZEB-Juke Bar 9700 Pro Dolby Atmos soundbar will be available at leading online store Flipkart.com from 21st September 2020 at a price of Rs 17,999/-.