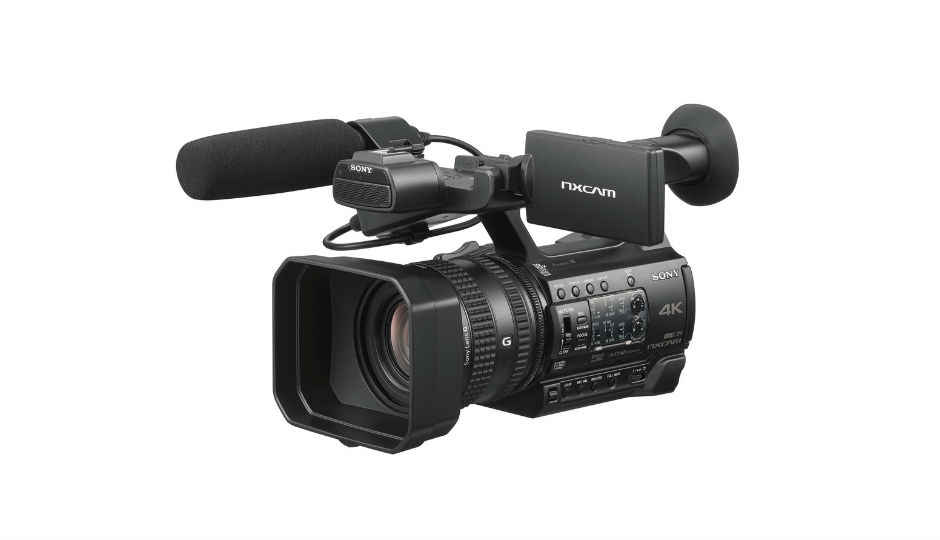 HIGHLIGHTS
The HXR-NX200 can capture 4K images with Sony's 1.0-type Exmor R CMOS 14MP image sensor.
Sony's 4K NXCAM HXR-NX200 handheld camcorder launched for Rs 1,60,000. The HXR-NX200 is capable of capturing 4K high resolution images with Sony's 1.0-type Exmor R CMOS image sensor with effective 14.2 megapixel.
Read the complete press release below
Expanding photographic possibilities for professional videographers, Sony India today announced the HXR-NX200, a new introduction to its NXCAM handheld camcorder line-up. Targeting at professional videographers and content creators, the latest camcorder is capable of delivering stunning 4K images in beautiful colour achieved by the newly refined colour science. It is a cost-effective choice offering the entire professional features one needs in a robust yet compact chassis.
Immersive experience with stunning images in 4K/HD with 1.0-type Exmor R™ CMOS image sensor
Positioned as an optimal choice for users venturing into 4K productions, the HXR-NX200 is capable of capturing 4K high resolution images, in addition to its excellent HD capabilities. This is possible with Sony's 1.0-type Exmor R™ CMOS image sensor with effective 14.2 megapixel that achieves high sensitivity and delivers superb image quality in 4K. Further, thanks to the large high-resolution sensor, superior image quality when shooting in HD is achieved effortlessly. Built for hybrid videographers, the latest NXCAM camcorder also offers users the flexibility to shoot in 4K and cut out in HD during post production.
Special colour tune-up for beautiful colour reproduction
Geared towards the growing segment of hybrid videographers and multimedia creators in wedding photography, the compact and lightweight HXR-NX200 delivers stunning lifelike images beautifully with the newly developed refined colour science. Developed based on the voice of customers, this major advancement allows the camcorder to express more vivid, deep, rich variation of colours and natural skin tones regardless of exposure condition. The well-balanced and true-to-life color reproduction is ideal for applications including live events, weddings and other festivities, as well in houses of worship, education and seminars.
Range of features to support professional shooting and workflow
To capture even the most expansive scenes with outstanding clarity, the HXR-NX200 is equipped with a 29mm wide- three angle G Lens alongside independent manual lens rings, enabling manual control of focus, zoom and iris, for quick and precise adjustment. A 12x optical zoom is dramatically enhanced with Sony's unique By Pixel Super Resolution Technology, Clear Image Zoom, at 24x in HD and 18x in 4K. With the built-in 4 Step ND Filters, the HXR-NX200 is able to adjust quickly to capture quality content in a multitude of environments, producing sharp, clear images without losing the details anytime, anywhere.
The HXR-NX200 NXCAM camcorder enables users to stream live events in HD effortlessly through a simple and affordable production ecosystem when paired with the MCX-500 multi-camera live producer and the RM-30BP remote commander.
Extending the recording format of Sony's NXCAM family, the HXR-NX200 is capable of recording 4K XAVC S 100Mbps for superb picture quality with less noise due to higher bitrate. Further, the latest camcorder features dual media slots, realizing extended recording time and workflow flexibility through relay and simultaneous back-up
Pricing and Availability
HXR-NX200 is available for Rs 1,60,000 across Alpha Flagship stores and professional photo & video store across India.