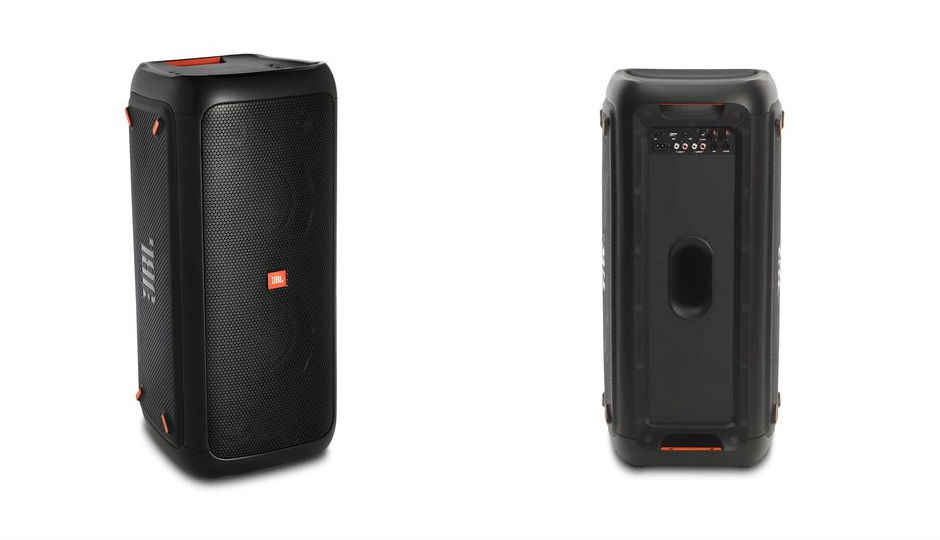 HIGHLIGHTS
JBL PartyBox 200 is priced at Rs 32,499 and JBL PartyBox 300 is available at a price of Rs 35,999.
JBL has launched its PartyBox 200 and PartyBox 300 speakers at a price of Rs 32,499 and Rs 35,999 respectively. The speakers have built-in light showsand a 10,000mAh battery for up to 18 hours of playtime, mic and guitar inputs. The speakers can also connect with compatible speakers wirelessly via TWS (True Wireless Stereo) using Bluetooth connection up to two PartyBox speakers.
Read the complete press release below
Dial up the music and get ready for an epic experience. The party has arrived. Introducing the latest musical companions from JBL –JBL PartyBox 200 and the JBL PartyBox 300 – for the first time in India. These new speakers are designed for next-level entertainment.
Goal: Throw an epic party that will be remembered. Step 1. Invite party people. Step 2. Stream your party playlist to the JBL PartyBox. Step 3. Watch Partybox elevate and amplify the moment.
Packed with JBL's signature sound, the PartyBox creates an uplifting listening experience, whether it's a small gathering at home or pop-up gig in a park. And what's a party without mood lighting? Choose one of three lighting options and create added ambiance to any setting.
"Check, check. One, two, three." Grab a mic and strap on a guitar because the JBL PartyBox is equipped with a microphone and instrument input, giving everyone the opportunity to showcase their talents, whether at home or on stage. Professional musician looking to liven up the evening? Aspiring shower singer in search of that big backyard break? Look no further.
"I love that my JBL PartyBox combines JBL Signature Sound with stylish lighting, and the speaker's bass brings my personal parties to life,'' stated Priyanka Chopra, actor, singer, philanthropist and Global Brand Ambassador for JBL.
For even larger sound, connect two PartyBox speakers to create a crowd friendly, amplified listening experience. PartyBox has a USB input allowing anyone to connect their playlist directly via a USB drive. The party won't miss a beat, and no one will have to sacrifice their phone and miss out on countless social media opportunities. #BestPartyEver.
JBL PARTYBOX 200 & 300 FEATURES
JBL Signature Sound: Enjoy an immersive audio experience at home or at a party that only JBL sound can provide.
Wireless Bluetooth Streaming: Wirelessly stream high-quality sound from a smartphone or tablet.
Built-in Light Shows: There's a light show for every mood; Meter, Pulse, and Party mode.
Portable with Rechargeable Battery: Plug in to a 12V DC source or use the built-in 10,000mAh battery for 18 hours of playtime (only for the PartyBox 300).
Mic and Guitar Inputs: Plug in a mic or guitar and take the stage.
USB Playback: Pre-program a party or event with a favorite playlist from a USB thumb drive.
True Wireless Stereo & RCA: Connect compatible speakers wirelessly via TWS (True Wireless Stereo) using Bluetooth connection up to two PartyBox speakers or wired via one RCA output to another.
PRICING AND AVAILABILITY
JBL PartyBox 200, priced at INR 32,499 and JBL PartyBox 300, priced at INR 35,999 are immediately available at www.JBL.com and other online and retail channels, including 350 Samsung brand stores across the country.