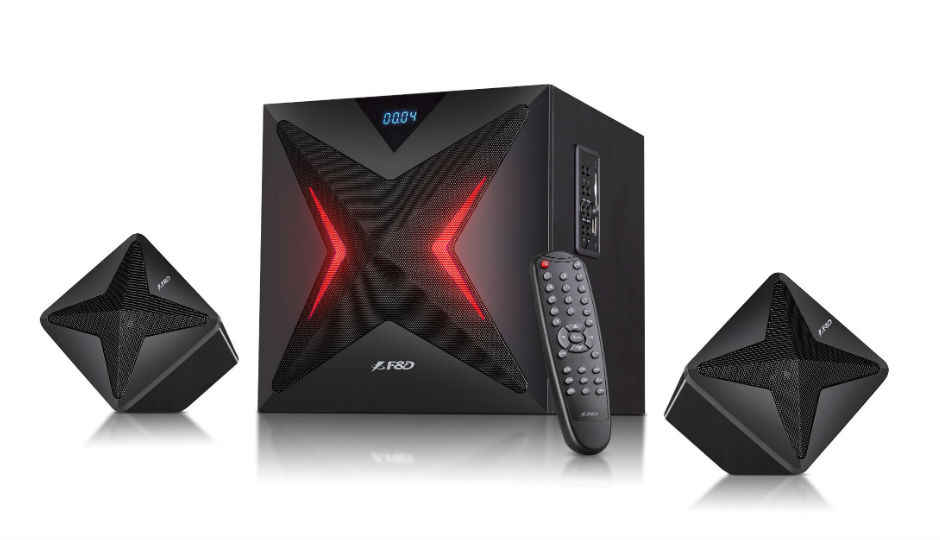 HIGHLIGHTS
The F&D D550x speaker comes with a 6.5-inch bass driver for subwoofer and an automatic multi-color LED.
F&D has introduced the F550X 2.1 Bluetooth speaker that has a 3-inch full range driver for satellites, 6.5-inch bass driver for subwoofer, Bluetooth 4.0, and NFC support. The speaker's Bluetooth has an operating range of up to 15 meters. The other features of the speaker is plug & play USB/SD card reader, and innovative automatic multi-color LED. The multi-color LED is available in Red, Green, and Purple and the whole speaker has a unique X design. The F&D F550x speaker is priced at Rs. 4,290.
You can read the full review here:
As the feeling of freedom is going to touch the billion hearts across the country, celebrate the Independence Day tuning in to F & D F550X, combination of unique X design with Innovative automatic multi-color LED i.e Red , Green and Purple .
Fenda Audio India Pvt. Ltd (F&D Audio), Represents the Indian market in global sector of sound technology. F&D is set to launch its latest product F550X 2.1 Bluetooth speaker, The F550X comes with the next generation design and an amazing 6.5 inch bass driver for subwoofer which provides superior audio quality and reduces noise. Fenda Audio India keeping its mantra of affordability clubbed with superior technology has priced F550X attractively at Rs. 4290.00/-
F&D since its inception in 2006 has been setting up benchmarks with its products in sound technology including mini/portable speakers, multimedia speaker system, soundbars, docking station and portable speakers. F&D currently holds 32 percent of the current markets share.
F&D Audio which has a reputation of giving the right to choose to its customers as F&D provides multiple products in the same category, a privilege which its competition fails to provide.
Commenting on the launch of the F550X, Mr. Rajesh Bansal, Director, Fenda Audio says, "This product offers a unique combination of light, sound and display and to top it all its also closely aligned with our vision of providing customers with quality products at affordable prices. And devices that can play everything on anything, the speakers come with all the latest technologies like NFC, Bluetooth 4.0, Aux, Plays USB/SD cards, FM, and can play any format."
The Speakers are available at all leading retail stores and e-commerce portals.