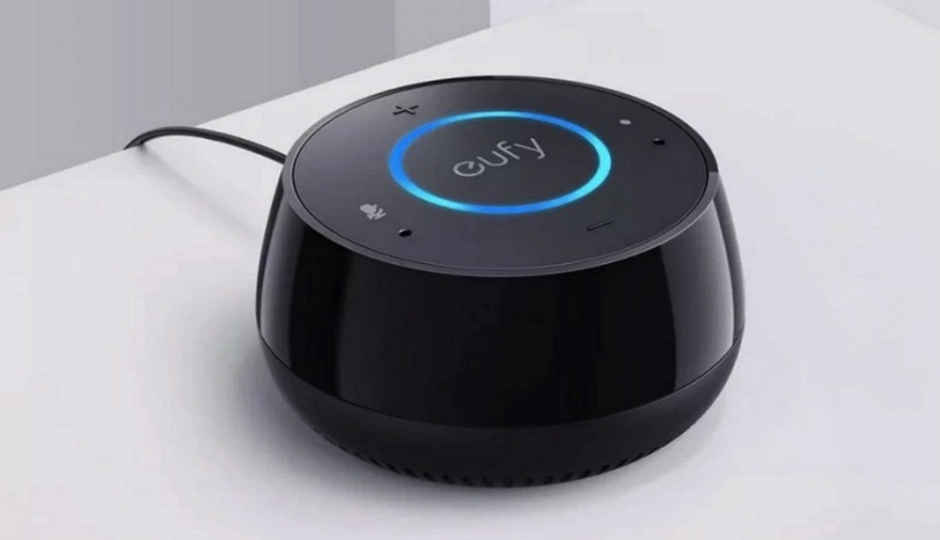 HIGHLIGHTS
As the Eufy Genie comes with Alexa integration, users can install and use from over 10,000 skills.
Eufy by Anker has launched its new smart speaker in India, the Eufy Anker. Priced at Rs 4,799, the device comes integrated with Amazon's Alexa digital assistant and features a 2W speaker. The device comes in shades of Black and is available via Amazon with a 12 month of warranty.
Read the complete press release below
Eufy by Anker, known for developing a new generation of connected devices that completes the smart home experience, announces the launch of its newest "Eufy Genie" a smart speaker integrated with Alexa Voice Control. Eufy Genie is a voice-controlled smart speaker with Amazon's intelligent Alexa voice Control. Just say the wake word "Alexa" and Genie plays music, controls your smart home devices, answers your questions, sets calendars, and reports the weather, news and more.
Sleek and compact design, makes Eufy Genie easy to carry outdoor or place it indoor in any room. Genie works brilliantly with Indian accent and pronunciations to make life easier at home. The unique Genie Technology is built using Audio Smart far-field voice processor, that detects sound 360° & isolates noise, then utilizes echo cancellation to hear your voice during music playback or voice prompts.
Integrated with 2W speaker the speaker delivers dynamic audio and room-filling sound, users can truly enjoy the favourite playlists from streaming services like Saavan, Amazon Music, TuneIn, and iHeartRadio. Access over 10,000+ 'skills', covering every service the internet has to offer and do more with Alexa. In addition, use Genie to control all Alexa-compatible Eufy smart products, such as Luminas LED Smart Bulbs, in addition to other brands that work with Alexa.
Commenting on the new addition, Mr GopalJeyarajsays, "Genie by Eufy is actually like the Wonder Genie, where your wish is the Command. Set Alarms, Reminders, Place takeout orders etc.. the possibilities are endless. Also we have taken special care, to suit the Voice Command to Indian pronunciation. With best in tech, at most affordable price points, it's time to adopt the Smarter Homes in India"
Genie does not need Bluetooth, simply connects to 2.4 GHz Wi-Fi networks at Homes. Eufy Genie can be easily set up using the EufyHome app to access 10000+ skills and services.
The product in shades of Black, is available on Amazon with 12 months of warranty.