DIZO, a brand under the Realme TechLife ecosystem launched the DIZO Watch R with an AMOLED display and the Dizo Buds Z Pro with Active Noise Cancellation today. The DIZO Watch R features a 1.3-inch AMOLED display with 550 nits of brightness. It is priced at Rs 3,999 and will be available at an introductory price of Rs 3,499 on Flipkart. The Dizo Buds Z Pro comes with Active Noise Cancellation, Realme Link app support, and 25 hours of battery life. It is priced at Rs 2,999 and will be available at an introductory price of Rs 2,299 on Flipkart.
Read the complete press release below
DIZO, the first brand under realme TechLife ecosystem, today announced the launch of its latest smartwatch - DIZO Watch R with Ultra Sharp AMOLED display and TWS - Dizo Buds Z Pro with Active Noise Cancellation. The first smartwatch sporting a round dial from DIZO's portfolio of smartwatches, the DIZO Watch R features 1.3-in (3.3cm) display, making it the biggest AMOLED Display in the segment. The Dizo Buds Z Pro on the other hand, flaunts ANC upto 25dB, Natural Light Design and extended battery life among other features, making it one of the most stylish and affordable ANC TWS earbuds.
DIZO Watch R
Recognized by Counterpoint Technology Market research as an emerging and fastest growing brand in India, DIZO endeavours to provide Smart TechLife for every different consumer. The latest launch in the smartwatch and audio wearable category, caters to the diverse needs of the youth in these dynamic and evolving times where technology has become a part of our lifestyle.
DIZO Watch R delivers intelligent features and accommodates all aspects for the fitness lovers at a very competitive price. The latest smartwatch comes equipped with an 1.3-in (3.3cm) Ultra-Sharp AMOLED Display with 550nits high brightness for dynamic visualization, Always on Display Mode, premium and sturdy metal frame, health monitoring and much more. It is also designed considering the style quotient of every individual as it features a stylish 45mm round dial and 110+ Watch Faces to suit your style and outfit of the day. On the other hand, the newly launched TWS, Dizo Buds Z Pro features Active Noise Cancellation upto 25dB, Natural Light Design, Quad-mic ENC (two in each earbud), 10mm Dynamic Driver, Bass Boost+ Algorithm, 88ms Super Low Latency, IPX4 Water Resistance, extended upto 25 hours of playback and much more.
Commenting on the launch of the products Abhilash Panda, CEO, DIZO India, said "The smartwatch category has been incremental for the brand to widen its consumer base and strengthen its position in the Indian market. We continue to focus on understanding consumer needs better and offer innovative and high-quality products with trendy designs at a very competitive price. We are confident that the launch of DIZO Watch R, the first DIZO smartwatch with an Ultra-Sharp AMOLED display and the one with the biggest display in the segment, is sure to disrupt the market in the given price point."
He further added, "We are also carefully listening to consumer feedback and suggestions. So, the Dizo Buds Z Pro is for them seeking ANC and extended battery life on the stylish Dizo Buds Z design, that we launched earlier. Other features are equally great and I am eagerly looking forward to our consumers' response to our latest TWS Dizo Buds Z Pro."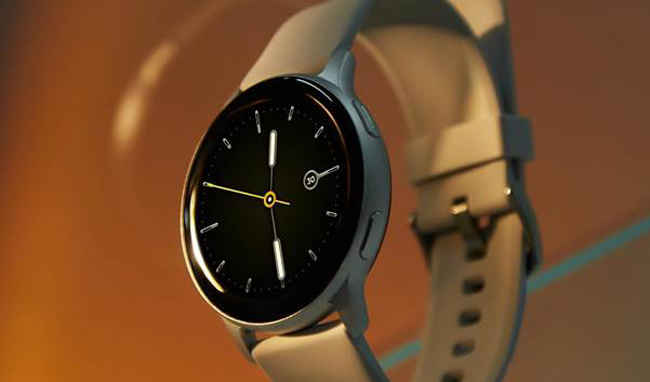 The biggest highlight of the latest DIZO Watch R is the 1.3-in (3.3cm) Ultra Sharp AMOLED display, the biggest in the segment, i.e. under INR 4K category. Along with the biggest AMOLED Display it offers high-resolution of 360*360 pixel, which is 125% of normal TFT displays and 550 nits of high brightness. Overall it offers a clear, vivid, bright and smooth experience with a screen clarity, which is suitable for any lighting conditions. The 45mm round dial is fitted with a metal frame and offers curved round hard glass to give it a premium look, which is also sturdy in use. Taking it a notch up, it is also equipped with the elegant 2.5D curved glass, that brings 7H hardness and anti-fingerprint coating on the glass. Sounds bulky, not at all as the latest masterpiece by DIZO is only 9.9mm thin, the thinnest in the segment.
Available in three trendy colours - Classic Black, Golden Pink and Silver Grey the device comes with 22mm easy detachable straps. Additionally, there are 150+ customizable watch faces including dynamic ones that let you jazz up your personality as per your style of the day. Always on Display ensures you do not have to raise your wrist always or press the button to check time. Further, you can simply cover the dial with your palm to turn off the screen and show it off to your friends.
When it comes to improving your physical fitness, the comfortable and stylish companion includes 110+ Sports Modes such as running, walking and cycling both indoors and outdoors, mountaineering, swimming, football, dancing, yoga and what not. It also helps you track and record your daily, weekly, monthly and even annual workouts data and even lets you set goals. Talking of health[3] monitoring, the DIZO Watch R brings a full gamut of features including 24/7 automated heart rate monitor, SpO2 sensor (for blood-oxygen measurement), keeps a track of your sleep, steps, calories, distance, sedentary and displays water intake reminders, etc. For the females, it can also track the menstruation cycle making it convenient for them to keep a check of the same.
Other smart features offered by DIZO Watch R include smartphone music and camera control, show notifications for calls and messages, reject or mute calls, find your phone, stopwatch, weather forecast, low battery reminder, brightness, do-not disturb mode and much more. Accompanied by simple magnetic suction charging and built-in smart power saving chip, the smartwatch has a battery capacity of 280mAh, which delivers up to 12 days of battery life and a standby time of over 60 days. Interestingly, the smartwatch brings the latest DIZO App v2.0 support as well. The device is 5ATM Water Resistance, which means you do not have to worry while swimming and doing other water sports while wearing it.
DIZO App v2.0: The latest version of DIZO App 2.0, that can be downloaded and paired with the latest DIZO Watch R, brings a brand new user interface offering seamless configurations and customizations. The app will have new features including weather information on the homepage, choosing sports modes for your watch to show, downloading and choosing watch faces as per the style, along with personalisation option. With another upgrade on DIZO App v2.0, which is expected soon, it will additionally feature route tracking using the smartphone GPS along with an option of instant sharing on social media.
In terms of quality assurance, DIZO Watch R has been tested by DIZO and realme for 168 hrs 55℃/95%RH burn-in test, 5,000X charging test, 500,000X button test and 5,000X buckle test.
Dizo Buds Z Pro
The latest Dizo Buds Z Pro offers Active Noise Cancellation (ANC) that can reduce surrounding disturbances by up to 25dB using anti-noise waves, so that users can enjoy their time without any external audio disturbance or having to increase the audio volume to the loudest. The Transparency Mode in the latest earbuds lets you hear others without having to take out the earbuds. The Quad-mic (two in each earbud) and Environmental Noise Cancellation (ENC), a default function that auto activates during calls, block the ambient noise and ensure that you are heard loud and clear. Overall, the latest earbuds by DIZO will greatly improve your overall listening experience.
The new TWS also flaunts a premium, stylish and sleek Natural Light Design, often applied to piano finish, that reflects light in multiple colors and thereby, making it stand out in the crowd. The charging cases are often kept inside the bag-packs or pockets. But, with the new Dizo Buds Z Pro you can flaunt them too along with the earbuds, as they come boxed in a trendy dual-color charging case in two uber-stylish color variants - Orange Black and Ocean Blue. Each earbud weighs 3.9g only and the charging case is just 36.9g making them ergonomic, ultra-light and super comfortable for long hours of use or carrying around.
Further, the Dizo Buds Z Pro is equipped with a 10mm Dynamic Driver with Bass Boost+ algorithm, which is tuned by the audio experts in realme and DIZO, and they come from over a decade of experience working with top global audio brands of the world. The Game Mode, once turned on, gives you upto 88ms super low-latency, making it an absolute entertainment partner for your gaming or binge-watching sessions.
Further, it offers an extended 7 hours of playback time using 43mAh battery inside each earbud and the 380mAh battery in the charging case ensures you get upto 25 hours of total playback. Forgetting to charge is not a crime anymore! Because, only 10 minutes of instant charge can provide upto 2 hours of playtime. It also supports Bluetooth v5.2 connectivity offering an easy pairing and open-to-connect feature along with stable connection and faster transmission. The Intelligent Touch Controls let you easily play/ pause music, go to the next song, answer/ end/ reject calls, turn on ANC and Transparency Mode. An ideal companion for fitness enthusiasts, it also features IPX4 certification, which means resistance to sweat and splashes.
The earbuds can be connected with realme Link app to personalize the settings, customize touch functions and do a lot more using the app. In terms of quality assurance, DIZO and realme have run several tests on the Dizo Buds Z Pro in their labs, which include 20,000X charging case on/ off test, 5,000X charging plugging test, 2,000X USB swing test each direction and 96H storage test at -400C/750C.
Price, Availability and Offers
The DIZO Watch R, with the biggest AMOLED display in the segment, premium metal frame, Always on Display, 150+ watch faces, health and fitness monitoring features with 12 days of battery life, comes in three trendy colour options - Classic Black, Golden Pink and Silver Grey. Originally priced at INR 3,999, it will be sold on Flipkart from Jan 11, 12:00 PM onwards at a special launch price of INR 3,499[4] only.
The latest Dizo Buds Z Pro with ANC upto 25dB, Natural Light Design and extended battery life, in two uber-stylish colours - Orange Black and Ocean Blue, is priced at INR 2,999. But, it will be available for purchase at a special launch price of INR 2,299[5] only on Flipkart from Jan 13, 12:00 PM onwards. Both the products will also be available on select retail stores soon.