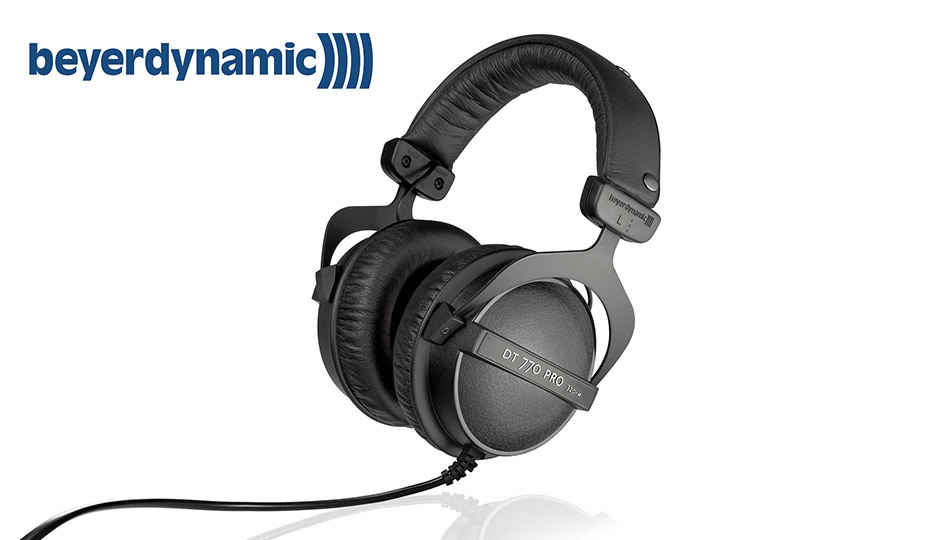 HIGHLIGHTS
Beyerdynamic announces the official launch of their new DT 770 Pro 32 ohms reference headphones here in India priced at Rs. 14,500
German audio equipment maker, Beyerdynamic officially announces the launch of their new Beyerdynamic DT 770 Pro reference headphones here in India. The 32 ohms version of the DT 770 Pro, which is the latest addition to the series is specifically designed to be used with smartphones and other portable devices. The Beyerdynamic DT 770 Pro 32 ohms is available on Amazon.in and headphonezone.
Read complete press release below
For experienced sound professionals, the Beyerdynamic DT 770 Pro is an old friend used in countless studios throughout the world. Beyerdynamic, the audio specialist from Heilbronn in Germany has launched a special edition of the DT 770 Pro with an impedance of 32 ohms for optimal use with smartphones, mobile players and notebooks.
DT 770 Pro – the studio legend goes mobile
The roots of the legendary Beyerdynamic DT 770/880/990 line go back to 1981. Their outstanding sound and durable design laid the foundation for these headphones' unprecedented studio and stage career. The 32-ohm version of the DT 770 Pro is the latest addition to the series and has been optimized for use with portable devices.
The new technologies of the mobile computing revolution – tablet computers, smartphones, etc. – enable creative professionals to turn their inspirations into results, anytime and anywhere, without having to get to the studio first. The output of mobile devices is usually too weak to handle standard studio impedances of 80 to 250 ohms. The result is a strained sound that isn't loud enough because high impedances are too much for the mini-amplifiers. The new 32-ohm version of the DT 770 Pro is the solution for all artists who don't want to go without their favorite equipment for checking and mixing audio while on-the-go. This is because the new model offers exactly the same sound quality as its studio-optimized counterparts and maintains large volume reserves even when working with weaker output levels. Combining a balanced sound with long-term wearing comfort, thanks to the smooth soft skin ear cushions, the new DT 770 Pros now allow you to take your favorite studio sound with you, wherever you are in the world.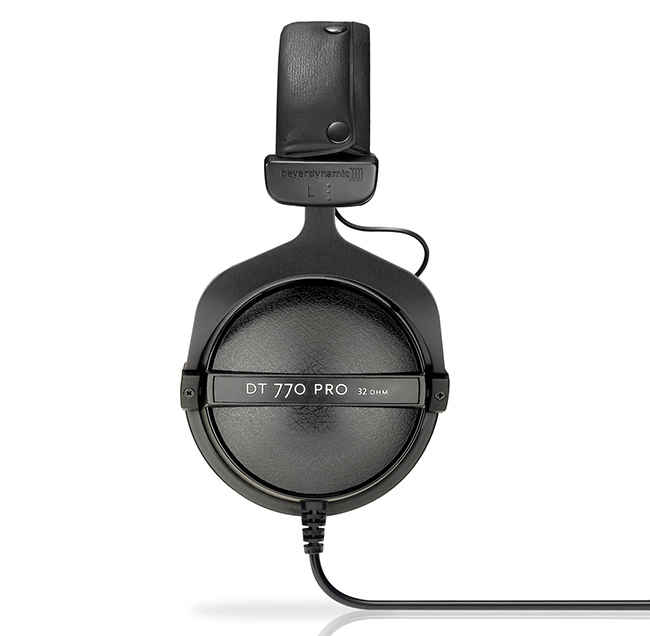 ​
DT 770 Pro – proven and reliable
As most audio professionals know, DT 770 Pro headphones are virtually indestructible. Even if you are unfortunate enough to experience a breakage, nearly every part can be replaced individually, thanks to intelligent design and implementation. The new DT 770 Pro maintains this clever design ethos by offering a shorter connection cable (1.6 m) to keep things convenient when using it with portable devices.
An overview: features of the DT 770 Pro with 32 ohms
32-ohm system especially for mobile use: higher output power at lower input levels
Closed, diffuse-field equalized studio headphones
Softskin (artificial leather) ear cushions for easy cleaning and better suppression of ambient noise
Single-sided 1.6 m connection cable
Innovative bass reflex system
Sturdy, comfortably padded headband design with adjustable spring steel construction
Sturdy, easy-to-maintain design with parts that can easily be replaced
Specifications DT 770 PRO 32 Ohm
Transducer type: Dynamic
Operating principle: Closed
Nominal frequency response: 5 – 35,000 Hz
Nominal impedance: 32 Ω
Nominal SPL: 96 dB SPL
Nominal T.H.D.: < 0.2%
Power handling capacity: 100 mW
Sound coupling to ear: Circumaural
Ambient noise isolation: approx. 20 dB(A)
Nominal headband pressure: approx. 3.5 N
Weight (without cable): 270 g
Length and type of cable: 1.6 m straight cable
Connection: Gold plated stereo jack plug (3.5 mm) and 1/4" adapter (6.35 mm)
The price of DT 770 Pro is 14,500 INR and has a warranty of 2 years. The headsets will be available at qualified retail stores or directly from the manufacturer at www.beyerdynamic.com.