The device is priced at Rs. 6999 and is exclusively available on Amazon and eq8audio.com
The device is priced at Rs. 6999 and is exclusively available on Amazon and eq8audio.com
You can read the press release below
In the world of so many me-too companies making the same true wireless devices, EQ8 Audio brings to you one of the most innovative truly wireless earphones. The team of experts behind the new brand has rich experience in acoustics, dedicated to research and development to provide audiophile grade sound, bass and definition that is second to none.
The limelight of the device is its fabric wrapped charging case. The stone black color fabric case bears the brand logo on the top and feels no less than a luxury. The moment you draw the device, you know you are holding a premium product which is a testament to the Swiss design engineering by EQ8. Finely sculpted with impeccable precision and textured fabric case, the EQ8 earbuds are sure to grab all the attention.
The quality of any earphone depends on the power of its core processing chip. Integrated with Industry Gold standard, Qualcomm 3020 chipset and 6mm Neodynamium Graphene Driver, the earbuds have the most powerful system delivering a detailed and colorful soundscape and supports Aptx, SBC and AAC audio decoding. Designed by Audiophiles, Artists & Producers for the Best Sounding Truly Wireless Listening Experience, the earbuds give you CD-Like sound quality with the latest 24-bit Qualcomm AptX audio technology for Exceptional HiFi Sound, Incredible Bass and Superb Definition.
Be it low ends, mids or the highs, the headphone can handle a variety of notes with ease. The tuned sound curve feature ensures every track sounds exceptionally natural which will surely be a treat for audio enthusiasts.
The EQ8 provides an outstanding battery life thanks to Qualcomm's QCC 3020 chip which reduces the power consumption by 50 percent. On a single charge, the earbuds can last 7 hours to power through your music playlist. Combined with the accompanying charging case, the EQ8 enables you up to 40 hours of non-stop listening. It comes with Type C fast charging making things more easy, 15 mins of charging gives you up to 3 hours of juice.
Featuring latest Bluetooth 5.0, the EQ8 earbuds provides seamless connectivity upto 10 meters, higher transmission efficiency, increased signal stability, synchronized picture & sound and low latency, making it as reliable as wired. It goes a step further by instantaneously connecting to paired devices and is also capable of connecting to 2 devices at the same time. Featuring Auto-Pairing with Auto-Charging, the earbuds will sync and pair to your device seamlessly every time you remove them from the compact charging case. By placing the EQ8 back into the case, they will automatically power down and recharge after each use.
EQ8 has struck the right balance between design and comfort. Finely sculpted with precision, EQ8 ensures that your earbuds are snug and secure, giving you complete freedom of movement, regardless if you are on a commute to work, running a marathon, or listening leisurely at the comfort of your home. Ideal for long listening, the earpieces feature a unique 45 degree angle and come with 3 additional silicon tips (S, M and L) to suit your ear canals without causing any fatigue or pressure and give you a noise isolating tailored fit and seal.
Equipped with Smart Controls and Dual Microphones, EQ8 earbuds enable you to seamlessly control your music tracks and volume, make phone calls and activate voice assistant just with a click press. The full stereo mode for phone calls and voice assistance is excellent for enterprise / business use too for Skype and Zoom calling. The earbuds features CVC 8.0 microphone that reduces the ambient sounds ensuring uninterrupted crystal clear calls, optimum voice quality and immersive music listening experience; IPX5 rating making it water, sweat and dust proof and Google Voice and Siri support.
With impeccable Swiss Design engineering and a perfect balance for all kinds of activities, personal or professional, work or play, Spotify or Skype, the innovative creativity of EQ8 will keep you continuously living the balance while being engaged with the best quality and perfection of sound.
EQ8 Audio:
EQ8 is not a brand or a product but a mission to bring the most balanced sound to the world. It's focussed audio innovation, setting the bar with unparalleled sound quality. The EQ8 offerings are designed with love by seasoned and passionate team across the world - India, Switzerland, Hong Kong and the United States. The core team really believes in "Live The Balance" in all aspects of life. The team collectively represents deep insights into design, hardware and software technology, creative communication and cutting edge craftsmanship.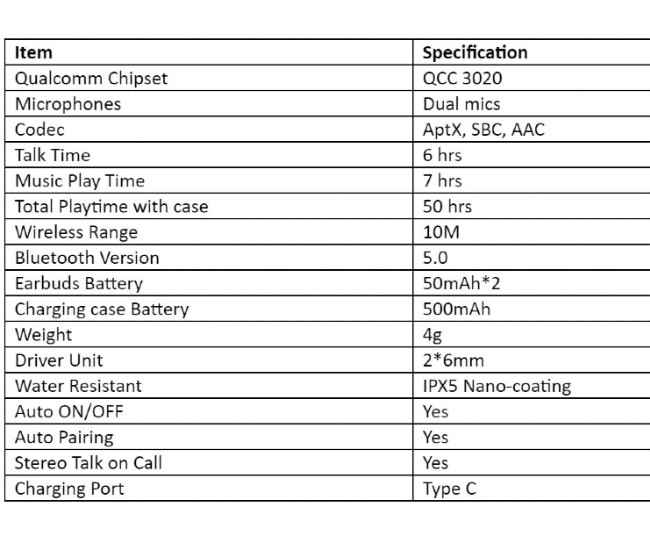 Whether its Bollywood or Hollywood, Apala music or Mozart, to rock, pop or even EDM, EQ8's perfectly balanced output and innovative design will connect your soul to the perfection of aesthetic sound no matter what the genre.
With a perfect balance for all kinds of activities, personal or professional, work or play, Spotify or Skype, the innovative creativity of EQ8 will keep you continuously Living The Balance while being engaged with the best quality and perfection of sound.