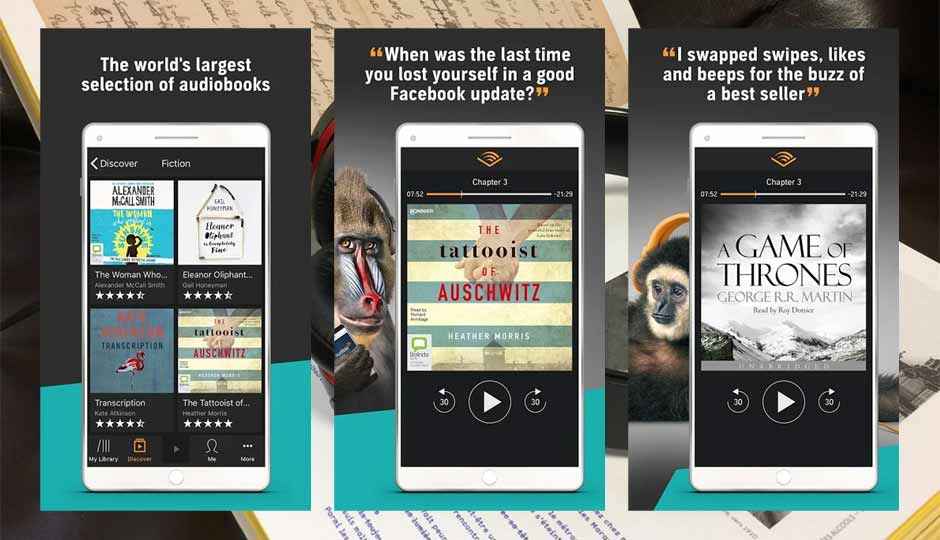 HIGHLIGHTS
Amazon launched Audible in India with subscription plans for the audiobook subscription service starting at Rs.199 per month
Amazon's audiobook subscription service, Audible, was launched in India today. Indian customers can access Audible's library of global content and membership benefits by signing up for a complimentary 30-day trial, which entitles them to any Audible book of their choice. Those who are Amazon Prime members can access a special 90-day trial, including three free audiobooks, at Amazon.in/audible.in. A premium Audible membership costs INR 199 per month following a 30-day free trial. Members receive 1 credit a month, which can be used to redeem any title (1 credit =1 audiobook) from the library of over 200,000 available titles. Audible members also receive a 30% discount from non-member prices on additional audiobooks purchased, as well as access to exclusive sales and content. Audible also offers three prepaid plans: 1 month @ INR 299, 6 months @ INR 1345 (25% discount) and 12 months @ INR 2332 (35% discount). Non-members can purchase audiobooks a la carte
Read the complete press release below
Audible, the world's largest seller and producer of downloadable audiobooks and other spoken-word content, today announced the launch of Audible.in, a dedicated service for Indians. Audible.in offers a broad selection of more than 200,000 full-length audiobooks and original programs, including a curated selection of 400 Audible-exclusive titles by leading Indian authors. To celebrate the launch, Audible is releasing a new recording of S. Hussain Zaidi and Jane Borges's best-selling Mafia Queens of Mumbai, performed by Rajkummar Rao, Radhika Apte and Kalki Koechlin in addition to offering a hand-picked "welcome pack" of premium listening experiences.
"Honoring India's distinctive literary and storytelling tradition and supporting the creation of vibrant local content, Audible.in is a dedicated, authentic and dynamic destination for Indian consumers that puts Indian talent and spoken-word content front and center," said Audible founder and CEO Don Katz. "Millions of listeners around the world already turn to Audible to enhance the character and quality of daily life, and we look forward to delivering an even richer and more culturally resonant listening experience to our Indian customers and customers to come."
Rajkummar Rao said, "It was a privilege to work with such talented actors to bring these important stories from our history to life in the immersive Audible medium."
"I am an avid Audible listener and I'm honoured to be a part of such a phenomenal production as the service launches in India," said Radhika Apte. "The narration process, and the challenge of portraying all of our emotions through our voices, was exhilarating and the creative opportunities Audible will open up for Indian actors is truly exciting. I can't wait to work with the Audible team again."
"As an actor, Audible gives me the powerful opportunity to entertain and inspire listeners whether they are commuting to work, traveling or even relaxing at home. There's never been a better time than this to lose yourself in a world ruled by women, to see our city through their lens. We look forward to transporting you to the unforgettable world of the Mafia Queens of Mumbai, only on Audible!" said Kalki Koechlin.
The host of the launch event and one of the country's most respected critics, Anupama Chopra led a panel discussion with Rao, Apte and Koechlin as they spoke about their performance and the craft of narration. Joining them on the panel was author Durjoy Datta, who spoke about the creative opportunities of audio entertainment. Datta announced his latest work, his first-ever audio romance, The Last Boy to Fall in Love, is an Audible Original now available to download.
"I'm thrilled that Audible is giving Indians a new way to discover and experience my books," said Datta. "It was extremely rewarding to create a piece of content I know was meant only for the ears and I know it's going to evoke a very different and powerful experience. As more and more Indians discover how the art of performance can add a meaningful dimension to text, Audible gives authors and other creators access to an exponentially growing audience."
Indians can now join millions of customers worldwide who use the Audible service to enjoy gripping, immersive storytelling, reportage and entertainment by gifted writers and performers. Audible offers busy book lovers the gift of "found time," allowing them transporting, stimulating experiences while commuting, doing chores, exercising, or relaxing at home.
Among the titles and programs available at launch are:
The Last Boy to Fall in Love, an original audio-first title by Durjoy Datta
Exclusive audio performances of some of Gurudev Rabindranath Tagore's greatest works, including Gitanjali and Kabuliwala
A multi-cast performance of the best-selling Mafia Queens of Mumbai by S. Hussain Zaidi and Jane Borges, brought to life by Bollywood stars Rajkummar Rao, Radhika Apte, and Kalki Koechlin
Contemporary non-fiction by Rashmi Bansal and Shashi Tharoor
Self-development titles by Radhakrishnan Pillai, Guru Om Swami and Ashwin Sanghi
Nutrition and wellness titles by Rujuta Diwekar and Pooja Makhija
Popular fiction by Preeti Shenoy and Savi Sarma
Mythological stories by Amish, Anand Neelakantan, Devdutt Pattanaik and Vineet Bajpai
Ruskin Bond's autobiography, as well as a variety of his mountain tales and tales for young people
Favorite works by authors from around the world, including J.K. Rowling's Harry Potter series; best-sellers by Dan Brown, Yuval Noah Harrari and Agatha Christie; Robin Sharma and Dale Carnegie's books on self-development; and classics like Pride and Prejudice, Sherlock Holmes, Siddhartha, and The Prophet.
Members will also discover the Audible "welcome pack," featuring an array of premium long- and short-form titles and excerpts from Business Sutra by Devdutt Pattanaik; An Era of Darkness by Shashi Tharoor; A Scandal in Bohemia, a Sherlock Holmes story by Arthur Conan Doyle; Rusty Plays Holi by Ruskin Bond; Harvard Business Review articles on leadership and mindfulness from renowned experts; the internationally acclaimed audio show, The Butterfly Effect from Jon Ronson; Nameless Relationship by Preeti Shenoy; and Ravana's Sister by Anand Neelakantan.
Indian customers can access Audible's library of global content and membership benefits by signing up for a complimentary 30-day trial, which entitles them to any Audible book of their choice. Amazon Prime members can access a special 90-day trial, including three free audiobooks, at Amazon.in/audible.in. A premium Audible membership costs INR 199 per month following a 30-day free trial. Members receive 1 credit a month, which can be used to redeem any title (1 credit =1 audiobook) from the library of over 200,000 available titles. Audible members also receive a 30% discount from non-member prices on additional audiobooks purchased, as well as access to exclusive sales and content. Audible also offers three prepaid plans: 1 month @ INR 299, 6 months @ INR 1345 (25% discount) and 12 months @ INR 2332 (35% discount). Non-members can purchase audiobooks a la carte.
Audible has it's Indian homepage – www.audible.in.