Xiaomi and Apple have overtaken Fitbit in global wearable shipments for the first quarter of 2017. According to IDC's Worldwide Quarterly Wearable Device Tracker report, the total wearable shipments for the quarter ending March came in at 24.7 million units, a gain of 17.9 percent over same period last year.
Xiaomi overtook Apple and Fitbit as the market leader for this quarter with shipments of 3.6 million units. Despite the 3.3 percent decline in its shipments over Q1 2016, the company managed to acquire a market share of 14.7 percent. Over 96 percent of the company's wearables shipments came from its budget, Mi Band wearable and remained within China. Xiaomi is also venturing out of wristwear with the launch of smart shoes called '90 Minutes Ultra Smart Sportswear, which are powered by Intel's Curie.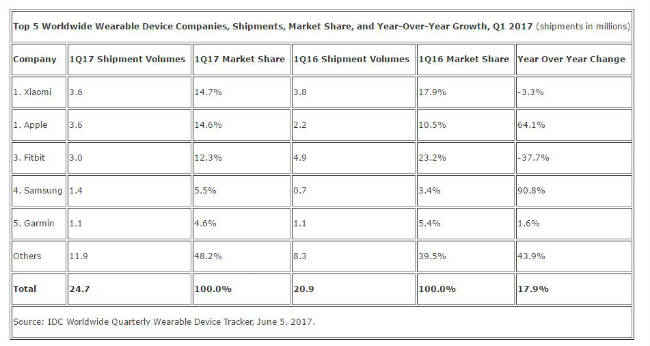 Apple shipped 3.6 million units of its Apple Watch Series 1 and Series 2 combined during the quarter and reached a market share of 14.6 percent. The company saw its shipments grow over 64 percent as compared to the same period last year. Apple CEO Tim Cook has repeatedly said that Apple Watch sales have been great and in Q1 2017, Apple Watch recorded its second highest year-over-year growth.
Fitbit, the market leader for the past few quarters, found its shipments decline 37.7 percent in the first quarter of 2017. The company's struggle is accredited to the ongoing transformation from a fitness wearable maker to a smartwatch brand. Despite the fall in sales, Fitbit stays firm with a market share of 12.3 percent and the report notes that "with a user base of 50 million, a strong presence within corporate wellness, and assets that keep it top of mind for digital health, Fitbit is well positioned to move into new segments and markets," noted Ramon Llamas, research manager for IDC's Wearables team. The company recently acquired Pebble and Vector and is expected to introduce its own smartwatch.