GOQii has launched the GOQii Vital, a fitness tracker with a colour display. The device features a blood pressure monitor, heart rate monitor, and live video coaching with health experts. To go on sale on July 16, during Amazon Prime Day.
Fitness technology company GOQii has launched its new tracker, the GOQii Vital, along with a number of new updates to its ecosystem. The new tracker comes with a colour screen and blood pressure monitoring features, along with a heart rate monitor and an entirely new feature called GOQii play.
First announced back in December 2017, the new tracker is designed to monitor blood pressure and heart rate. It is equipped to report both systolic and diastolic pressure, and, according to the company, does so with a high degree of accuracy. However, they have also made it clear that it should not be expected to be an alternative to a sphygmomanometer (the device used to measure blood pressure by doctors).
The device comes with a waterproof design and features a colour touch screen with an OLED display, which is a first for its range. Along with this, it features the usual set of fitness tracking features like tracking steps, calories, distance, heart rate, sleep along with the new blood pressure tracking. It also comes with a sports mode for running, workout and cycling, and can convey notifications and alarms. According to GOQii, the Vital tracker can last up to 7 days depending on usage.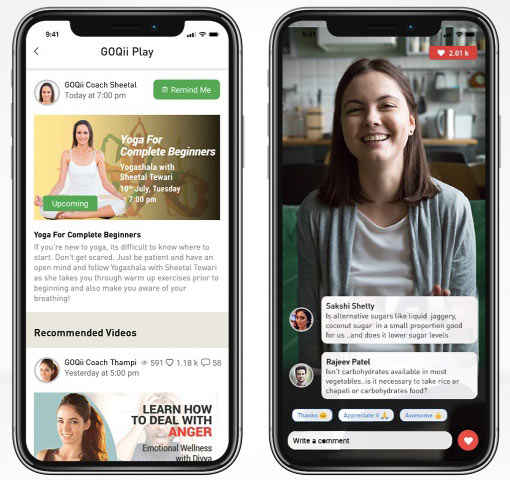 GOQii Play QnA in action
On the platform side, GOQii continues its efforts to become a comprehensive health platform. They have recently partnered with Max Bupa Health Insurance on its GoActive offering to provide health coaching with a focus on wellness to its existing customers. "With GOQii Vital we have become the first company of its kind, to integrate a blood pressure monitor & heart rate in an activity tracker with the ability to seamlessly share the data with doctors, health experts. Data along with the right advice will help encourage people to pursue holistic healthcare regime and focus on a preventive health mindset," said Vishal Gondal, Founder and CEO of GOQii.
Another interesting addition to the platform is GOQii play, which allows users to access live videos from health experts, doctors, fitness trainers, emotional health counsellors and influencers. These live videos are available at particular time slots and are interactive, allowing users to ask questions. This is similar to live streaming that is popular on social media platforms right now but essentially curates content creators and experts down to a health and fitness-focused audience.
GOQii Vital will be available with a 3 Months GOQii Coaching plan for INR 3499. As part of the launch, GOQii Vital will be available exclusively with Amazon and GOQii Health store. GOQii Vital will be premiering during the Amazon Prime Day 16th July 2018.