Last night's Apple event was not much of an eye opener. Most of what was announced was already known thanks to countless leaks and this was evident as Apple began presenting new products on the stage, starting with the Apple Watch.
As expected the Apple Watch Series 3 now adds cellular connectivity with a built-in electronic SIM. Surprisingly, Apple CEO Tim Cook announced at the event that the Apple Watch "is now the number one watch in the world," ahead of the likes of Rolex, Fossil, Omega, Cartier and more. To me it's strange that Apple calls itself the number one watchmaker, when the Apple watch is essentially a tiny wearable computer and not exactly the dependable, beautiful, mechanical masterpiece that watch enthusiasts are used to. Wonder why Apple did not unveil its position in the actual wearables market, instead of showing sales prowess over legacy watchmakers.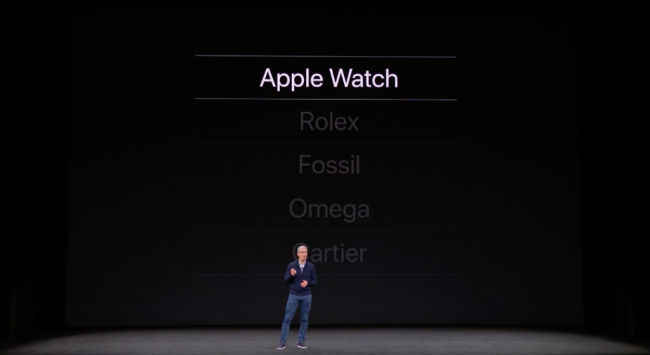 Anyhow, the Apple Watch Series 3 is now official, and the biggest change it brings with it is LTE connectivity. Users will be able to stream music from Apple Music, make calls and send messages without the need to constantly carry an iPhone around.
Inside, a dual-core processor powers the Apple Watch Series 3 and according to Apple, it makes the Watch 70 percent faster than its predecessor. The W2 chip also makes Wi-Fi 85 percent faster and improves battery life by 50 percent.
The Apple Watch Series 3 is the same size as its predecessor (except for the back which has expanded by 0.25mm) and at the event, the company explained how it managed to give the watch its cellular capabilities while maintaining the size and form factor of the smartwatch. Instead of using conventional antennas, the display of the Apple Watch Series 3 itself acts as the antenna. Apple also said that it was impossible to accommodate even a nano-SIM in the smartwatch, so they went with an electronic SIM instead. Don't worry, the Apple Watch Series 3 will not need a separate phone number and the company is collaborating with various network providers worldwide to offer cellular services for Watch Series 3.
Further, Watch Series 3 comes with water resistance upto 50 meters under ISO standard 22810:2010. Apple says that the watch can be used for shallow-water activities like swimming in a pool or ocean. However, Apple Watch Series 3 should not be used for scuba diving, waterskiing or other activities involving high-velocity water or submersion below shallow depth. The stainless steel and leather bands are also not water resistant.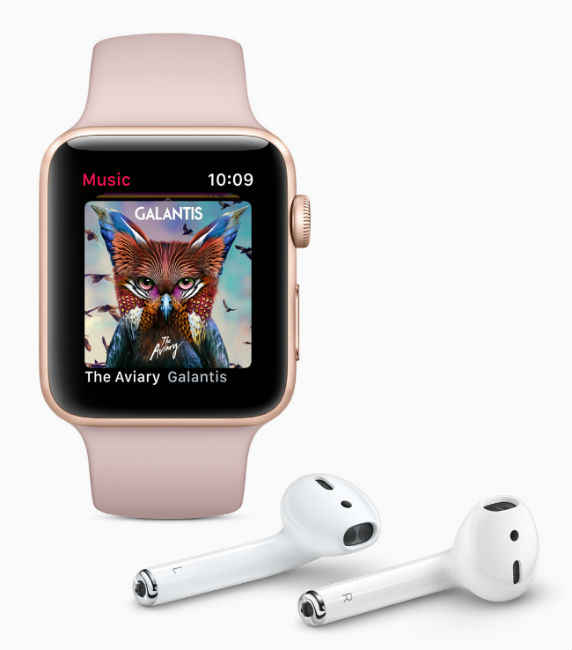 The Apple Watch Series 3 will be available in two variants. One with cellular connectivity and one without. It will also be available in two different case sizes, either 33mm or 42mm.
Apple Watch Series 3 (GPS + Cellular) starts at $399 (Rs 25,532 approx) and the Watch Series 3 (GPS only) is priced at Rs 29,900, both featuring the faster dual-core processor and wireless chip, along with a barometric altimeter. There is no India pricing available for Apple Watch Series 3 (GPS + Cellular). The Apple Watch Series 3 (GPS + Cellular) will also debut a special red Digital Crown and exclusive "Explorer" watch face that shows cellular connectivity. Watch Series 1 will be available at a new starting price of Rs 21,900. In addition to silver or space grey aluminium, Apple Watch Series 3 now comes in a new gold aluminium, along with silver or space black stainless steel cases, which all pair with an assortment of new band colours and styles. The Woven Nylon is updated with a new pattern and a lightweight Sport Loop. The Watch Series 3 with GPS will be available in India starting September 22.
As far as availability of the Watch Series 3 with GPS and Cellular is concerned, It is not headed to India in the first launch phase. Apple has announce that Watch Series 3 with GPS and Cellular will be available for pre-order starting September 15, with final availability set for September 22, in Australia, Austria, Belgium, Canada, China, Denmark, Finland, France, Germany, Hong Kong, Ireland, Italy, Japan, Luxembourg, Netherlands, New Zealand, Norway, Portugal, Puerto Rico, Singapore, Spain, Sweden, Switzerland, Taiwan, the UK, the US and US Virgin Islands. Watch Series 3 will also head to the UAE on September 23.
In a blogpost, Apple has announced that the Apple Watch Nike+ will be available to order on Apple.com starting September 15. The Watch Nike+ will be available in limited quantities till October 5, and India is on the list of countries getting the limited pieces.
During its presentation, Apple also highlighted the changes coming to the Apple Watch with WatchOS 4, due for a September 19 release. With it, the Apple Watch will get a series of improvements including new watch faces and enhanced fitness monitoring. The Heart Rate monitor on the Apple Watch is the most used Heart Rate monitor in the world, or so says Apple. The company has made enhancements to the Heart Rate app and with watchOS4, users will be able to see their heart rate on the watch face. The app will also display new measurements such as resting heart rate, recovery heart rate and a daily heart rate graph.
Based on the heart rate monitor of the Apple Watch, the company announced a new initiative called the Apple Heart Study. Apple is working with Stanford University to conduct a study and improve Apple Watch's abilities in detecting irregular heartbeats or arrhythmia.
Also Read: Apple iPhone X coming to India on November 3, starting at Rs 89,000