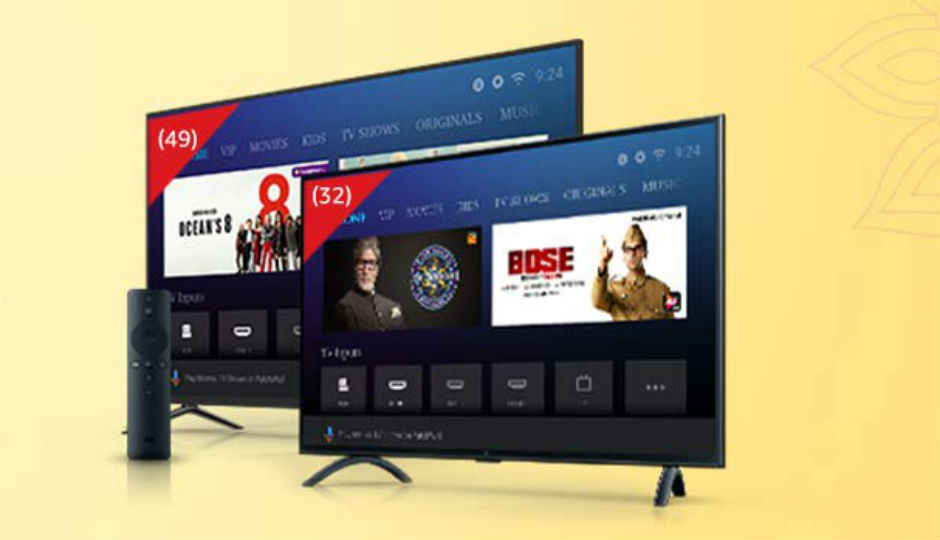 HIGHLIGHTS
The 32-inch and 49-inch variant of the TV will go on sale. The sale begins on October 10, 11AM however prime members have access to the sale starting October 9, 9PM.
If you are looking to pick up one of the new Mi TVs then you need to get your trigger finger ready. The 32-inch HD ready Mi TV and the 49-inch Full HD Mi TV will go on sale tonight, October 9 at 9PM for Amazon Prime members and for the rest of you mere mortals, on October 10 at 11AM. Xiaomi launched three TVs at the end of September, a 4K HDR 55-inch TV, and the above mentioned 32 HD ready and 49-inch FHD TV.
Specs, Features and Price of the 49-inch Mi LED TV 4A Pro and the 32-inch Mi LED TV 4C Pro
There are lots of features that all the Mi TVs share. Xiaomi is partnering with Google to enable voice search on the new Mi TVs and the TVs will ship with an upgraded remote with Bluetooth connectivity. The remote also gets a new button for enabling voice search and as a part of Xiaomi's connected ecosystem, one will be able to control the company's other smart devices with the Google Assistant, be it on their phones or their Mi TV. The new Mi TVs are also "Built with Android TV," which means that Xiaomi has worked with Google and the result is a new upgraded PatchWall OS that is built on top of Android 8.1 Oreo. Android TV enables Google TV services, official YouTube app integration, built-in Chromecast, and lest we forget, Google Play Store for installing apps on the TVs. The TV's remote gives you access to switch between the Android 8 OS and the Xiaomi's own PatchWall OS.
The new Mi TVs are powered by the same 64-bit Amlogic quad-core SoC with 7th generation imaging technology. Expanding its content partnership, Xiaomi is also adding Amazon Prime Videos, JioCinema, Eros Now, HOOQ and Epic On to its Patchwall library of entertainment apps. The new content will be made available for the new Mi TVs first and will be later rolled out to older Mi TVs. The 49-inch TV run on 2GB RAM and come with 8GB of internal storage where as the 32-inch TV runs on 1GB RAM and 8GB storage.
In terms of price, the 49-inch Mi LED TV 4A Pro will cost you Rs 29,999, while the 32-inch MI LED TV 4C Pro is priced at 14,999. Both the TVs are being offered at an introductory price for a month.
We had a chance to review the 49-inch Mi LED TV 4A Pro. In our review we said, "Considering the features on offer, the Xiaomi Mi LED TV 4A Pro 49-inch TV is a good buy for those looking for a 50-inch smart TV. It has a fluid functional and well laid out UI bring you the benefits of both stock Android TV and PatchWall. The picture performance at 1080p is great too. The downside is the poor HDR performance, which is kind of the main USP of this TV. Even though 4K content is easily available today a 1080p TV can get the job done very well if mixing set top box viewing with streaming services is what you are looking for. However, if you still want to go 4K, you may need to increase your budget. For Rs. 30,000 you are getting a pretty good FHD smart TV proposition with the Xiaomi Mi LED TV 4A Pro 49-inch TV. Let's hope there is enough stocks this time around for customers." You can read our detailed review here.
You can buy the 32-inch Mi LED TV 4C Pro here.
You can buy the 49-inch Mi LED TV 4A here.