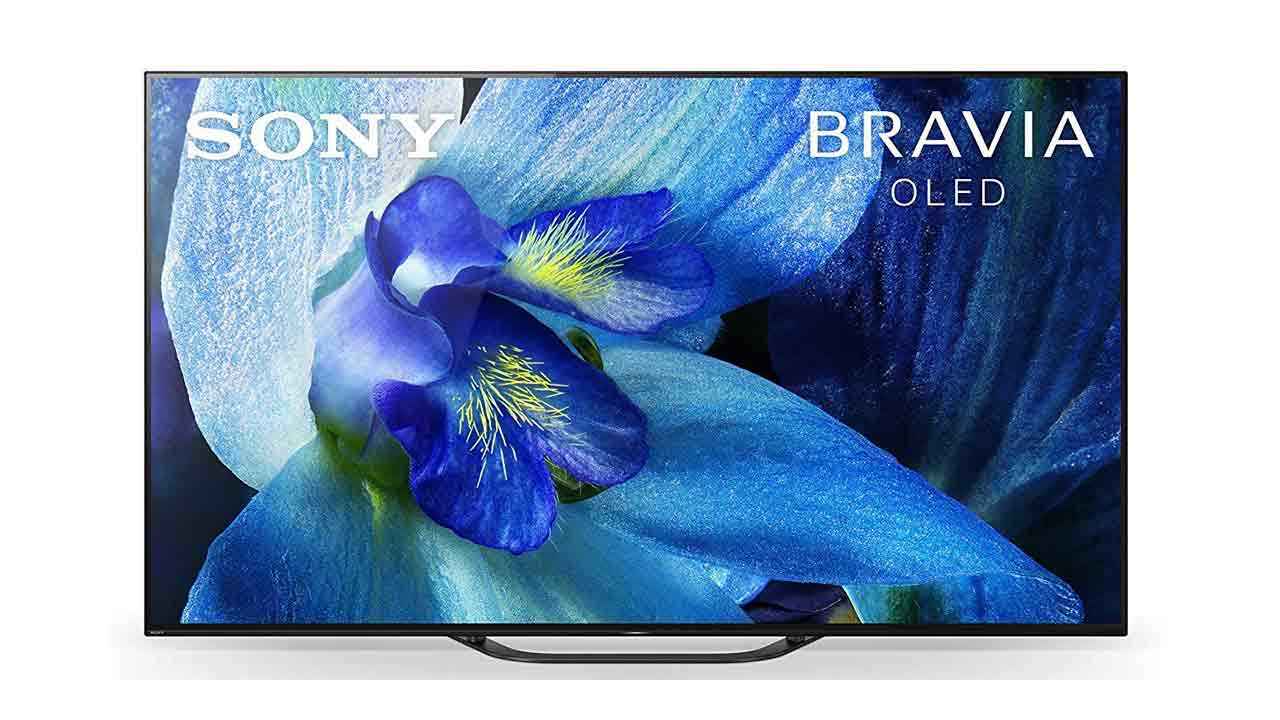 TVs are no longer a device that only gives you access to movies and shows. To a millennial, it is now a personal theater to enjoy a favorite film, a tool to play games on the big screen, a personal computer, an IoT device to control other smart devices and much more. With so many of your tasks revolving around your TV, it is only natural for you to want one with a stunning design. The design standards of most Smart TVs have reached a new high with bezel-less displays, bright and vivid screens, built-in sound systems, super-sleek bodies and much more becoming a part of the device. If you want your Smart TV to look contemporary and sleek, here is a list of TVs available on Amazon that you should consider.
Sony Bravia 138 cm (55-inch) 4K Ultra HD Certified Android Smart OLED TV KD-55A8G (Black) (2019 Model)
The Sony Bravia KD-55A8G comes with a 55-inch 4K Ultra HD OLED display with a resolution of 3840×2160, which should offer you bright and vivid colors. The slim and attractive design makes it one of the most aesthetically pleasing TVs in the segment. Even with the DOLBY Vision and other 4K related features, the most popular feature of this TV is the acoustic surface audio technology that produces sounds from the display itself. This way, the company claims to give you an audio-visual experience that is in perfect sync. The Android Smart TV comes with voice search to access your apps easily. Additionally, it comes with PlayStore and pre-installed OTT platforms such as Netflix, Amazon Prime Video and Hotstar.
Samsung 123 cm (49-Inch) 4K Ultra HD Smart QLED TV QA49Q60RAKXXL (Black) (2019 Model)
Samsung brings a 49-inch TV that is feature-rich with its beautiful display and a refresh rate of 60Hz. The 4K Ultra HD panel embedded in this slim and stylish frame gives you an immersive viewing experience and the nearly bezel-less display only adds more value to the proposition. The TV comes with pre-installed OTT features and the Tizen OS helps you navigate through the apps and PlayStore with ease. It comes with 4 HDMI and 2 USB ports for you to connect your gaming consoles, Blu-ray speakers and external hard disks for you to enjoy your favorite games and movies on the big screen.
Sony Bravia 138.8 cm (55-inch) 4K UHD Certified Android LED TV KD-55X9500G (Black) (2019 Model)
Sony has released this 55-inch TV with a refresh rate of 50Hz, efficient 4K OLED technology and additional features. Putting all these various features together should give you one of the most immersive TV-viewing experiences in the market today. It has a 20W sound system with a multi-audio acoustic feature, which should give you great sound without having to connect additional speakers. However, if you do want that extra bass or treble, the TV comes with 4 HDMI ports and you can connect your Blu-ray speakers or your home theater setup quite easily.
LG 164 cm (65 inches) 4K Ultra HD Smart OLED TV 65BXPTA
This is one of the sleekest 65-inch OLED TVs from LG, which not just offers excellent audio and video quality but also an appealing design. It offers 4K resolution on top of the company's proprietary upscaling technology powered by its A7 Gen3 picture processor and Dolby Vision IQ. Its 40W 2.2 channel speakers are said to offer an immersive audio experience for small to medium room size. The audio is topped with features like LG's AI Sound Pro and AI acoustic tuning on top of Dolby Atmos. Some of its smart TV features include AI ThinQ, built-in Google Assistant and Alexa support, Apple Airplay 2 and Homekit. Connectivity options include 4 HDMI ports to connect a set-top box, Blu Ray players, gaming consoles and 3 USB ports to connect hard drives and other USB devices.