Thomson now has Android TVs from 32-inch all the way up to 75-inch The 75-inch TV which is their largest offering in the Android TV lineup is priced at Rs 99,999.
Thomson recently launched their OATH range of Android TVs bringing with them 4K resolution and support for HDR. You can read more about those TVs here. Today Thomson has announced a new lineup of TVs starting at Rs 10,999. These TVs also run on Android TV and are available ins screen sizes ranging from 32 to 55-inch. Thomson has also added a 75-inch TV to its OATH lineup.
Excited about the brand's expansion, Avneet Singh Marwah, CEO, Super Plastronics Pvt. Ltd., (SPPL) and India Brand Licensee, Thomson TV, said; "Our mission is to maximize the value addition of manufacturing Android TV in the next 5 years in India, we are proud to start our partnership with Google. PATH 9A and 9R series have been completely developed and tested in India; this is the beginning of the vocal for local Android TV. All our customers should feel honoured while buying this tv, as its completely developed and tested under make in India initiative. Google has just announced they will invest 10 billion dollars in India, this will assist the Android TV ecosystem as well. With this launch, we expect to gain our market share by 7% by the end of 2021-22."
Thomson Path 9A and 9R TVs specifications and features
Thomson's Path lineup of TVs is divided into two ranges - 9A and 9R. Put simply, the 9A has HD ready and FHD TVs while the 9R has 4K TVs. Let's take a look at the TVs in detail. The 9A has 4 TVs - 32-inch HD Path, 32-inch HD bezel-less, 40-inch FHD and 43-inch FHD. The 9R, on the other hand, has 43-inch 4K Path, 50-inch 4K Path, and 55-inch 4K Path.
The entire 9A and 9R series from Thomson run on Android TV 9 out of the box giving users access to the Play Store, Chromecast built-in and streaming services. They also have an IPS panel giving it wide viewing angles. The 9R TVs which have a 4K resolution also support HDR.
Under the hood, the TVs are powered by a quad-core 1GHz CPU and Mali quad-core GPU. According to the press release, "remote features dedicated hotkeys for your preferred apps (Sony Liv, Amazon Prime Video, and YouTube). You can even use your voice to navigate through, as the remote is equipped with Google Assistant".
Thomson Path 9A and 9R TVs Price and Availability
The Thomson 9A and 9R series will be available on Flipkart starting August 6. Coming to the price, of the 9A series, the 32-inch HD Path is priced at Rs 10,999, 32-inch HD bezel-less is priced at Rs 11,499, 40-inch FHD and 43-inch FHD are priced at Rs 16,499 and Rs 19,999 respectively. The 9R series, on the other hand, has the 43-inch 4K Path at Rs 21,999, 50-inch 4K Path at Rs 25,999, and 55-inch 4K Path at Rs 29,999.
Thomson OATH Pro TVs specifications and features
Moving to the OATH series, Thomson previously launched a 43-inch, 55-inch and 65-inch screen sizes. Today the company has added a 50-inch and 75-inch screen size option to the portfolio. The 50 and 75-inch TVs have the same features as the TVs launched earlier. They bring with them support for 4K and HDR including Dolby Vision. They also support 2.4GHz Wi-Fi only and not the 5GHz band. For a wired connection, all three TVs support ethernet connectivity. The TV has a refresh rate of 60Hz.
Under the hood, all three screen sizes have a quad-core processor coupled with the Mali-450 GPU. The TVs come with 8GB storage for you to download and store apps.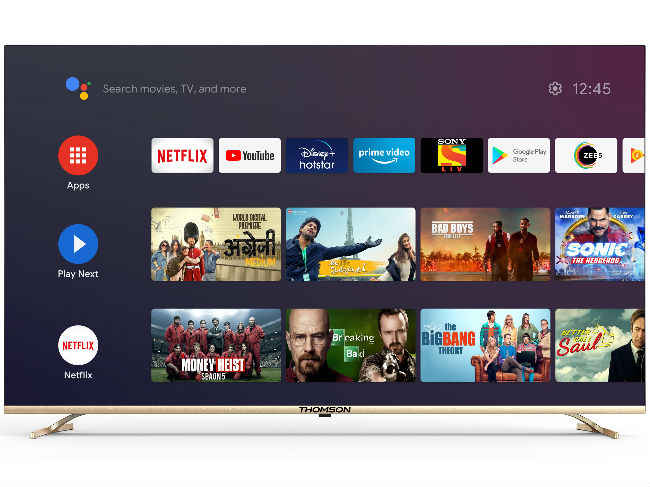 Coming to audio, all three screen sizes support DTS TruSurround, Dolby digital plus and have two 15W speakers giving you a total sound output of 30W. The remote control that accompanies the TV comes with a Google Assistant button and voice controls. The remote control comes with dedicated hotkeys for Netflix, Amazon Prime Video, YouTube and Google Play Store. Users can also bring up the Google Assistant from the convenience of the remote control.
Thomson OATH Pro TVs price and availability
The 50 and 75-inch Thomson OATH TVs will be available starting August 6 on Flipkart and will be priced at Rs 28,999 and Rs 99,999 respectively.