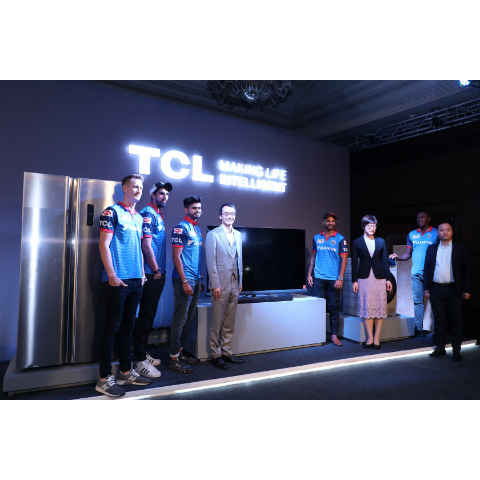 HIGHLIGHTS
​TCL launches two 4K Android TVs C6 and P8 in India.

The company has also partnered with various media-services providers for over 950,000+ hours of premium digital content.

It also launched smart home products, including ACs, refrigerators, washing machines and audio solutions.
TCL has launched two Google-certified 4K Android TVs, the TCL C6 and the TCL P8 in India. Running on Android Oreo, the TVs come with 30W Onkyo speakers and micro-dimming technology. TCL says that both the models have a 10-point white balance tech, which enables them offer a dynamic picture, and wider colour gamut for vibrant contrast. Both of them come with 16GB local storage and integrated WiFi 802.11 b/g/n along with 2.4 GHz WiFi support. While the TCL C6 come with 2.5GB DDR3 RAM, the TCL P8 sports a 2GB DDR3 RAM.
The TCL C6 comes in 55-inch and 65-inch screen sizes, and TCL P8 has the single 85-inch variant. The 55-inch TCL 55C6 is priced at Rs 59,999, whereas the 65-inch TCL 65C6 will be available for Rs 89,990. Of the three, the 85-inch TCL 85P8M is the costliest and is priced at Rs 199,990. Bothe the TVs come with various Google services such as Google Play Games, Google Play Movies & TV, and YouTube as well as the AI-powered Google Assistant.
"India is a strong strategic market for us, and we hope our new range of TVs will perfectly satiate the lifestyle needs of the new-age Indian consumer. We will continue to build more such innovative offerings in the future to build on the exceptional market reception that our products have received, and to further consolidate our leadership position within the Indian market," Mike Chen, TCL India Country Manager, said in a statement.
TCL has also partnered with digital content platforms, including Eros Now, ZEE5, Voot, Jio Cinema, Hungama Play, Hotstar, ALTBalaji, and YuppTV. TCL claims that it has made over 950,000+ hours of premium digital entertainment content, in 25 languages and across five genres, available to its customers through these integrations. Moreover, the company's tie-up with Eros Now will give users one month's free access to premium entertainment content from the platform.
In December, TCL inaugurated its panel factory in Tirupati, Andhra Pradesh, – its first manufacturing unit outside of China. The company claims that it now aims to offer Indian-centric products at competitive prices, as well as create over 8,000 job in the region.
Apart from the TVs, the company also launched a 520L side-by-side and a 545L double door intelligent refrigerator with no-frost, AAT freshness and smart swing airflow technologies. TCL unveiled smart washing machines in three variants: the front-loading G series (6/7/8.5 kg), the front-loading K series (9kg), and the top-loading B series (6/7/8/9 kg). The smart washing machines come with a water sealing, honeycomb crystal drums and touch screen displays.
The company also unveiled smart inverter ACs with a cooling capacities of 1, 1.5, and 2 tonnes, along with a fixed-speed 2-star 1.5 tonne AC under its Elite series. TCL also took the cover off of its range of audio solutions, including a smart TV sound solution with Bluetooth/line-in, SD card slot, USB, FM, and remote control, a tower and soundbar as well as a range of wired and bluetooth wireless headphones.