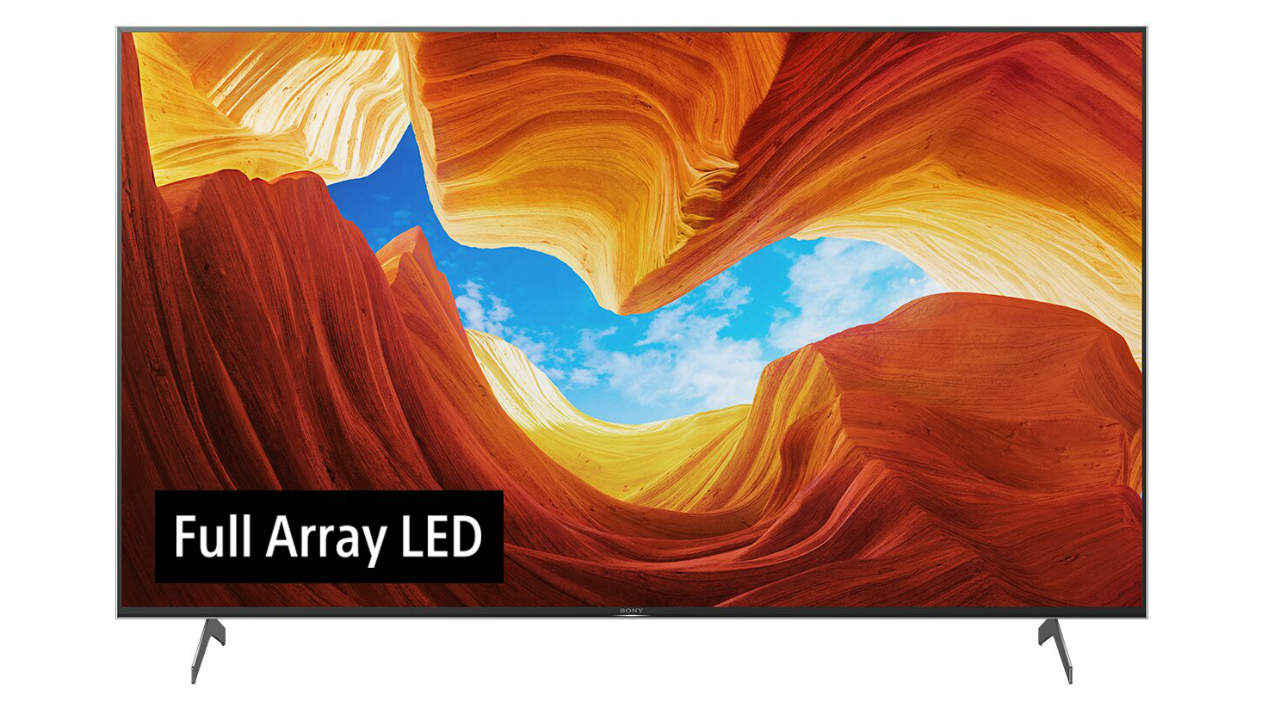 HIGHLIGHTS
The Sony BRAVIA X9000H series is available in 55 and 65-inches screen sizes.

The TVs bring with them HDMI 2.1 features like 4K at 120Hz, eARC, VRR and ALLM.

The TVs will receive the HDMI 2.1 features via a firmware update.
Sony is scheduled to launch the PS5 towards the end of 2020 and speculations suggest it could come to India soon after its international launch. One of the biggest advantages of the PS5 is that it supports HDMI 2.1 bringing with it features like Variable Refresh Rate (VRR), Auto Low Latency Mode (ALLM) to name a few.
If you are looking to upgrade your TV to one which has HDMI 2.1 to make the most of the upcoming console, then Sony has the TVs for you. Sony has introduced the X9000H in India in 55 and 65-inch screen sizes. So let's dive in and check out the features, specifications and price of the Sony BRAVIA X9000H
Sony BRAVIA X9000H price and availability
The Sony BRAVIA X9000H will be available in 55 and 65-inch screen sizes priced at Rs 1,09,990 and Rs 1,59,990 respectively. The TV will be available starting today, August 25, 2020, online and offline.
Sony BRAVIA X9000H specifications and features
Speaking of the specifications and features of the Sony BRAVIA X9000H apart from the screen size and speakers, all the features are the same on both the TVs. Both the TVs are 4K TVs and come with Sony's X1 processor and Triluminos display. Both the TVs have Full Array backlighting and support HDR, HLG and Dolby Vision. It also supports Dolby Atmos. It also supports eARC.
The TV also comes with the Netflix calibrated mode so you can enjoy content on Netflix like the creators intended it to be watched. The TV comes with minimalistic metal feet, aluminium design and thin bezels. The TV also boasts of Xtended Dynamic Range which should help with consuming HDR content.
It's smart, it's big, it's the all-new #SonyBRAVIA X90H 4K Full Array LED TV. Immerse yourself in lifelike contrast and cinematic sound. Know more: https://t.co/fyeWquDpOp pic.twitter.com/QSd4tN3Egq

— Sony India (@sony_india) August 25, 2020
The Sony BRAVIA X9000H also brings with it Sony's XMotion Clarity for those that want the smooth effect when watching content like sports. Speaking of audio, the 55-inch variant of the TV comes with Sony's Bass Reflex Speaker with X-Balanced Speaker technology with a total output of 20W coming from 2 full-range drivers. The 65-inch variant of the TV, on the other hand, comes with Sony's Acoustic Multi-Audio, Sound Positioning Tweeter, X-Balanced Speaker. It has 2 full-range drivers and 2 tweeters with a total sound output of 20W.
Moving to connectivity, the Sony X9000H sports dual-band Wi-Fi, one ethernet port, Bluetooth version 4.2, one RF port, one composite video port, 4 HDMI ports along with support for eARC, digital audio out and headphones out. It also has 2 USB ports.
The TV runs on the Android TV platform bringing with it support for all popular streaming services built-in along with a Google Assistant enabled remote control. The TV also supports Apple AirPlay and Apple HomeKit.
PS5 features on the Sony BRAVIA X9000H
Speaking of the PS5 features on this Sony BRAVIA TV, it brings with it HDMI 2.1 which is a feature the console is touting. This doesn't mean you won't be able to connect your PlayStation 5 to your current TV, it just means that your TV will become the limiting factor when trying to make the most of the console. Let's try and understand this.
The PS5 claims to be able to 4K and 120fps. Most 4K TVs today are limited to 60fps. So even though you will be able to play games on your current TV, you will be limited to the framerate of 60 frames per second which is the cap for most TVs today. With HDMI 2.1, the PS5 will also be able to exploit features like Variable Refresh Rate (VRR) and Auto Low Latency Mode (ALLM). To use any of these features your TV needs to have HDMI 2.1. VRR ensures you get a smoother experience with the frame rate when playing games, ALLM helps with input lag.
However, it must be noted that the HDMI 2.1 features will come to the Sony BRAVIA X9000H via a firmware update.