Samsung has announced that its 2019 Smart TV lineup will come with a feature called Remote Access that will allow users to remotely control compatible PC apps through their TVs
Samsung has announced that its 2019 lineup of smart TVs will come with a new feature called Remote Access. The feature will allow users to connect their TV to their PC, laptops, tablets, and smartphones and remotely control compatible apps through their TV. Samsung notes that Remote Access also allows users to connect input devices such as keyboards. The company adds that the feature will allow users to directly control their devices via a keyboard and mouse in addition to displaying content on a larger screen.
"Samsung is committed to creating an intuitive and convenient user experience for consumers. With Remote Access, consumers will be able to easily access various programs, apps and cloud services installed on multiple connected devices directly through their TV screen," said Hyogun Lee, Executive Vice President of Visual Display Business at Samsung Electronics. "We will continue to collaborate with our partners to expand the compatibility of Remote Access and provide more services to our users."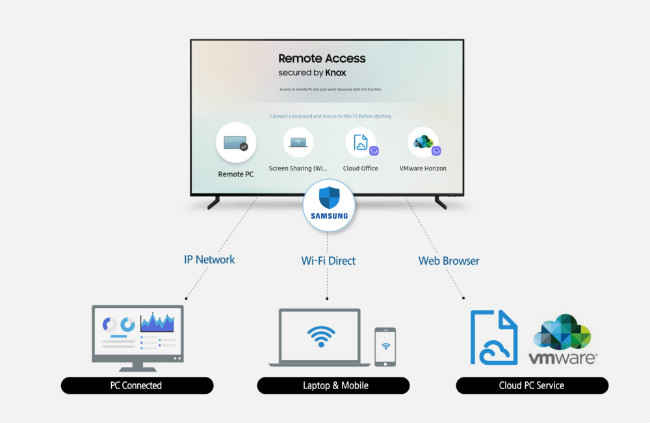 Samsung has partnered with VMware in order to enjoy seamless connectivity between various platforms with the idea being that users will be able to continue their work "anywhere in the world." In order to ensure security, Samsung says that it has integrated its proprietary Knox security technology into Remote Access. The company claims that its proprietary security technology Knox has been certified by Common Criteria for its security performance and claims that it is the only security solution in the TV industry to receive the certification.