OnePlus TV leaked images suggest that it will come equipped with a soundbar. The image of the OnePlus TV remote also hints at Amazon Prime Video integration. OnePlus has also announced some app based features that will be available on the TV.
OnePlus TV will launch in India on September 26. While the company is trying to slowly build up hype for the upcoming launch by revealing the device's features in bits and pieces, alleged images of the OnePlus TV have now surfaced online. The images were posted on SlashLeaks by a contributor and they show off the TV's design from the front and rear, along with its remote, which was previously revealed by the company's CEO. In addition, the images showcase two different TV models, one is wall-mounted and is slightly out of focus but it seems like there's a soundbar underneath.
The second image gives us a clearer image of the TV, which can be seen with thinner bezels all around and a separate soundbar underneath that sports the OnePlus logo. Going back to the image where the OnePlus remote can be seen, it features a dedicated Amazon Prime button, which hints at the company's partnership with the online retailer. Another image reveals the kevlar finish on the device's rear panel, along with the monitor like stand. While the images do look convincing, we suggest you take it with a grain of salt since the company has not released any official images of its products yet.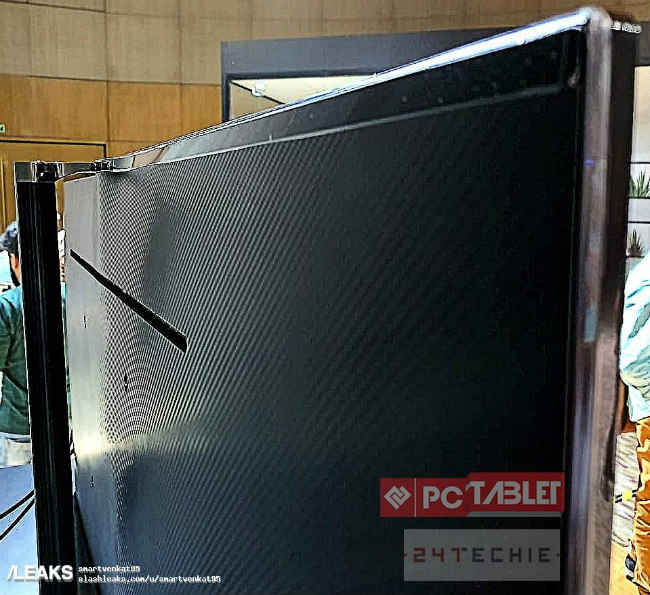 In addition to the leaks, the company revealed some more information today. Lau tweeted some features that will be available on the OnePlus TV. As per the executive, there will be "Faster typing, easier searching, more seamless syncing" on the device, along with the ability to quickly switch between favourite apps. All of the aforementioned features are shown off on a phone, which suggests that an app will enable these functions on the TV.