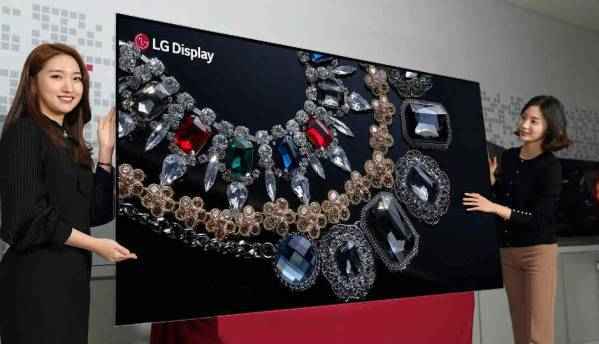 HIGHLIGHTS
The new OLED display panel by LG will reportedly be the world's first to sport an 8K resolution.
LG will be showcasing its new 88-inch OLED display with 8K resolution at CES 2018. According to a report by Engadget, the new display by LG is the highest and largest resolution OLED panel manufactured till date and its price and specs are expected to be revealed at CES 2018.
The current largest OLED screen size which supports a maximum of 4K resolution is 77-inches. Engadget points that LG manufactures these panels for its displays and also for other companies such as Sony and Panasonic, whereas Samsung has shifted its focus to QLED TVs. QLED stands for Quantum Dot LED TV, which Samsung claims produces more vibrant colours and is brighter than regular OLED panels.
LG previously launched its new range of OLED TVs in India. The new lineup consists of models 77/65W7, 77G7, 65/55E7, 65/55C7 and 65/55B7 and start at a price of Rs 3.25 lakh. All of the TVs come with options come with features like Dolby Vision, Dolby Atmos and Technicolor's colour science expertise.
The LG 2017 OLED TVs came with Active HDR, which the company says allows the TVs to "process the picture frame by frame, and insert dynamic metadata where needed." Along with the aforementioned Dolby Vision tech, the TVs also support other HDR formats like HDR10, and HLG (Hybrid Log Gamma). Additionally, all the TVs run on webOS and user can navigate within the interface via the 'Magic Remote" by scrolling, gestures, or through voice commands.
LG might be the first display manufacturer to come up with an 8K OLED display, but Sharp unveiled the world's first 8K display at CES 2015. It used the IGZO technology and came with a built-in TV tuner. Sharp's 8K TV sported a native resolution of 7680 x 4320 pixels and required 4 HDMI 2.0 cables to play back any content in 8K. According to the company, the display will have viewing angles of 176 degrees and a contrast ratio of 100,000:1.
Cover image credits: Engadget