Samsung has unveiled its latest range of Smart TVs, with Smart Interaction, Evolution, and Content
Samsung has unveiled its latest range of Smart TVs, with Smart Interaction, Evolution, and Content. It showcased the Samsung ES8000 range of edge-lit LED Smart TVs, available in sizes from 46 to 65-inches.
The Samsung ES800 Smart TV bears a dual-core CPU to run the more than 1,400 "Smart Content" apps available, including Angry Birds, with full multi-tasking. It also features an integrated microphone and camera, for "Smart Interaction", including voice and gesture controls, as well as facial recognition. It also features "boxless viewing" for DirectV DTH customers, providing a full user interface without a set-top box
Samsung is also touting a "Smart Evolution Kit" feature, which will allow users to feel future-proofed, with the ability to upgrade the dual-core processor later. Another touted feature is the company's AllShare Play service, allowing users to content to move from device to device - and from device to cloud - regardless of location. Users can push content manually to the cloud or pull the content directly from their Smart TV or other mobile devices. AllShare Play will also be equipped with a limited amount of free, online storage.
Other services include Family Story, Fitness and Kids, which will apparently enable families to share photos and messages, sync their fitness goals, and record children's progress through the variety of educational videos available.
Samsung also unveiled a 55-inch Super OLED TV, which apparently incorporates "the ultimate in vividness, speed and thinness, with true-to-life picture quality, enhanced colour accuracy and motion picture quality even in the fastest scenes." Also incorporated into Samsung's 7mm thick Super OLED TV are the Smart TV features of Smart Interaction, Samsung Apps, and multitasking, as well as 3D functionality.
Interestingly, LG had introduced its own 4mm thick 55-inch OLED TV last week, featuring 4 Color Pixels, and FPR 3D.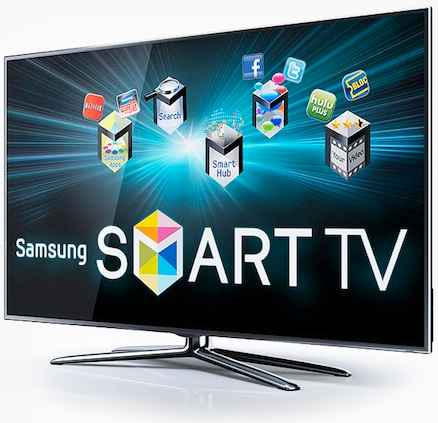 Source: Engadget
Tags:
Samsung Smart TV
Samsung ES800
Samsung ES800 Smart TV
Smart TV
connected television
internet-connected television
Samsung Super OLED TV
Super OLED TV
Super OLED
Samsung Smart Interaction
Samsung Smart Evolution Kit
Samsung Smart Content
Samsung Apps