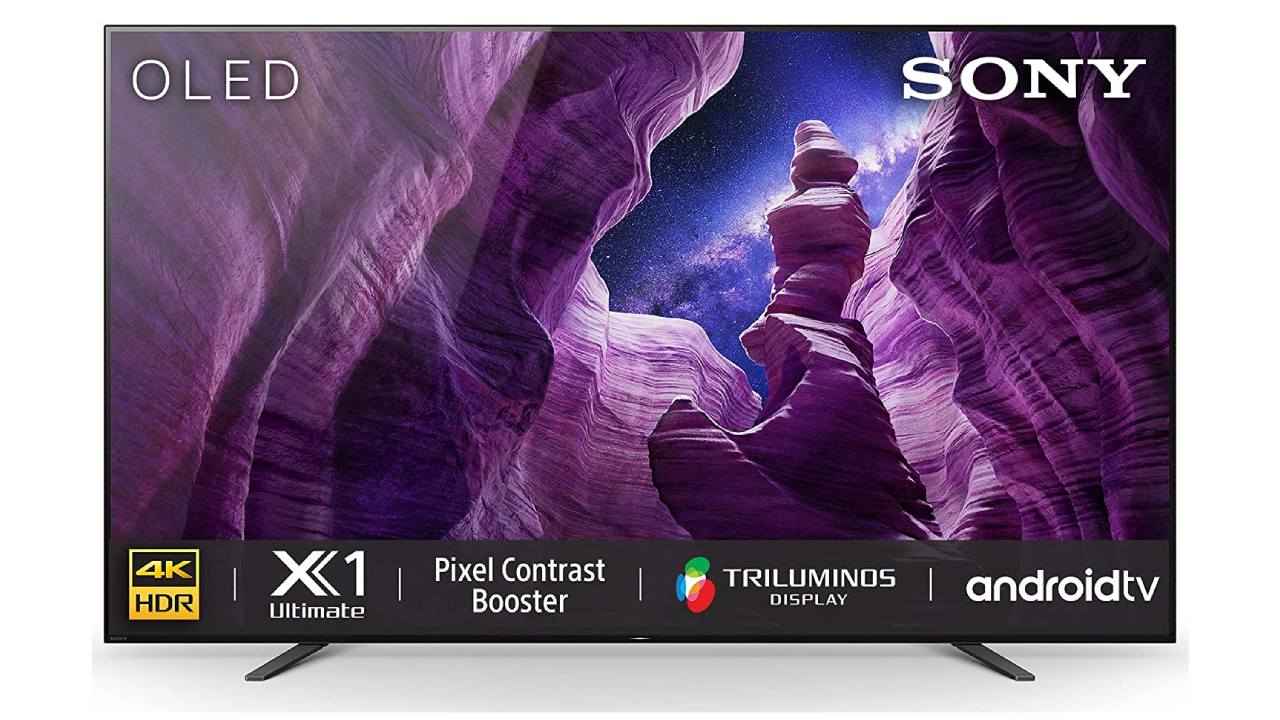 There are many equally valid reasons for wanting easier ways to share content with your TV. Maybe you've captured a priceless memory using your phone's camera that you want to relive on the big screen. Or perhaps there's some important research you've done that you want to share with the rest of the room. Technologies like Chromecast and Airplay make it super easy to achieve this, especially when they're built into your TV. With both of them together, you'll be able to share content from a wide range of compatible devices. Here are some TVs available on Amazon that feature support for both the technologies and a good combination of features and specifications.
Sony Bravia 139 cm (55 inches) 4K HDR Certified Android OLED TV 55A8H
The 55A8H TV from Sony's Bravia range uses the X1 Ultimate processor to push its OLED displays performance to the next level. It delivers deeper blacks and better brightness. Its Pixel Contrast Booster feature improves colour and contrast reproduction as well as the quality of depth and texture in your visuals. The Object-Based HDR remaster technology on the TV analyses each object on the screen and adjusts its contrast individually. With the X-Motion Clarity, fast-paced action remains clear so that you can enjoy your favourite sports events and action sequences. The TV's wide viewing angle makes it easier for everyone in the room to have a good experience.
Kodak 164 cm (65 inches) 4K Ultra HD Smart LED TV 65CA0101
The Kodak 65 inch 4K TV features a design with minimal bezels for maximum immersion. Compatibility with Google Assistant makes it easy to command your TV with your voice. The wide 178-degree viewing angle offers an equally good view to everyone in the room. With an Android 10 based operating system, the TV allows you to install a wide range of apps. The 8GB onboard storage makes it easier to keep a large number of such apps installed at the same time. Its 30W speaker output can pack a punch with your favourite shows and movies. The experience is further enhanced by the DTS True Surround sound.
Sony Bravia 138.8 cm (55 inches) 4K Ultra HD Smart Certified Android LED TV 55X8000H
Apart from your TV, the smart remote bundled with the Sony Bravia 55X8000H can control a wide range of devices connected to it via HDMI. Designed with the X-Protection PRO technology, the TV is safeguarded against dust, lightning, power surges and humidity. The narrow bezel around the display adds to the aesthetics of your room while also making your entertainment more immersive. Support for Dolby Atmos improves the TV's sound quality with compatible content, while Dolby Vision upgrades its HDR performance. The Triluminos Display on the TV aims to cover a more extensive range of colours than conventional television.
Kodak 126 cm (50 Inches) 4K Ultra HD Certified Android LED TV 50UHDX7XPRO
With support for Dual-Band Wi-Fi, you can keep your TV connected to the internet at all times without affecting other devices on the same network. The combination of its Quad-Core processor with 2GB of RAM keeps the TV functioning smoothly. Its 24 Watt speaker output can be quite capable of satisfying many audio needs. The remote is designed with dedicated hotkeys for popular apps and Google Assistant, keeping the TV's smart features handy for you. With a refresh rate of 60Hz, the TV offers seamlessly flowing visuals for compatible content. You can save a large number of apps and other downloads with the 8GB onboard memory.