Reliance Jio has announced a new promotional offer called JioPhone Match Pass Offer under which its customers can avail up to 112GB of 4G data for free. In order to get the data, one needs to get 10 people to buy the JioPhone, using their Jio contact information for referral. With each person buying a JioPhone using your Jio number, 8GB data is credited into both your Jio accounts, which has a validity of four days and is capped at 2GB per day. Additionally, every week two Jio customers who have the highest number of referrals will get a chance to appear on the Jio Dhan Dhana Dhan show aired on Colors TV and MyJio/JioTV apps. The offer is valid till May 27, 2018.
In order to partake in the Jio Match Pass offer, the JioPhone buyer needs to call the toll-free number 1800-890-8900 and enter Jio number of the person who referred them, and the PIN code of where the buyer lives. Next, the customer needs to either visit a Jio retailer to pick up the JioPhone, or they can place the order for the device online. Do note that the number that the buyer initally dialed the toll-free hotline will be their alternate number for activating the JioPhone. The free data will be credited into both the referral and buyer's Jio account.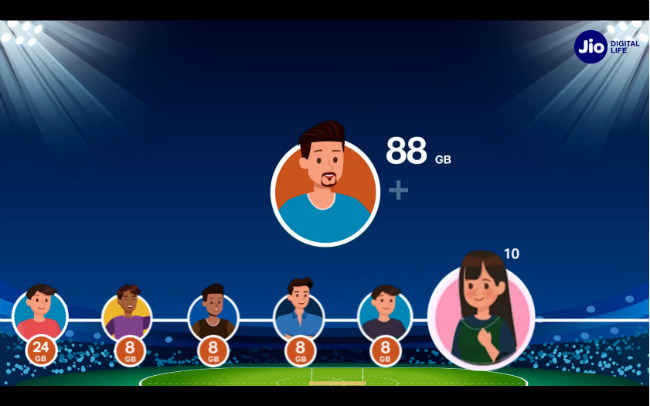 As mentioned earlier, 8GB of data with a validity of four days will be credited to the referral giver's account when the buyer uses their number for referral. This continues for the first four referrals, but on the fifth one the referral giver will receive a bonus 24GB data with 12 day validity, which is also capped at 2GB of data usage per day. Again 8 GB data will be credited for sixth to ninth referral and an additional 24GB data will be credited for the 10th referral.
This is not the first offer by Jio for IPL fans as the telco previously announced a new Cricket Pack priced at Rs 251, which offers 102 GB data with a validity of 51 days. The pack caps the data to 2GB per day and alongside the recharge, Jio also announced their "Cricket Play Along Festival" where one can use the MyJio app for participating in contests for winning cash prizes, a "premium" house in Mumbai, 25 cars, and more.
Following Jio, Airtel also announced a new prepaid plan in which its subscribers get unlimited free local and STD calls with free roaming and 2GB of 4G data per day, for Rs 499. They will also get 100 SMS per day and it is valid for 82 days. The unlimited calling is capped at 300 minutes per day and 1,000 minutes in a week. After exhausting the free calling minutes, Airtel subscribers will be charged at 30 paise per minute. Airtel also has a Rs 448 prepaid plan which offers unlimited local and STD calls and 100 SMS per day for 82 days, however, it comes with a lower daily data allowance of 1.4GB.
Jio is streaming the IPL 2018 on its JioTV app and the telcos subscribers will need to download the Hotstar app to get free access to the matches. Airtel subscribers will also get to watch the event via the Airtel TV app, which will be streaming it directly from Hotstar. They will also get to access highlights and a dedicated cricket section, which offers "a highly curated and interactive content experience to go with all the LIVE action."