Ookla has aggregated data based on tests conducted by Reliance Jio users, and numbers point to a downward trend in 4G data speeds.
Popular speedtest app Ookla has published a reports on Reliance Jio 4G data speeds for the period between January 2016 and September 2016. The recently published report shows the increase in number of 4G tests in India post Reliance Jio's soft launch until the market-swaying commercial launch of the network, along with the Mean download speeds on Jio over the same period. Below is a graph that exhibits the sharp rise in the number of 4G tests conducted across india from January 2016, when Jio first opened its network to its own employees, followed by a soft launch three months later, and then the final commercial roll-out in September. The spike in 4G tests by Jio users can be seen in Blue, with almost 20 million 4G speed tests conducted on the network in September.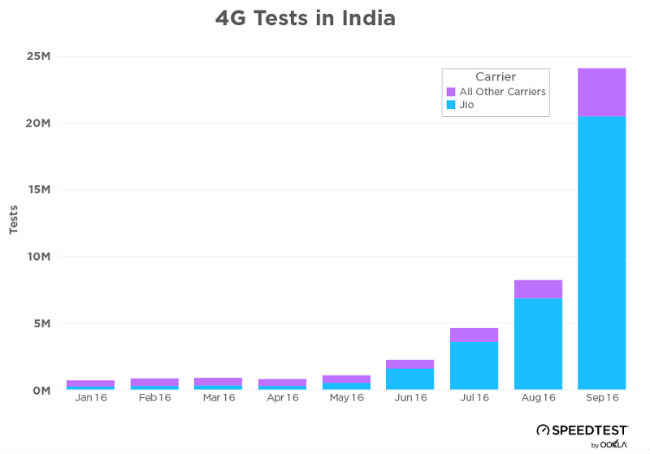 As far as the quality of the 4G-only network is concerned, It is not uncommon to hear Jio users complain of reduced data speeds over time. Infact, a recent speedtest survey conducted by Digit across 18 Indian cities also pointed towards a clear downward trend in the network's data speeds. Confirming this trend, Ookla shows how Jio's data network quality is dwindling month-on-month. As per the app's report, "Download speeds for 4G capable phones actually decreased 23% month-over-month from 11.31 Mbps to 8.77 Mbps." Below is a graph published in the report showing the declining Mean download speeds as per speed tests conducted by Jio users in India.