Airtel has introduced a new 'Smart Recharge' of Rs 23 to give its prepaid customers an option to extend the validity of their recharge by 28 days. First spotted by TelecomTalk, the recharge bring along a few benefits but misses out on providing any data benefits to customers. Previously, Airtel was offering smart recharges starting with Rs 25, the news platform stated.
The latest plan does not offer talk time or data, but will provide all local and STD calls at 2.5p/sec. Further, local SMS will be charged at Re 1 and Rs 1.5 will be charged for national SMS. The prepaid recharge is available in the telco's Delhi circle, however, one is advised to check if it's available in their area/circle before recharging. Prepaid customers can purchase the Rs 23 Airtel recharge directly from the Airtel.in or through the MyAirtel app.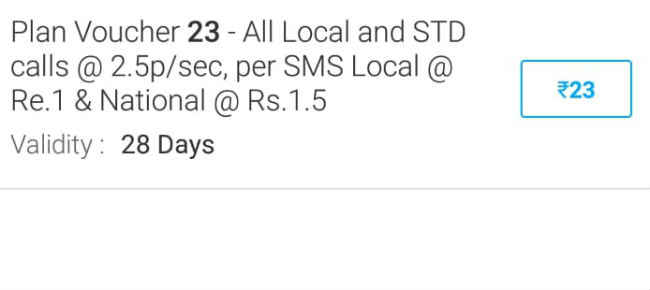 Recently, it was reported that telcos like Vodafone Idea and Airtel were imposing a minimum recharge restriction of Rs 35 on their prepaid customers. According to Airtel, their users will need to recharge with a minimum of Rs 35 to keep their connection active. If a user fails to do so, their connection will be barred from making calls and if a minimum recharge is not made in 15 days, incoming calls will also be barred on their connection.
When Telecom Regulatory Authority of India (TRAI) found Airtel and Vodafone Idea sending SMS alerts about the minimum recharge requirements to their consumers, it reportedly wrote to the companies asking them to clearly inform subscribers of the change within three days. Citing TRAI, Mint reported that "Trai has asked operators to duly inform subscribers within three days in a clear and transparent manner the date on which the current validity of an existing plan would expire and the manner in which the subscriber can opt for available plans including minimum recharge plan using subscriber's available prepaid account balance."