Telecom operators Vodafone, Airtel, Idea and RCom have reduced calling rates up to 75 percent on national roaming from May 1, after regulator TRAI cut ceiling tariffs. India's largest telecom operator Bharti Airtel has slashed outgoing local SMS cheaper by 75 percent. The inter circle call rates have been reduced up to 23 per cent and outgoing local call tariff up to 20 per cent, while incoming call rates have been reduced up to 40 per cent.
Vodafone India customers will now pay 25 paise per local SMS from Re 1 for local texting and for STD texts 38 paise from Rs 1.50 earlier. The carrier has also reduced the incoming call rates to 45 paise per minute for incoming calls; while outgoing local and STD calls will be charged at 80 paise and Rs 1.15 paise per minute from Rs 1 and Rs 1.50 earlier, in accordance with TRAI regulations. Apart from this, Vodafone has also introduced special roaming tariff plans for its prepaid and postpaid customers.
Idea Cellular, which is the third biggest telecom operator in India will now charge 25 paise for a local SMS and 38 paise for texting while roaming nationally. The operator has reduced incoming calls rate to 45p/min, while outgoing local call rates have been slashed by 20 per cent and STD call rates by 23 per cent.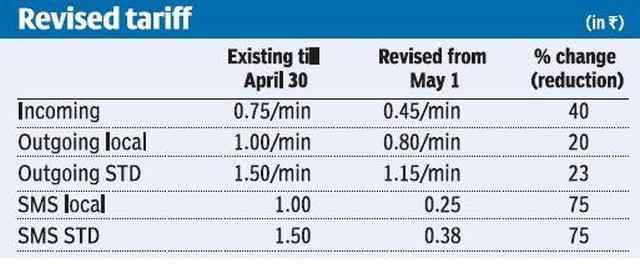 Telecom Regulatory Authority India (TRAI) earlier this month had slashed the maximum or ceiling rate that a telecom operator can charge for STD calls on roaming to Rs 1.15 per minute from Rs 1.50, while on national roaming a telecom operator can charge Rs 1.15 per minute from Rs 1.50 for STD calls on roaming. Operators can now charge a maximum of 25 paise only for a local SMS instead of the current Re 1 per SMS. Similarly, the national SMS rate has been reduced from Rs 1.5 per SMS to 38 paise now.
The new charges will benefit the customer, but will hurt the profit margins of telecom operators who spent nearly Rs.1.1 trillion in the spectrum auction that concluded in March this year. TRAI has stated that the rate changes will be applicable from May 1 across India, and will be reviewed again next year.
Source: TOI