The ZTE Axon M is the first of its kind. The smartphone sports two full sized 5.2-inch 1080p displays and runs on Qualcomm's Snapdragon 821 platform.
ZTE is doing what hybrid laptop makers did to the personal computing market. Only this time, in a much smaller package. The ZTE Axon M is a smartphone, the only such device at this time, with two full sized displays that fold into one, create a tent shape and can be put together to become a multitasking tablet. The Chinese mobile devices vendor has launched the dual-screen foldable smartphone in the US, becoming the first company to bring proper dual displays to the smartphone market.
The USP of the Axon M is obviously its displays - two 5.2-inch 1080p LCD panels. The displays can be folded to the size of a traditional smartphone. They can also be opened up side by side to form a tablet shape. With two screens, the Axom M allows users to run two different apps simultaneously on the two separate displays. For example, one could watch a cricket match on one screen and order a pizza from Dominoes on the other. The screens are joined together with a hinge, which lets the smartphone enter into a tent mode. The two screens on the Axon M can also function as one single unit and users can stretch the homescreen and apps across both screens to get a tablet-like viewing experience spanning 6.7-inches.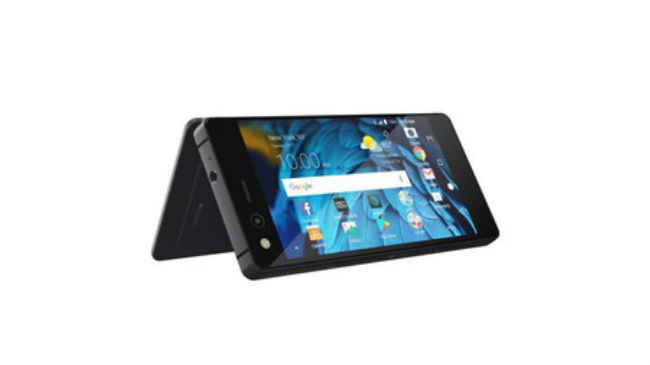 A mirror mode provides users the option of sitting across each other and watching the same content on one device.
"The Axon M creates an entirely new foldable smartphone category, one that ZTE is committed to invest and lead the way in," said Lixin Cheng, CEO of ZTE Mobile Devices. "Our customers continue to demand more from their mobile entertainment experience. Pairing DIRECTV with the dual screen capabilities of the ZTE Axon M will deliver a new and transformative way to enjoy the entertainment they want on the network they need," said Kevin Petersen, SVP of Device and Network Services Marketing, AT&T Entertainment Group.
As far as other specs of the Axon M are concerned, the device features Qualcomm's Snapdragon 821 platform, 4GB of RAM, 64GB of storage a 20MP primary camera, a 3.5mm headset jack, a 3,180 mAh battery and Android Nougat 7.1.2. The Axon M is priced at $725 (Rs 47,150 approx) and will only be available in the US exclusively through AT&T.