Company CEO Peter Wu has shared a poster on Chinese social media platform Weibo that mentions March 18 as the launch date.
Highlights:
Xiaomi-backed Black Shark 2 launching in China on March 18.
This is the third phone in the series, and it will be first Black Shark phone to get Snapdragon 855 SoC.
Although it is not confirmed, the handset may be available in India as well.
Xiaomi backed gaming smartphone manufacturer Black Shark will unveil the Black Shark 2 phone on March 18 in China, company CEO Peter Wu has announced by posting a poster on Chinese social media platform Weibo. This is the third phone in the series and unlike the previous device, the Black Shark and the Black Shark Helo which used the Snapdragon 845 SoC, this handset will be powered by the Qualcomm's latest flagship Snapdragon 855 mobile platform.
This essentially makes its the first phone in the series to have this processor and it could well be the first gaming phone in this space to be powered by the flagship SoC. If the reports are to be believed, the phone is expected to have a 10GB of RAM. Just a few days ago the phone was seen listed on Geekbench sporting a 12GB RAM, which suggests that the company will bring a 12GB RAM variant as well.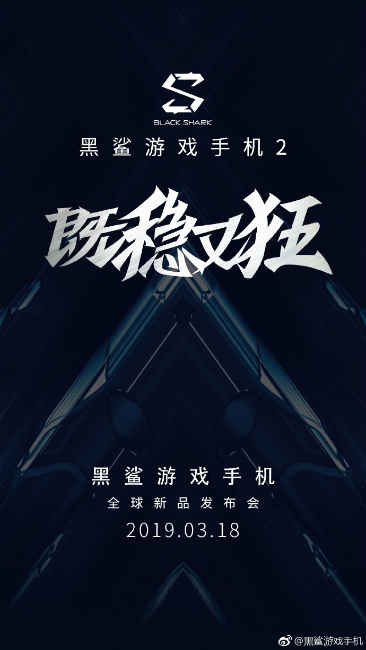 On Geekbench, the phone appears with the name "blackshark AAA" and scores 3,516 and 11,413 points in single and multi-core tests of the Geekbenching platform, respectively. There is also a mention of an 8GB RAM variant which has scored 3,494 and 11,149 points in single and multi-core tests respectively. The other USP of the device is the new Liquid Cool 3.0 and fast charging will be upgraded to 27W from the previous 18W.
Reportedly, Xiaomi has also set up a "top secret experience" in Shanghai as part of the promo campaign. As mentioned above, the Black Shark 2 will likely launch in China first and then it should be available in Europe. Recently, the Xiaomi-backed gaming smartphone maker set up headquarters in Bengaluru, which could mean that gaming phone affectionados may soon have their hands on this handset.
The company's Vice President David Li is reported to be looking after India operations while Chirag Nagendra, who was the formerly with OnePlus in the communications team has joined as Black Shark's Marketing head. It is expected that the official launch date of the phone in India will be announced at a later stage. The original Black Shark gaming phones saw a limited release in just 23 countries.
Related Read:
Xiaomi Mi 9 tops AnTuTu's February score listing, Lenovo Z5 Pro GT grabs second spot