If rumours are to be believed Xiaomi may launch a new very thin, almost bezel-less flagship device
According to leaked news, Xiaomi will be holding an event at the Beijing National Convention Center on January 15 at 2 PM where it's expected to launch its new ultra-thin flagship smartphone. Also leaked is a poster, which when translated says that the device will be thinner than the wings of cicada, which is an insect common in China. Xiaomi will also sell tickets to the event on Jan 8.
The rumours about the new smartphone point to an almost bezel-less big screen device- probably more than 5 inches in screen size, with a resolution of 2560x1440 pixels that can rival the Galaxy Note 4 and the iPhone 6 Plus. The phone is also expected to look similar to the Mi4. The processor is rumoured to be either Snapdragon 805, or 801, coupled with 3 GB of RAM. The phone's back camera is rumoured to be a 20.7MP one, and a fingerprint scanner could also be in the mix.
Unsurprisingly, Xiaomi is expected to price this model higher than previous ones and as a result, may offer two different variants with different prices.
There are also conflicting rumours about the name of the device; both Mi4S or the Mi5 have been speculated as possible names. However, the 4S could actually be launched as a mid-range handset, and the Mi5 as its premium variant. Of course, with so many rumours in play, the Xiaomi event should be of great interest.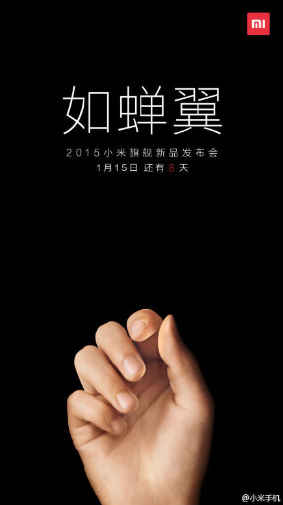 Source: PhoneArena