It's been a couple of days that Xiaomi launched its latest Redmi Note 6 Pro (review) smartphone in India. For the first time ever, Xiaomi put the device up for sale the very next day after it was launched. The company claims that over 600,000 units were sold in the first of four flash sales. This might be true after all since the Chinese smartphone manufacturer priced the Redmi Note 6 Pro quite strategically. The device replaced its predecessor and was introduced at the same price. Its 4GB and 6GB RAM variants are priced at Rs 13,999 and Rs 15,999 respectively. However, during the company's Black Friday Sale, both the memory variants were discounted by Rs 1,000 and available at Rs 12,999 and Rs 14,999.
After the first flash sale of the Redmi Note 6 Pro at 12 PM on November 23, the company announced another surprise sale at 3 PM. This was followed by two more flash sales at 6 PM and 9 PM. What's interesting is the company's choice to limit the number of units up for sale in the first flash sale and hold three more sales on the same day. The company's Global VP and Managing Director Manu Jain also tweeted that the device went out of stock in minutes during the 3 PM flash sale. This move by the company begs the question that if it has enough units for the buyers, why to hold such flash sales in the first place.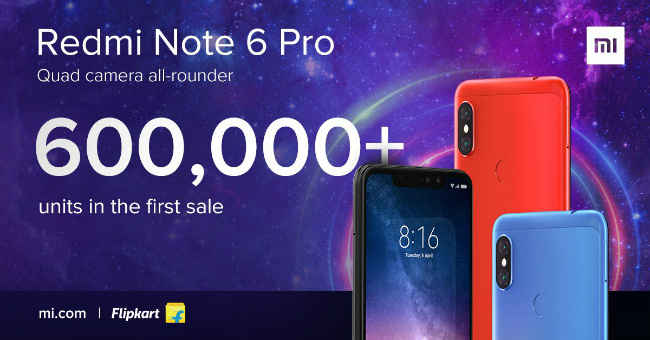 While flash sales might be working in Xiaomi's favour, the company has been criticised for its implementation. The company recently received flak for its flash sales in the UK, where it managed to entice many potential buyers with its 1 Pound smartphone deals. As the sale went live, an "Out of Stock" banner was displayed on the website. This lead to anger and outrage from customers who had been waiting to avail the deals. However, more shocking was the discovery of code within Xiaomi's website to switch the "Buy Now" option directly to "Out of Stock" just when the sale went live. The smartphone maker refuted these claims saying that 10 buyers were actually able to purchase smartphones for 1 Pound during the sale. You can read more about it here.